A Fishing Legend in His Own Time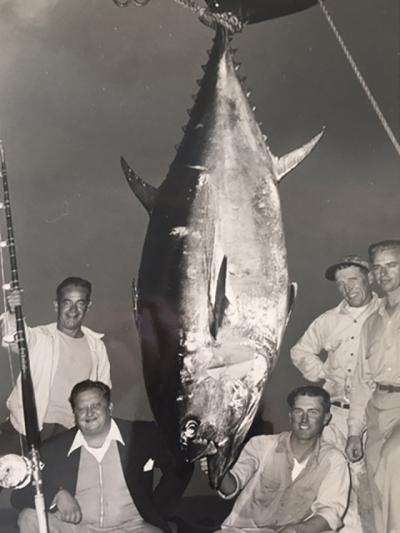 Capt. Frank Tuma Sr. to be honored at Montauk Mercury Grand Slam
"I was born in Brooklyn, but Montauk is where I was really born," Capt. Frank Tuma Sr. said from his house near the Montauk Downs State Park golf course recently.
His parents were living in Montauk back in 1924, but his mother, Hilda, wanted him to be born in Brooklyn because relatives lived nearby. Three days later, he and his family left the hospital and returned to their small house in the old Montauk fishing village, which stood not far from the current Long Island Rail Road station. Ever since, Captain Tuma has been a fixture in the hamlet, where the family name still resonates loudly.
On Sunday evening, he will be honored as the Fishing Legend of the Year at the conclusion of the 17th annual Montauk Mercury Grand Slam Fishing Tournament presented by the Montauk Friends of Erin and the East Hampton Kiwanis Club.
Previous tournament honorees selected him to receive the award.
"I've known the Tuma family most of my life, and Frank and his family are true legends of Montauk," said Henry Uihlein, owner of Uihlein's Marina in Montauk, headquarters for this weekend's tournament and festivities. "Frank is so well respected in the community and we are so grateful for all he has done for this        town. I'm lucky to know him. He is so deserving of this honor."
Captain Tuma, who helped solidify the sportfishing and tourist industries in Montauk, has seen quite an arc in the hamlet's history.
In 1924, Montauk was a sleepy and rather isolated village with only about 500 year-round residents, most of whom were involved in commercial fishing. The first paved roadway was completed earlier that spring formally linking the hamlet to the rest of Long Island. That same year, Robert Moses established state parks on both ends of Montauk — Hither Hills State Park on the west and Montauk Point State Park to the east.
It was his father, also Frank Tuma Sr., who started the first charter boat business in the hamlet with his brother, Charlie, when Capt. Tuma was just a teenager. Passionate about fishing and eager to learn about the business, he absorbed all he could from his father and uncle, first joining them in commercial fishing, and ultimately taking anglers out himself for a day on the pristine waters off Montauk.
After marrying his East Hampton High School sweetheart, Marion Walker, Captain Tuma delayed his fishing endeavors to attend Colgate University, where he majored in industrial psychology. But World War II raged on and he enlisted in the Navy, where he served as a navigation officer on various ships sailing in the Mediterranean.
After the war, he returned to Colgate, graduating in 1947. A career in the corporate world loomed, but after a brief stint at IBM in Manhattan, the lure of Montauk proved too strong to ignore. He returned to the business of sportfishing, owning and running several charter boats.
It was around this time, in the late 1940s, that his father started Tuma's Dock on the western side of Lake Montauk. It consisted of a tackle and gift shop and Montauk's first charter booking service for sportfishing boats, which Captain Tuma was heavily involved in.
"It was a real team effort by many in our family," he said. "The fishing business was beginning to grow and it was great to be in the middle of it."
In 1952, Captain Tuma was offered a job in real estate with the Montauk Beach Company, for which he oversaw some of the hamlet's highest profile properties including the Montauk Yacht Club, the Montauk Manor, and the Montauk Surf Club.
By that time, Montauk's population and its fishing and tourist interests were expanding rapidly. He managed the Montauk Beach Company's construction of 200 Leisurama houses at Culloden Point, an effort to encourage people to buy houses on the eastern tip of Long Island.
Eventually, he established the Tuma Real Estate Agency, which his daughter, Lexa, would one day take over. He continued to focus most of his attention on the Montauk Beach Company until 2001.
"The real estate market has changed so much out here," Captain Tuma said. "I remember some of the houses we sold went for $1,500 back then. It's a different world today."
Captain Tuma also served as a member of the Montauk Lions Club, the Montauk Chamber of Commerce, and the Montauk Fire and Ambulance Department, where his father was chief for 12 years.
"It's fantastic that he is being recognized for this honor," said his daughter, Lexa Tuma DiSpirito. "We are all very excited for him."