Farmers Market Bag Is a 'Win-Win' for All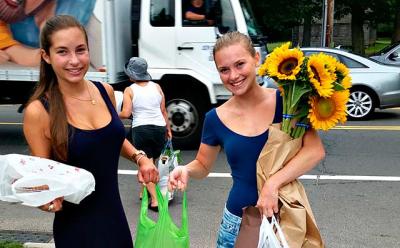 Nancy Shenker
Nancy Shenker, has served in senior marketing positions at companies including Citibank, MasterCard International, and Reed Exhibitions, founded theONswitch 12 years ago
When shoppers at the East Hampton Farmers Market spend $40 or more tomorrow, they will be offered a ripstop poly-nylon reusable bag. When they look inside it, they will find a postcard explaining their good fortune.
With the town's ban on plastic bags set to take effect on Sept. 22, the second batch of 250 reusable bags — they were introduced at the farmers market on Friday — will contain a postcard advertising theONswitch, a marketing firm owned and operated by Nancy Shenker.
"I was at the market at the beginning of the season," Ms. Shenker, a resident of East Hampton and Briarcliff Manor, N.Y., said, "and one of the farmers was saying, 'What are we going to do when plastic bags are outlawed?' I started talking to Kate Plumb," the market's manager, "and said it's about changing behavior now. My whole philosophy is, you can't sit around complaining, you have to jump in and change it."
Ms. Shenker, who has served in senior marketing positions at companies including Citibank, MasterCard International, and Reed Exhibitions, founded theONswitch 12 years ago. For a time, Horman's Best Pickles, a vendor at the East Hampton Farmers Market, was a client, and theONswitch has helped other South Fork businesses establish and maintain a social media presence.
"A lot of people view marketing as something crass and obnoxious, whereas if you do it in the right way it's a win for everybody," Ms. Shenker said. The reusable-bag campaign, she said, is illustrative of the marketing professional's work. "Think of it like the department store cosmetics model: 'You could spend $30, but if you spend $10 more — if you bought these great tomatoes, or two more jars of this jelly — you get this great bag and help save the planet.' This can help farmers get through the winter, and help the planet because people aren't using plastic bags."
Replacing single-use plastic bags, which are manufactured with petroleum and often end up as litter both on land and in the seas, with an environmentally friendly substitute represents the win-win model to which she referred. "It's a matter of training people to behave differently," Ms. Shenker said, "and also training the farmers themselves to market in a way that, in the long run, will benefit them."
Her gift to the farmers market, and by extension its vendors and customers, as well as the environment, is also representative of marketing's purpose. "I did start the business to make a living," Ms. Shenker said of theONswitch, "but also saw a tremendous need among small-business owners who had great products and services, are great people, and just didn't know how to take their businesses to the next level. I prefer working with small businesses — you're working directly with the owner, who is passionate. The biggest mistake a lot of small-business owners make is that they don't think of marketing as an investment."
"Maybe," Ms. Shenker said of her own investment, "one will be picked up by someone that needs marketing help."