Emphatic 'No' to Artificial Turf Field in Sag Harbor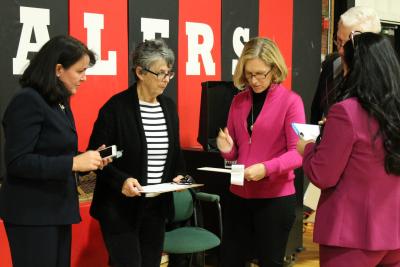 Christine Sampson
Sag Harbor residents sent a clear message to the Sag Harbor School District: An artificial turf athletic field is not wanted in the community.
With a final count of 1,016 to 135 on Wednesday, voters rejected the school district's proposal to use $365,000 from its capital reserve fund to supplement the money the community had approved by referendum in November 2013 for an artificial turf athletic field at Pierson Middle and High School. The field emerged as a controversial issue in recent months at school board meetings and community forums primarily because of questions over its alleged health risks.
The result gives the school board the green light to pursue a natural grass option at Pierson. The district would have $1.45 million available to revamp the grass field, and has also discussed adding a sports practice field and redoing the outdoor multipurpose court at the Sag Harbor Elementary School. Using the money for grass instead of for its original purpose, artificial turf, required special legislation from New York State.
"The governor has okayed it," Katy Graves, Sag Harbor's superintendent, said Wednesday after the result was announced. "That will be the shift, but that still has to be voter approved, so we've already established a date for another vote."
The anticipated date is Feb. 15, 2017. The school board is expected to solidify the details at its meeting on Monday at 7:30 p.m. in the Pierson library.
A handful of community members in attendance to hear the results on Wednesday were satisfied with the outcome.
"This is a great victory for the health of our children and the environment," said Helen Roussel, a parent of three children in Sag Harbor schools.