Edward Leo Hannibal, Novelist and Ad Man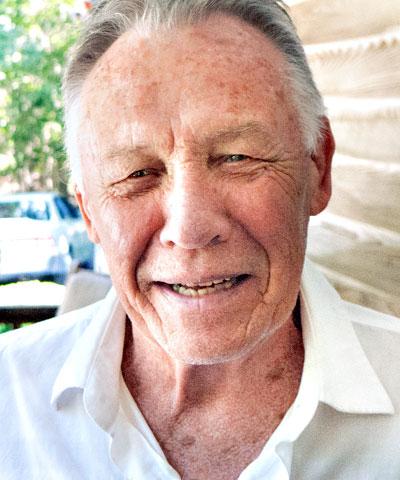 Aug. 24, 1936 - Dec. 6, 2014
Edward Hannibal, a novelist and advertising executive, died of lung cancer at Southampton Hospital on Saturday after a short illness. He was 78.
Mr. Hannibal was born to Joseph Hannibal and the former Loretta McCarthy in Beverly, Mass., on Aug. 24, 1936. The lifelong imprint of an education administered by Catholic nuns and priests, and of growing up in a working-class family were the basis of Mr. Hannibal's 1970 novel, "Chocolate Days, Popsicle Weeks." The title refers to an ice cream factory, where he worked to put himself through college, the first member of his family to do so. It was a New York Times best seller and won Houghton Mifflin's literary fellowship award.
A graduate of Boston College, Mr. Hannibal married his high school sweetheart, Margaret Twomey, and they decamped for Stuttgart, Germany, where he served in the Army as a first lieutenant in military intelligence. He began his advertising career after they returned to this country and settled in Brooklyn.
With the success of "Chocolate Days," however, the couple moved with their five young children to East Hampton. Mr. Hannibal then wrote the 1973 "Dancing Man, and the 1977 "Liberty Square Station," in which he elaborated on striving for both success and integrity in a world where everything is for sale. Additional books were the 1982 nonfiction work, "Blood Feud," about Robert Kennedy and Jimmy Hoffa, and a 1983 cold war thriller, "A Trace of Red."
In the years before the personal computer, Mr. Hannibal's family said, he typed in the hunt-and-peck style using only his index fingers.
Mr. Hannibal relished local life here. He served on the East Hampton School Board at one time and wrote its newsletter, naming it Chalk Talk. In the late 1970s, he returned to advertising, commuting in and out of the city every week as one of the first customers of the Hampton Jitney, then a single van.
Like many of his peers, Mr. Hannibal's relationship with advertising was double-edged, although successful. He created a print ad for Dingo boots, which showed O.J. Simpson with three legs. He enjoyed working with fragrance and cosmetics accounts, including Revlon and Guerlain. Spending most of his career with Grey Advertising, one of his longest clients was Mitsubishi Automobiles.
The director of the account, David Stickles, described a television commercial Mr. Hannibal did for Mitsubishi as pioneering. "Mr. Hannibal parked the car out in front of a very pretty New England church, tied some tin cans to the back bumper and put a 'Just Married' sign on the back. The camera just panned around the car, always holding the church in the idyllic scene." Mr. Stickles said wedding music played, the voice-over intoned Corinthians, and by the time the commercial was completed, the client was awestruck. "As they should have been because Mr. Hannibal did something no one else had ever done," Mr. Stickles said.
Mr. Hannibal relished irony and found it in a 1991 Smithsonian World documentary, "Selling the Dream," in which he was featured. In it, Mr. Hannibal articulates the art, science, and showmanship of selling cars, which blended his fictive themes with his working life.
In retirement, Mr. Hannibal loved kayaking at Louse Point and riding his bicycle through the back roads. He also resumed writing fiction full time and was a stalwart member of the Ashawagh Hall Writer's Workshop. The couple sold their East Hampton house after their children were grown and settled in Springs.
Mr. Hannibal's family described him as a natural teacher and a mentor to many young people. He taught high-school equivalency subjects to servicemen while in the Army and writing at New York University and the Amagansett Free Library. His sui generis "Feral Cat" poems were a continuing feature of The East Hampton Star's letters pages.
Mr. Hannibal was working on a novel at the time of his death. He had discussed his practice of "over-writing" at the Ashawagh workshop and his tendency to "cut and cut and cut." He had long been searching, he said, for a narrative strategy with which to shape that manuscript, and said he had finally hit on it.
In the long hours before he died, family members read Mr. Hannibal the short stories of Ernest Hemingway. After one plea for an F. Scott Fitzgerald story, a granddaughter read him "The Diamond as Big as the Ritz." Mr. Hannibal then commented, his family said, "Fitzgerald writes about class, and that's fine. But it's all about language. And Hemingway gets to the language behind the words."
Mr. Hannibal is survived by his wife, as well as his children, Mary Ellen Hannibal of San Francisco, Edward Hannibal and Jack Hannibal of Asheville, N.C., Ellie Hannibal of Richmond, Va., and Julie Hannibal of Eastport. His seven grandchildren called him Poppy and were the joy of his days, his family said.
Visiting hours will be held at the Yardley and Pino Funeral Home in East Hampton on Sunday from 6 to 8 p.m. A Mass of Christian burial will be celebrated by the Rev. Donald Hansen at Most Holy Trinity Catholic Church in East Hampton at 10 a.m. Monday, with burial following in the church cemetery.
Memorial donations have been suggested for the American Lung Association of the Northeast, 21 West 38th Street, New York 10018.