East End Eats: Indian Food, Infused With Love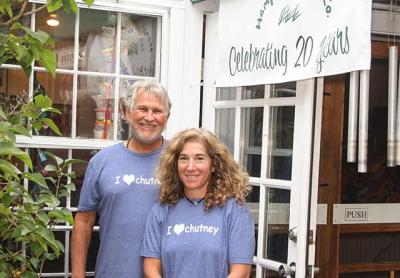 Durell Godfrey
Hampton Chutney Company is based in Amagansett Square
When it comes to our attention that a food establishment has not only survived, but thrived, for more than 20 years on the East End, that is worth noting and celebrating. Such is the case with the Hampton Chutney Company, based in Amagansett Square, with two more locations in New York City and one soon to open in Los Angeles.
The founders, Isabel and Gary MacGurn, met in 1987 in Ganeshpuri, India, when both were cooking at an ashram. They were unloading coconuts when a bag of them fell on Isabel's head. Gary came to the rescue, and they became good friends and nothing more for the next seven years. They traveled in different directions of the world and finally began dating in 1992.
Gary had grown up in San Diego, a surfer dude who attended community college "for five minutes." Isabel was raised on the Upper West Side, attended private schools and the Wharton School of Business. 
He was raised Presbyterian and had always been fascinated by saints. "Twelve saints got to hang with Jesus. Why only 12? I wanted to hang with a saint!" At the age of 20 he was living on an uncle's farm in a six-by-eight cabin with no electricity, tending a garden, milking cows, and making cheese and butter. His brother sent him a tape of mantras, which inspired him, and his uncle encouraged him to visit India, "which was like going to Mars," he recalled. "I'd never been out of California." He began following Swami Muktananda, affectionately referred to as "Baba," and then moved into an ashram and washed dishes for thousands of people a day. After years of travel, he became a cook and was particularly drawn to dosas, a thin, sourdough crepe made with rice and lentils, filled with all manner of vegetables or meat, and served with chutneys.
"I was in love with them. They appeal to all ages. You can add cheese, avocado, and whatever is seasonal."
The couple moved to Amagansett and worked on a business plan. They began by making chutneys at home and selling them at farmers markets, then gourmet shops in the city. When the much-feared health inspector showed up on their doorstep and shut them down, they worked out a deal with the late Jeff Salaway to open a chutney business in what was previously the Honest Bakery, now La Fondita, in 1997. From the get-go, business took off. They started making dosas that patrons could take outside to eat at picnic tables as they gazed upon the beautiful landscape oasis that is the Bayberry Nursery.
After three years they moved to their current location in Amagansett Square. Business initially dropped off by 30 percent. "Everyone thought we'd shut down, they didn't realize we'd just moved down the road."
When you walk into Hampton Chutney Company you will always hear the chants playing in the background. The atmosphere is calm, the staff friendly, and the food outstanding. "The chants are important, the sound infuses the food and the atmosphere, they enter you and are super powerful. You can have a five-star restaurant, but if there is anger and cursing in the kitchen, it will be in the food. For the staff, our mission statement is: 'Welcome everyone with love and respect.' This goes for everyone, our vendors, our customers, and ourselves. Not everybody can work here, we set a high bar, and we have very little turnover."
Their sons Julian, 18, and Ravi, 16, have both worked at their parent's establishment. Julian is in his second year at Georgetown University and is working for Senator Charles Schumer. Ravi is a junior at East Hampton High School and loves tennis. 
"It's a great experience for our boys to work here. They see how hard everyone works and we bond over it when we get home," Gary said.
There are lots of school field trips to Hampton Chutney, and it deliver dosas to the Amagansett School every Tuesday.
What has always impressed me the most (besides Gary's contagious enthusiasm, happy demeanor, and his wife's calm kindness) is how perfectly consistent the quality is. Every dosa is brand-spanking fresh, every chutney zesty and imaginative. They are healthy and affordable. There are plenty of other offerings there: delicious soups, uttapams (a thicker, open-faced crepe made with the same batter), sandwiches, cardamom coffee, lassis, a children's menu, ice cream, cookies, and a few shelves of well-curated gourmet items.
The MacGurns follow the three Ayurvedic tenets of eating. "Too many people eat unconsciously. You should eat foods you can digest easily and get more energy from. Eat the right amount of food. Eat according to season." In spring you will find dosas with asparagus, in fall and winter, there will be butternut squash and beets.
When they're not working their tails off (Isabel working the cash register and managing the business end, Gary cooking and greeting guests), they like to cook Italian food at home. When the season calms down, they take biking trips to Block Island, visit Julian in D.C., and Gary's parents in San Diego. Hampton Chutney is closed only three days of the year, Thanksgiving, Christmas, and New Year's Day. Every year they take the entire staff to Harvest on Fort Pond, and for date nights the couple treat themselves to dinner in the tavern at 1770 House.
Everyone who knows Hampton Chutney Company has his or her favorite dosa and chutney. I'm a Number Six Masala Deluxe gal myself. It's filled with spiced potatoes, spinach, roasted tomatoes, and jack cheese. They toss in a few chopped jalapeños (Gary's recommendation) and I top it with the tomato and cilantro chutneys. My son grew up on Number Eleven, filled with smoked turkey, roasted onions, spinach, and jack cheese.
The MacGurns found their passion and live completely by their beliefs. The rest of us in our community get to be fed well by these beliefs. Here's to at least 20 more years of happy, healthy dosas, orange blossom perfumed lemonades, and the best chutneys outside of India.