Daring Mid-Storm Evacuation by Ferry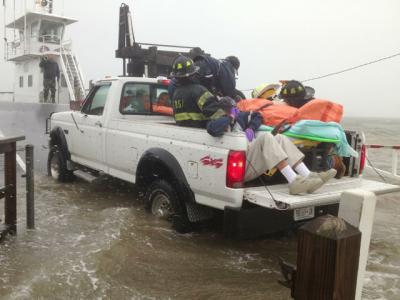 Capt. Sherri Surozenski
Shelter Island ferry captains, police, firefighters, medical technicians, and a ferry passenger with a truck joined together to pull off the safe evacuation of a 92-year-old woman on Monday afternoon in the middle of Hurricane Sandy.
As the winds picked up and seas became increasingly dangerous, Detective Sgt. Jack Thilberg of the Shelter Island police received a call from a physician's assistant requesting help for Virginia Jernick, whose situation was lifethreatening and beyond the scope of home care.
Police, doctors, emergency workers, and the family had to weigh the risks versus the benefits of transporting her off the island, with potential impacts from the trip including anxiety and exposure to the elements. There were also logistical issues. The North Ferry was not an option, Detective Thilberg said, because of the wind's direction. "She was game for it," Detective Thilberg said, but conditions at the South Ferry presented a greater challenge than expected.
With the ambulance unable to board the ferry ramp due to the high water — it was three feet above road level — the patient was carried by stretcher in the back of a Ford pickup truck, protected by a tarp and several emergency workers, as the boat battled floating debris and winds near 90 miles per hour, and waves crashed over its deck.
A Sag Harbor ambulance was waiting on North Haven, and transported the woman to Southampton Hospital, where Ms. Jernick was admitted.
It was the "highest tide we've ever seen," Capt. Bill Clark, co-owner of the ferry company, said Tuesday. The ferry shut down around noon on Monday, when the high tide made it impossible for many cars to board safely. He said that David Lingwood, a ferry customer in line to depart the island to check on his own elderly father, had the only vehicle with high enough clearance to board the ramp. Many vehicles attempted it before Ms. Jernick was loaded onto Mr. Lingwood's truck. She was "protected beautifully . . . wrapped like a cocoon," said Captain Clark. Despite low visibility conditions due to salt spray, rain, and gusting winds, "The captains did a marvelous job," he said.
Jon Westervelt, captain of the ferry Sunrise, said he has run the boat in hurricanes, but never anything this extreme. The captain said he navigated the Sunrise through the storm as bulkheads floated by.
"I did the best I could to keep her dry," he said, and "tried to land as smoothly as I could." Capt. Sherri Surozenski, who joined him on board to battle the elements, "was my eyes." She kept a lookout for large floating debris, helping skirt an osprey's nest, among other things.
Captain Surozenski's boots were filled with water, making it difficult to walk. "It's like having two lead balls on your feet," she said. "The waves were breaking on my chest," Captain Westervelt added, and "you don't know what's under the water, either."
Cliff Clark, another co-owner of the ferry, was on the trip too, and jumped off on North Haven first to drag away logs and other large debris through three feet of water to clear the way for the truck to disembark. The Sag Harbor emergency workers "did a great job," Captain Westervelt said. "They got her in the ambulance quickly."
Throughout the ordeal, the Ms. Jernick was coherent, calm, and confident in her decision to go to the hospital, said John D'Amato, chief of the Shelter Island Fire Department. "She is an amazing lady."
"It was fun," said Captain Westervelt. "It was a great example of how Shelter Island operates in difficult times," said Will Anderson, the island's first assistant fire chief, and acting officer-incharge. He also had praise for Mr. Lingwood. It was an "extraordinary effort," he said. "I was proud to be a part of it."
This story has been updated to include Ms. Jernick's name. As of Wednesday, she was stable and comfortable at Southampton Hospital, her family said. They said they were grateful for the rescue effort that saved her life. It has also been updated to properly indentify the driver of the pickup truck; he was David Lingwood.