Concert for a 1934 Church Organ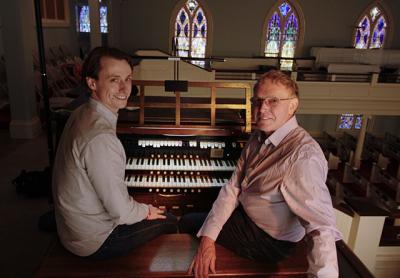 Durell Godfrey Photos
The Bridgehampton Presbyterian Church's organ has started to show its age
For more than 80 years, the Bridgehampton Presbyterian Church's organ has added its voice to innumerable services, weddings, funerals, and concerts, including regular accompaniment of the Choral Society of the Hamptons. But recently it has started to show its age.
The organ, built in 1934 by the Austin Organ Company of Hartford, has developed many problems with its miles of electrical wiring and numerous contacts and switches. "It's functioning in that era's technology. The copper wiring with cloth and wax insulation is a major concern," Tom White, the church's organist, said last week. "It's like a house that was wired in the 1920s." 
The problems cause individual notes and pipes to fail during Sunday morning services. "Sometimes there are too many pipes not speaking, so a musical scale can't be played," he said. In addition, at times the entire lower keyboard will fail to play at all.
Now, a concert of musical theater, art songs, and opera that describes "A Journey Through Love" will be presented at the church on Sunday afternoon at 2 featuring a Southampton tenor, Douglas Sabo. Joining him will be Alexandra Whitfield, a soprano, and Matthew Lobaugh, a pianist. Proceeds from the concert will benefit the church's pipe organ restoration fund.
The money will help with the work necessary to restore the massive instrument and bring it up to contemporary standards. The original organ console, which houses the two keyboards, pedal board, and controls for the various sets of pipes, will be replaced by a newer used console, which will have fiber optic cable and circuit boards and a solid-state control system.
Another obvious problem is that serious air leaks have developed in the wind chests on which the pipes sit in the organ loft, and the sound is loud enough that it can be heard from the pews downstairs as a "whoosh." For those closer to the organ it might be a more noticeable rush of sound. 
"We turn the organ off during the sermon so you can hear the pastor's message," Mr. White said. As another major part of the project, the wind chests will be carefully disassembled and reglued, and some parts will be replaced.
The organ has 16 ranks, or sets of pipes, with each rank having a distinctive tone color or pitch, plus the chimes and harp, which are two percussion ranks. At present there are a total of 1,127 individual pipes in the instrument. One colorful set of pipes, called the oboe, will have 12 new larger pipes added to make a lower octave and enrich the bass sound. This will involve adding a new wind chest, mounted inside the organ chamber.
All of the work that needs to be done is detailed, labor-intensive, and requires skilled technicians. The total projected cost is about $134,000, of which about $73,000 has been raised. By contrast, an all-new organ to replace the current one could easily cost $500,000 to $750,000. A contract has just been signed with the Austin company for part of the project, and work has begun off-site preparing the new console, software, and control systems.
The concert, to be held on the first weekend of spring, will feature a seasonally appropriate theme. "We were trying to think of different program ideas other than the standard classical music concert," Mr. Sabo said last week. "Traditionally there are four or five different sections about a theme, whether it's love or longing or loss. Often early music is done at the beginning and contemporary music is done at the end."
"So, when we thought of love, we said, let's not just do songs about love, because it's a little boring. We wanted to create something that starts from the beginning with people who are out of love or no longer love, and moves throughout the program to finding love. And we're using the songs in a way that fits that theme, that flows for both of our characters, so there's an overall arc."
The music ranges from Mozart, Mendelssohn, and Schubert to Kurt Weill, in solos and duets. Asked if anything on the program stands out for him personally, Mr. Sabo said, "The duets are a lot of fun." He mentioned "I Can Do Anything Better Than You" from Irving Berlin's "Annie Get Your Gun," "You're the Top" from Cole Porter's "Anything Goes," and numbers by Sondheim and Donizetti. "I think those will be the highlights," he said.
Mr. Sabo appeared with the Southold Opera Company as Prosper in "La Vie Parisienne" in December, and before that as St. Brioche in "The Merry Widow." Recently he was also in the Bronx Opera Company's production of Mozart's "The Abduction From the Seraglio," and he has performed with the Golden Rose Opera Company in Queens and the Dell'Arte Opera Ensemble in Manhattan.
He met Ms. Whitfield when they were graduate students at the Longy School of Music of Bard College, and they became friends and performance partners. They began performing together in and around Boston, and continued to do so after having earned master's degrees. They have also done interactive performances for schools in and around New York City and Boston and at the Hayground School in Bridgehampton two summers ago.
Ms. Whitfield complements Mr. Sabo in that she leans a bit more toward art song, while he is somewhat more inclined to opera, he said, although they are both versatile artists. Recent engagements of hers include "Lady of the Camellias" with the Boston Ballet and Fauré's Requiem with the Cantata Singers Chamber Series in Boston. Other roles have been Josephine in "H.M.S. Pinafore" with the Nahant Music Festival and Zerlina in "La Serva Padrona" with Opera New Hampshire.
The two singers will be accompanied by Mr. Lobaugh, a freelance pianist and vocal coach from New York City, where he has served as music director for the Citywide Youth Opera and Opera Breve and has been on the staff of Loft Opera NYC. He also holds degrees in both piano and vocal performance from Southern Methodist University in Dallas.
One piece on the program, "Du bist wie eine Blume" by Schumann, will be accompanied by Mr. White on the organ, which he has been playing since he was 10 years old. 
The suggested donation for the concert is $20, and there is no charge for children. Anyone wishing to make a contribution to the organ fund can send it to Bridgehampton Presbyterian Church, P.O. Box 3038, Bridgehampton 11932, marked "pipe organ restoration fund."