Buying a Christmas Tree? Join the Live Tree Trend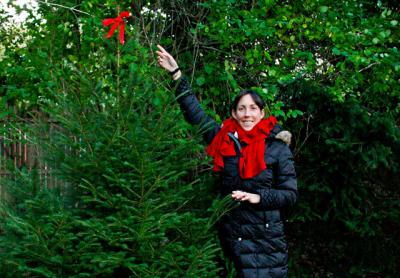 Durell Godfrey
Opting for a live Christmas tree requires some planning
Christmas is coming and garden shops and nurseries already have begun selling fir trees. You've seen them everywhere. For the most part, when the holidays are over they are allowed to dry out on firewood piles, used by municipalities to shore up dunes, or taken to the dump. 
Another trend, one more in keeping with sound environmental practice, is taking over on the East End, however. Instead of a tree felled by chain saw, homeowners are buying live trees with root balls intact to be used temporarily indoors and eventually set into permanent spots on their properties.  
Opting for a live Christmas tree requires some planning, however, and the experts were ready to give some advice.
 "For most people, the first concern is going to be the size and weight," said Nikki Seelbach, a designer at Charlie and Sons Landscapes in Amagansett. "A traditional Christmas tree could have a root ball on it that weighs over 90 pounds."
Marders in Bridgehampton sells Norway spruces, which Kevin Coffey, one of its tree experts, called one of the best performers on the East End. The trees, he said, average 6 feet tall, weigh about 200 pounds, and cost $249. The nursery also carries a 4-foot version, already in a container, for $149.
One of the drawbacks to having a live Christmas tree is the limited time it can be displayed indoors. "Trees are going into dormancy in the fall," said Ms. Seelbach, so when placed in a heated home, "you're basically bringing it back into summer time." To protect the health of a tree, she said, "it should only remain in the house for 10 days."
Before it makes it indoors, however, the tree should be allowed to slowly adjust to the temperature. "You should acclimate it in a garage or an intermediate space for two or three days before you bring it into your house," Ms. Seelbach said. She added that once inside, a tree should be treated like an extra-large houseplant; the soil should remain wet, although the root ball should not sit in excess water.
Ms. Seelbach recommended thinking ahead if you plan to plant a live tree after the holidays. A hole for it should be prepared before the winter's cold sets in, so that the ground will be soft enough for digging and someone able to carry heavy weights should be ready and willing.
"You want to dig a hole that is the same depth or even a few inches shallower than the root ball, and twice as wide," she said. "Planting a tree too low is the quickest way to kill it."
After the tree has spent the holiday indoors, it should return to the garage or shed for a few days to acclimate to the new temperature. Then it will be ready to be planted outdoors where, in a visible and attractive place, it can keep the Christmas spirit alive throughout the years to come.