A Bookish Bedside Weekend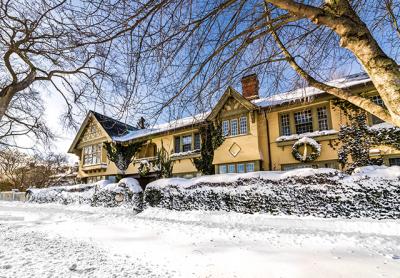 Luxi Liu
Five author events at five locations courtesy of the Baker House 1650
Now here's a getaway for serious readers. The Baker House 1650 on Main Street in East Hampton is offering what's billed as a Hamptons Bedside Reading Weekend, from March 1 to 3, that in fact involves more than books stashed in rooms: The authors themselves will put in appearances, namely those associated with a women's literary and marketing cooperative called the Tall Poppies, a group that also raises money for various literary causes.
"Events throughout the weekend include cocktail parties and book signings," in the words of a release. "Special package rates are available for this weekend," which involves a two-night stay at the inn, a gift bag, a stack of books, breakfast each day, a $100 credit to dine at the Jean-Georges restaurant at the Topping Rose House in Bridgehampton, and admission to five author get-togethers. The cost starts at $908.36, to put a fine point on it. Reservations are through the Baker House 1650. 
On March 1, a meet-and-greet with cocktails at Topping Rose from 6 to 8 p.m. will welcome Amy Impellizzeri, who will sign her political thriller "Why We Lie." The next day, a tea tasting and book signing will take place at the White Fences Inn in Southampton, with Kristy Woodson Harvey and "The Secret to Southern Charm" from 11 a.m. to 1 p.m.
Also on March 2, the 1770 House in East Hampton will host Amy Reichart with "The Optimist's Guide to Letting Go" from 2 to 4 p.m. From 5 to 7 that night, a champagne cocktail party back at the Baker House will feature Kelly Simmons and "The Fifth of July," a story of a dysfunctional family on Nantucket.
The book gatherings wrap up on March 3 from noon to 2 p.m. at the Maidstone Hotel in East Hampton, as Sandra Block uncaps her pen for her new novel of revenge, "What Happened That Night." Light refreshments are in store.