Big Donation to Complete 9/11 Memorial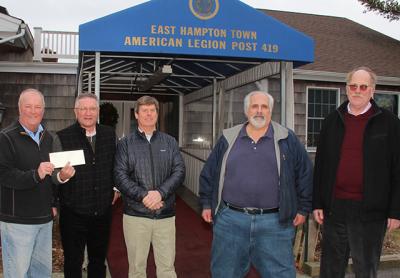 Durell Godfrey
Dayton, Ritz and Osborne Insurance has donated the final $5,400 needed for a 9/11 memorial that the Sons of the American Legion Squadron 419 in Amagansett has been working six years to complete, clearing the way for the sculpture to be finished and installed.
John McGuirk said he and his fellow partners at Dayton, Ritz and Osborne — George Yates, Fred Ritz III, and Jeff Brown — volunteered to make the contribution after reading about the effort in The Star earlier this month. After their application to the Port Authority of New York and New Jersey for a steel beam from the World Trade Center was approved in 2015, Tony Ganga and his brother, Bob, of the Sons of the American Legion, arranged for it to be transported to the legion hall in Amagansett, raised most of the $32,000 to pay for the project, and enlisted the pro bono help of Gustavo Bonevardi, a sculptor and part-time East Hampton resident who agreed to design the legion's memorial after a chance meeting with Bob Ganga.
"My partners and I talked about it, and we thought it was just something we should do because it [the memorial] is important," said Mr. McGuirk. "I have some close friends who are New York City firemen, and the number that always sticks in my head is 343 — the 343 firefighters who died."
Mr. Bonevardi was among the artists who originally helped conceive "Tribute in Light," the epic twin beams of light that are still projected into the sky from a site near the World Trade Center towers on every anniversary of the Sept. 11, 2001, terrorist attacks. He can now move forward with fabricating the sculpture.
Tony Ganga has been the Amagansett Sons of the American Legion commander for 16 years and a member for 30. The group is for sons and grandsons of legion members. Tony Ganga is also a member of the East Hampton Fire Department and helps organize the Hamptons Soldier Ride to benefit the Wounded Warrior Project. He says his hope "if everything aligns" is to have the memorial installed by midsummer at the legion post's grounds on the corner of Abraham's Path and Montauk Highway, and to then schedule a formal dedication ceremony.
"The donation was kind of a surprise — it's been a long road, it really has — but I'm proud, relieved, and thrilled, absolutely thrilled," Mr. Ganga said.