Betty E. Brugger, 86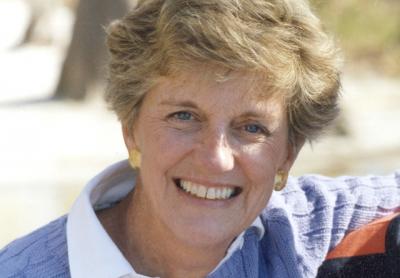 June 26, 1930 - May 13, 2017
Betty Eliane Brugger, a longtime Time Inc. staffer who created the company's iconic HBO logo, died at her East Hampton home on May 13. A year-round resident since 1995, she was diagnosed with cancer about five months ago. She was 86 years old.
Ms. Brugger worked her way up at Time from a clerk's job to become the promotion art director of its magazines before retiring in 1983. It was her idea to boil down the original somewhat clunky HBO logo, which featured a picture of a movie ticket and the words "Home Box Office" surrounded by rows of black dots, to today's clean design. "She said, 'You need call letters,' " said her friend Irene Sullivan of East Hampton, to identify the channel as a network, not just a place to see movies.
Born on June 26, 1930, in Valley Stream, to Emile Brugger and the former Emma Jahier, she  grew up there, graduating from Valley Stream High School.
In 1962 she moved to New York City to work for Time. She had vacationed in East Hampton for about 17 years before buying a house in Northwest Woods. She became an accomplished photographer, an enthusiastic gardener and golfer, and a gifted painter of botanical watercolors. She never sold anything, Ms. Sullivan said, but donated numerous items to be auctioned for the benefit of the Retreat, an East Hampton agency that serves victims of domestic abuse. She was a skilled pianist as well.
Ms. Brugger never married. She leaves one sister, Andree Brugger of Golden, Colo.; another sister predeceased her. She is also survived by  "a host of much-loved nieces, nephews, and their children," who might as well have been her own, Ms. Sullivan said.
 Contributions in her memory may be directed to East End Hospice, P.O. Box 1048, Westhampton Beach 11978. A celebration of her life will be held at a later date.