Best Picture Nomination for Topping and 'Hidden Figures'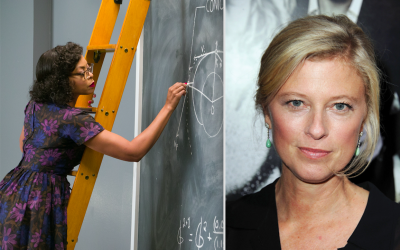 Hopper Stone
Earning Academy Award nominations for best adapted screenplay, supporting actress, and best picture
Jenno Topping's career in the film industry has been defined by her work with women. In films such as "Spy," "Charlie's Angels," "Heat," "28 Days," and many more, she has sought out female directors and fellow producers, writers, production staff, and plots driven by female characters. 
Her commitment to mentor and support women in film has led to one of her most noteworthy and lauded achievements to date: helping to bring "Hidden Figures" to the screen. The film, for which Ms. Topping was a producer, is about three African-American women who had pivotal roles as mathematicians and engineers at NASA during the 1960s space race. It has earned Academy Award nominations for best adapted screenplay, supporting actress, and best picture. Its full cast also recently won a Screen Actors Guild award.
Even to those not familiar with her film work, her name should sound familiar. She is the daughter of Tinka and the late Bud Topping of the Topping Riding Club in Sagaponack, and she was an award-winning equestrian in her younger years.
Now, she is the head of film and television at Chernin Entertainment, a company affiliated with 20th Century Fox, which was founded by Peter Chernin, who was once president and chief operating officer of News Corp, Fox's parent company. Not long ago, she and Mr. Chernin were included in a Hollywood Reporter list of the 30 most powerful film producers in Hollywood.
Ms. Topping expects to be in the audience when the awards are announced on Feb. 26, capping off weeks of events and ceremonies, such as the Golden Globes, the Producers Guild Awards, and others. The last time she was part of this whirlwind season was when "Good Will Hunting," a film produced by her husband, Chris Moore, was nominated for several awards in 1998. "I forgot the whole awards thing is a full-time job," she said last week, involving the ceremonies themselves, red carpet and other interviews with press, and additional publicity. Mr. Moore has been nominated in the same category this year as a producer of "Manchester by the Sea."
"When you already have a full-time job and a family, it can be overwhelming, but it is such a cool ride to be on. I'm so grateful the movie found an audience," she said.
That the story for "Hidden Figures," based on a nonfiction book by Margot Lee Shetterly, came to her attention can be seen as inevitable, given how women-centered films shaped her career. "Part of it is what you are drawn to, your inner passion, and then part of it is self-fulfilling prophecy," she said. Given the natural tendency to pigeonhole, Ms. Topping said she has become known as a producer who "loves female-driven films and characters. It becomes an oeuvre."
Producing is an amorphous term indicating a range of involvement in a film, from distant but significant financing to direct stewardship from idea to screenplay, selecting the director and casting, film crew supervision, securing funds for the production budget, and finding distribution. Ms. Topping's involvement in "Hidden Figures" is on the fuller end of the spectrum. "It's confusing. Producing means many different things. Even the same person can do very different things from movie to movie."
Ever since she and the director Theodore Melfi made "St. Vincent," a well-received 2014 film starring Bill Murray, they had been looking for another project to work on together. "You want to find people you love to work with and work with them again and again," she said. 
They had been sending a lot of scripts back and forth. The "Hidden Figures" script came to her as a partially rewritten version of the book. When Mr. Melfi saw it, she said, his initial reaction was, "Am I crazy? I'm not African-American and I'm not a woman, but this script spoke to me and I would love to rewrite and direct it." She said her thoughts quickly went from being happy to work with Mr. Melfi again to stunned excitement.
 "I thought 'this story was never made into a film before? Are you kidding me?' My boss read it and felt the same way. The movie had to be made right away." She immediately called colleagues at Fox. "I said you have to read this right now. I've never made that call as urgently as I did then." Mr. Melfi rewrote some of the script, by Allison Schroeder, and casting began early last year followed by production in March. Things on their end moved so quickly that Ms. Shetterly's book was published only a couple of months before the film was released.
Even if "Hidden Figures" doesn't take home the best picture award, it has already succeeded, striking a chord with world-weary audiences and taking in more that $120 million in box office receipts. "It does that thing that a film like it always does. But it occurs in a weird moment in time, when people were politically united in a higher purpose than ourselves." Audiences are responding to that, and finding the positive message refreshing in this moment in time, she said.
Ms. Topping has been in Los Angeles almost exclusively since she graduated from Wesleyan University. She went there to join a boyfriend and find a job as a reporter. "I couldn't get a job in journalism, so I took the first job I could get, which was being an assistant to a music manager and film producer. I spent half my time touring with rock bands and half working on movie sets."
Eventually, Ms. Topping got a job as a reporter in Santa Fe, but realized she liked making films better. At MGM, she first became an assistant and then reader of scripts for Alan Ladd Jr., who was chairman at the time, and the legendary producer of films such as "Star Wars," "Alien," "Moonstruck," and "Chariots of Fire," among others. In 1993, she left MGM with him when he formed his own company. She worked on "The Brady Bunch Movie" while he produced "Braveheart." 
It was through "Brady Bunch" that Ms. Topping met Betty Thomas, who would become her partner in a company that produced films such as "28 Days" and "Charlie's Angels." She then "had my own deal at Sony to make a bunch more movies." When she met Mr. Chernin some seven years ago, "I hadn't had a boss since I was 26, with Laddy. Except for one weird year at HBO I was on my own or partners with someone." But, she said, "he's the boss of bosses." She was first hired as president of the film division and now oversees development and production of all films and television at the company.
Her latest projects include "Snatch­ed," an action comedy with Goldie Hawn and Amy Schumer playing mother and daughter, to be released in May, a new "Planet of the Apes"  in June, and a "sexy thriller with Jennifer Lawrence filming in Budapest and due to be released this fall." Also this fall will be the release of  "The Mountain Between Us," a "plane-crash survivor romance movie" with Idris Elba and Kate Winslet. And for release next Christmas is "The Greatest Showman," a musical treatment of P.T. Barnum's life, starring Hugh Jackman.
All this doesn't give her much free time, but what time she has, she spends with Mr. Moore and their three children, and on visits back home. "We Ping-Pong back and forth," she said, which adds up to four to five weeks each year. She is in partnership with her family to preserve their Daniel's Lane farmland through the next generations, but rarely rides anymore. "It was something I did so intensely, and once you stop, it's very hard to start up again."
Although the demands of her current work make leaving L.A. impossible, she hopes to return here full time in the future, even if it means waiting until retirement. "I've been trying to get back there since I left," she said.