Beales Reels Revealed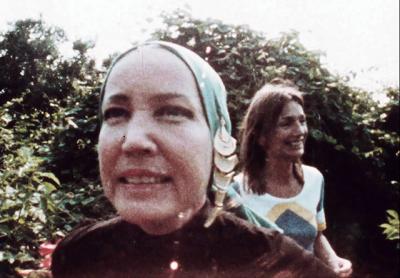 Peter Beard, Thunderbolt Productions
By Susannah Edelbaum
Alfred and David Maysles made Edith Ewing Bouvier Beale and Edith Bouvier Beale, affectionately known as Big and Little Edie, famous, but they weren't the first to film at Grey Gardens, the mother and daughter's ramshackle Georgica estate. In the summer of 1972, three years before the release of the brothers' now-famous "Grey Gardens" documentary about the reclusive, captivating eccentrics, the Maysles brothers were hired as crew for a film project initiated by the photographer Peter Beard and the Beales' niece and cousin Lee Radziwill. After a month of shooting, mainly with Mr. Beard behind the camera, the project was shelved, with the footage stored and lost track of for 45 years. 
It resurfaced and was subsequently returned to Mr. Beard when Alfred Maysles was going through some of his own reels from the period. A producer, Joslyn Barnes, met the photographer through a mutual friend and asked the Swedish director Goran Hugo Olsson to direct a cut of this newly found work, incorporating some outside footage depicting the lives of Mr. Beard and Ms. Radziwill at that time. The result is "That Summer," which presents about a little over an hour of wonderful footage from Mr. Beard's lost reels, showing the two Edies in their dilapidated mansion, along with a bevy of cats, crew, town officials, and Ms. Radziwill overseeing the action, just before and as workmen were brought in to renovate. 
Mr. Olsson bookended this with interviews with Mr. Beard, at work in his Montauk studio in 2016 sorting through wildlife and celebrity photos he had taken around the same time that he and Ms. Radziwill embarked on the project about her aunt and cousin. Throughout the film, the two also provide narration about the Beales, each other, and a Hamptons gone by. The documentary has been making the international festival rounds, and was screened at the Berlin International Film Festival last week. 
Mr. Olsson also included some footage of and by Andy Warhol, outside a house in Montauk he allegedly never slept in, which has little to do with the Beales but does flesh out Mr. Beard's glittering social life — "Everybody was there, believe me," he narrates — during the summer he and Ms. Radziwill decided to film the denizens of Grey Gardens.
Notable are the documentary's separate but complementary nostalgia trips: As they did in the Maysles film, the Edies reminisce, lovingly and often, about past suitors, lost family members, and their respective youths. For Mr. Beard, the documentary provides a vehicle to express a certain despondency regarding the changing nature of East Hampton Town. Should "That Summer" ever play on the South Fork, audiences here might easily commiserate. "Montauk was full of great people, mostly fishermen," he says, as he sorts through 40-something-year-old photos, "but now it's mostly tourists." (Viewers might identify less when he waxes nostalgic for travel via the Queen Mary, noting that "this business of airplanes is very, very disappointing.") 
The years gone by have not dimmed Mr. Beard's affection for the Beales, nor the anger he feels on their behalf for the treatment they received at the hands of the town. Not long before his cameras showed up, local officials had sent in the fire department to hose down the inside of Grey Gardens, traumatizing the women, an issue much discussed in these vintage reels. Frustration with local bureaucracy as a driver of negative change is a recurrent theme. "The Town of East Hampton are [sic] horrible, horrible people," he says. "It's amazing how people love to ruin things."
The nostalgic nature of "That Summer" seemed to resonate with members of the mostly 20 and 30-something pan-European audience at the Berlin screening. Alice Talya, a Berlin native, said she found that "it was a bit less sad and depressing than 'Grey Gardens.' " An English friend of hers in the next seat, Euan McLachlan, added that, "It just seemed a nicer portrait of them, somehow. They're very interesting people to watch." Both were already familiar with the Beales — "We actually re-watched 'Grey Gardens' yesterday, in preparation," Ms. Talya said. 
It may be surprising that this chapter of hometown lore is so well known to foreign audiences, but clearly the Beales' reach goes far beyond these shores. Besides their own abundant eccentric charm (which is just as on display in "That Summer" as it is in "Grey Gardens"), the two were also relatives of one of America's most famous families — and it is Ms. Radziwill's involvement with the documentary that is by far the most captivating part of the film. 
The Maysles brothers showed the Beales, and pretty much only the Beales, after their house had been somewhat renovated, a project funded by Jacqueline Bouvier Kennedy Onassis's husband, Aristotle. The Beales were her aunt and cousin. (Mr. Onassis's involvement is occasionally referenced by the characters in "That Summer," but he never appears on camera.) Here we see Ms. Onassis's sister, Ms. Radziwill, as the project manager, as gentle and elegant during in-house raccoon observations and meetings with contractors as she is chatting with her aunt and cousin (for whom each expresses great affection when she is off camera). Her calm, lovely presence, in addition to the Beales' extreme-bohemian lives, might further already enthusiastic interest in all the various media produced thus far about the women. 
"My girlfriend told me about the film," said Gosia Jargiello, a Polish resident of Berlin who attended the screening with her American partner. "She was very excited, but I'd never heard about the movie before. I liked it — and now I want to see the original one." The footage incorporated into "That Summer" shows the women surrounded by people who care deeply about them (as well as some pesky local government inspectors), but it directly gave rise to "Grey Gardens," in which the Beales seem very much alone. In the future, perhaps the two should be viewed as companion pieces, documenting nearly concurrent but different sides of the lives of two of East Hampton's most intriguing women.
Susannah Edelbaum is a writer and former intern at The Star who lives in Berlin.