BADMINTON: A Good Workout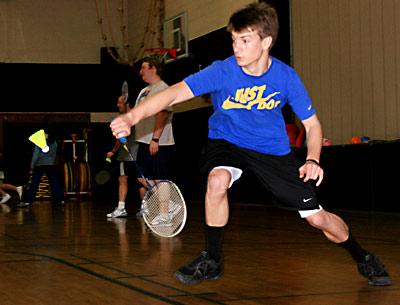 Jack Graves
    Thirty-one years ago, Dick Baker, who before he began selling real estate had been a physical education teacher at the Amagansett School for 15 years, inaugurated weekly badminton nights there from the fall through spring.
    During a conversation at The Star the other day, the group's founder, who is back to playing after having got a new hip on Nov. 21, said, "We've got a good group now, from 16 to 18."
    About half were women, he said, adding that badminton was a sport in which men and women can compete on an even footing. "As a matter of fact, the best player we've ever had in our 31 years was a woman, a 19 or 20-year-old au pair from Denmark. She played with us for a year. Nobody — and I was playing a little better then — could take more than 8 or 9 points from her in a game of 15."
    The pickup games, in singles and doubles, are held every Wednesday at Amagansett's gym from 7 to 9 p.m., between September and the first week of May. "We could only fit one court in the old gym, which was destroyed by fire, but, with the new one, we can fit three."
    Badminton, as this writer, who, with Baker as his partner, lost to his wife, Pam, and Lynn Baldwin 21-13 at last week's session, can attest, is a demanding game even though the court is small and narrow.
    "It's much quicker than tennis," Baker said, a conclusion with which this writer, a doubles tennis player, could not take issue. "There's very little preparation time. You're not hanging out at the baseline, you're on top of each other, hitting back and forth. In the professional matches the shuttle comes off the racket at 275 miles per hour, though, because of its shape, it decelerates."
    "I think it helps a bit to be a racket player," he continued, in reply to a question, "but people who are naturally athletic can pick it up fairly quickly. If they have the eye-hand coordination required to hit the shuttle, the next step is the footwork, which is very important. The service line in doubles is not as far back as it is in singles. In singles, the majority of serves are high and deep; in doubles, they're short and low. You get one chance, no second chances, so you want to make your serves count."
    Essentially, he added, there were "three shots in badminton — the clear, hit high and deep to move your opponent back, the smash, hit with your shoulder turned and with a wrist flick, and the drop."
    "When you play defense in doubles," he said, "you want to be side by side, but when you're on offense one of you should be back and the other up front. So, say you and I are playing together, I'm in back and the shuttle is cleared to me. If I smash the return, you want to be at the net — as I smash you take two steps toward the net. If I clear, you take two steps back. That's all there is to it, but it's a lot to think about. If you watch badminton videos on the Internet, don't try watching the shuttle — watch how they move their feet. It's all about footwork. They hit and move, hit and move. The biggest problem new players have is getting back into position. They want to watch their shots, but by that time it's all over. . . . You want to make your opponents move their feet, you don't want to just hit it at them, and you want to go where they're weakest, which often is the backhand corner."
    Baker laughed when told that Eric Wittenberg, one of the group's players, had replied, "In this game if you blink, it's gone," after this writer had said the large tennis rackets of today frequently lulled him into taking his eye off the ball.
    Asked what it was he loved about badminton, Baker, who recently finished up with physical therapy and is planning to follow up with a circuit training routine of his own devising, said, "It's a great cardiovascular workout, and, unlike basketball, which is tough on the knees and the ankles, it's a sport you can play for a long time. It's the perfect workout. And I like the fact that women can participate with the men."
    In 1994, when Baker had him give a clinic at the school, Steve Butler, an Englishman and former pro, said he thought badminton was one of the world's five toughest sports, in terms of its physical and mental demands — up there with boxing, martial arts, cross-country skiing, and mountain running.
    "Oh, and we've had some celebrities play here," Baker said in parting. "I got a phone call one day in July . . . this was sometime in the '80s. Paul Newman and his protege, James Naughton, who had been an excellent baseball player before he blew out his knee sliding into second base, were here and they wanted to play."
    "Paul Newman was 70 or 71 then. He'd been an intercollegiate badminton player and he loved playing. I couldn't play because I'd just had my knee scoped, so I had Pam and Richard Dunphy and Michael Ruddy, an Irishman who's the mason for Seven Sons Landscaping and a very good badminton player, play them. Pam played every game. An hour and a half to two hours in a hot gym on a July afternoon. Naughton and Paul Newman didn't win a game. Paul Newman said he wasn't going to leave until they did."