The Art Scene: 07.06.17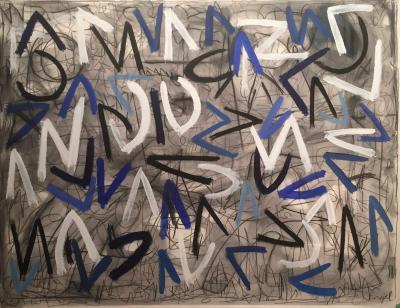 Local Art News
Lichtenstein Lecture Series
The Pollock-Krasner House and Study Center in Springs is presenting its annual Lichtenstein Lecture Series, in which art historians engage a variety of issues and personalities central to modern art, with an emphasis on the artists of the New York School.
The free talks take place on Sunday afternoons at 5 at the Fireplace Project, which is across from the Pollock-Krasner House at 851 Springs-Fireplace Road. Joan Marter, a co-editor of Woman's Art Journal, will speak about "Women Artists of the East End" on Sunday. Future lecturers are Lewis Kachur, Laurie Wilson, Helen Harrison, Gail Levin, and Marion Wolberg Weiss.
The annual John H. Marburger III Memorial Lecture will take place July 29 at 4 p.m. at Guild Hall. Titled "Mark Rothko From the Inside Out," it will be delivered by Christopher Rothko, the late artist's son. The free talk will be followed by a book signing and reception at the Pollock-Krasner House.
Last Big Fair Standing
Market Art + Design, the sole survivor of the three big art fairs that have competed on the South Fork for the past six summers, will open this evening at 6 at the Bridgehampton Museum with a benefit for the Parrish Art Museum. Sixty-five galleries from around the world will take part. 
 Participating South Fork galleries are Lawrence Fine Art, Roman Fine Art, and Janet Lehr Fine Art from East Hampton, RJD Gallery and Kathryn Markel Fine Arts from Bridgehampton, and Ille Arts from Amagansett. 
The fair will be open to the public tomorrow from noon to 8 p.m., Saturday from 11 a.m. to 7 p.m., and Sunday from noon to 6. A preview pass, which includes tonight's opening benefit and all public days, is $35. A multiday pass is $25, and a one-day ticket is $20. 
Sarah Jaffe Turnbull
At Art Space 98
"Affinities," an exhibition of sculpture and photography by Sarah Jaffe Turnbull, will open at Art Space 98 in East Hampton tomorrow and remain on view through Aug. 7. A reception will take place Saturday from 5 to 7 p.m.
Ms. Jaffe's art has developed through a variety of mediums. Her early ceramic work included functional porcelain vessels, then evolved into stoneware figures and heads, and, most recently, abstract stoneware sculptures. She has also produced monotypes and Solarplate etchings, and has recently focused on photography. 
Folioeast on the March
Coco Myers and Kay Gibson of folioeast, an online gallery of contemporary art that periodically pops up in unconventional locations, will present five exhibitions at Studio 144, the barn behind Golden Eagle Arts at 144 North Main Street in East Hampton.
"Color, Scale, Impact," an exhibition of work by Shari Abramson, Michele D'Ermo, Janet Jennings, Kryn Olson, and Mark Perry, will be on view tomorrow from 5 to 7 p.m., Saturday from noon to 8 p.m., and Sunday from 11 a.m. to 5 p.m., with a reception set for Saturday from 6 to 8. A sculpture garden is being developed at the same location, with work by Dennis Leri, James DeMartis, and Donna Green.
Deborah Black at Ashawagh
Arlene Bujese has organized an exhibition of paintings by Deborah Black that will be shown at Ashawagh Hall in Springs from Tuesday through next Thursday, with a reception to be held Tuesday evening from 5 to 7.
Ms. Black, who died in 2015, was inspired by the trees and bays of East Hampton, where she lived for many years. According to Ms. Bujese, "Trees often seem as sentinels who guard the foliage, water, and pathways in the natural setting. In the simplified strokes, and pursuit of light, the works exude a meditative quality."
Art With an Edge at Lehr
Janet Lehr Fine Art in East Hampton is presenting "Edgy Contemporary 2017" through July 25. The exhibition includes work by six gallery artists: David Demers, Pipi Deer, Oliver Peterson, William Aquino, George Schulman, and Dave Rogers. The works range from abstract painting to found-object sculpture to collage.
Images of Summer
"Summer's Pleasures," an exhibition of photographs at the Tulla Booth Gallery in Sag Harbor, will open with a reception Saturday from 6 to 8 p.m. and continue through Aug. 15. Participating artists are Roberto Dutesco, Herb Friedman, Daniel Jones, Blair Seagram, and Stephen Wilkes, all of whom are inspired by nature.
Christopher Engel at Kramoris
The Romany Kramoris Gallery in Sag Harbor is presenting "Strings," a selection of recent work by Christopher Engel, from today through July 27. A reception will take place Saturday evening from 5 to 6:30.
Mr. Engel's paintings often contain frontal figures whose outlines harbor abstract marks that make reference to calligraphy, graffiti, marks on walls, tar patches, and ripples of water. 
New at Grenning
The Grenning Gallery in Sag Harbor is presenting a solo show of work by Nelson H. White, a plein-air painter, from Saturday through July 23. A reception will take place Saturday evening from 6:30 to 8.
Mr. White has captured the light and color of the seasons at Mashomack Point on Shelter Island, the Connecticut shore, Italian beaches, and the hills of Vermont. He is also known for his portraiture.
Group Show at White Room
The White Room Gallery in Bridgehampton will present "Out of Bounds," a group exhibition, from Monday through July 31, with a reception set for July 15 from 6 to 8 p.m.
Participating artists, who work in photography, painting, mixed media, and sculpture, are Ann Brandeis, Kat O'Neill, Lauren Robinson, Kevin Barrett, Joan Giordano, Elizabeth Gregory-Gruen, Norman Mooney, and Isobel Folb Sokolow. Art will also be on view outside in the garden.
Paint and Sip
The Baker House, an inn on Main Street in East Hampton, and the Salty Canvas, a traveling paint studio, will hold a "Paint and Sip" event on Wednesday from 5 to 7 p.m. Guests will receive step-by-step painting instruction; all painting materials and a glass of wine are included in the $50 fee.
Awards for Toby Haynes
Toby Haynes, who divides his time between Cornwall, England, and East Hampton, has been awarded Best in Show at the East End Arts Gallery's annual national juried show for his watercolor "Interface." His plein-air painting "The Horse's House" won honorable mention. The works, which will be on view at the Riverhead gallery from Aug. 4 through Sept. 20 in a show called "Playing With Perspective," were selected by Sara De Luca of Ille Arts in Amagansett.
Cedar Point Abstracts
Paintings and works on paper by the East Hampton artist Susan Vecsey are on view at the John Jermain Memorial Library in Sag Harbor though Sept. 4. Ms. Vecsey's evocative abstract paintings are inspired by the landscapes around Cedar Point. 
A reception will be held on July 29 from 2:30 to 4:30 p.m.