Amagansett Family Begins New Venture in Nicaragua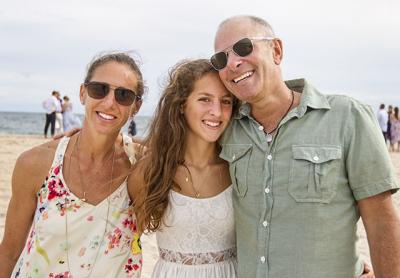 Courtesy of Marc Schultz
From here to serenity
Nicaragua, with its miles of pristine beaches, rain forests brimming with spectacular wildlife, rolling hills interrupted by the occasional river, and a complete set of volcanoes — extinct, dormant, and smoking — is the kind of country that will inspire you to build a hacienda, open a yoga and fitness retreat, and throw away your cellphone.
Marc Schultz and Dayna Winter, year-round Amagansett residents, did just that, almost — they kept their cellphones. In 2007, together with their young daughter, the family first visited Nicaragua, spending a week in San Juan del Sur, a fishing village along the southern stretch of Pacific coastline, about an hour's drive from the Costa Rican border. They left as owners of about an acre in a new development known as Costa Dulce about 20 minutes from San Juan del Sur. Here, they built their dream hacienda overlooking a breathtaking vista above secluded Playa Escameca, where part of a "Survivor" television series was filmed. By 2010, tourism had surpassed coffee as the country's main source of income.
Last August, the couple opened Verdad, a fitness and yoga retreat, on an adjacent lot. It has five freestanding cabins with decks overlooking the ocean, a pool, two pool rooms linked by landscaped paths, an open-air yoga studio, and an outdoor dining area.
Until quite recently, the oft-heard travel tip for first-time visitors to Nicaragua was, "go with an open mind and a Spanish dictionary." Off the main roads, children guide farm animals along dusty paths, ox wagons roll by, and vaqueros (Nicaraguan cowboys) ride tall in the saddle.
Eclipsed by its fun-loving neighbor Costa Rica, often called Gringolandia, as the honeypot for luxury and eco-tourism, Nica­ragua's place in the hierarchy of Central American travel destinations was virtually nonexistent, unable to shake its mala fama of Sandinistas, Contras, trade embargoes, Cold War, and other phrases that did not exactly scream "holiday paradise."
But its turbulent past also gave Nicaragua an edge that appealed to the curious traveler. Tourists began to push past that outdated image — the war ended in 1990 — and arrived in the early 2000s to find a beautiful and well-preserved country with a proud culture formed during the country's harsh revoluionary years, and one that was the safest in the region, according to a United Nations survey.
In the seven years since building their Nicaraguan hideaway, the Amagansett couple spend almost all their vacation time there, reveling in sheer kick-back comfort, surfing, fishing, and exploring the country with family and friends who often accompany them. Mr. Schultz, who retired from his New York City finance job about 10 years ago, spends most of the winter there. While building his house, he got to know several local families and realized he wanted to do more for the community. Tourism boom and all, Nicaragua still ranks as the second poorest country in the Western Hemisphere, after Haiti.
"Only 3 percent of the local kids go on to secondary schools because those schools are so far away," he explained. After meeting the American founder of a small supplementary school in San Juan del Sur, he raised enough money to build another in the village of Escamequita, near his Costa Dulce house. It opened in February with 72 students from kindergarten through 12th grade. He described the curriculum as part English as a second language and part cultural opportunities, such as art and music, computer skills, farming, fitness, and dance — pursuits to help graduates be job-ready in the country's rising tourism industry. Mr. Schultz invited Paul Hamilton, a Springs farmer, to his Nicaraguan hacienda to teach schoolchildren and local families farming techniques and help them sell produce in nearby San Juan del Sur, now a burgeoning ecotouristic, bourgeois-bohemian hot spot.
In 2015, the lot next to his house went up for sale, and the concept of a small fitness and yoga retreat — Verdad — was born. "It was a totally spontaneous decision," said Mr. Schultz about purchasing the land, which he did with four other investors. 
"At first I was nervous about building a resort right next to our house," Ms. Winter said. But after speaking with Junya Oishi, a Japan-born architect based in Costa Rica who promised privacy and seclusion for both owners and guests, her fears were eased. 
"The property has amazing views toward the ocean, mountains, and peninsula," their architect wrote in an email. "It is a combination of green and blue, where ocean meets mountain under the sky — different faces that change in morning light, daylight, and before sunset's golden time."
His biggest architectural challenge was the property's steep incline — the cabins are 300 feet above sea level — and the wild, dry forest covering the land. As a result, he designed the cabins with their backs to the hillside and their fronts up on stilts, offering unobstructed views of mountains and ocean. He also set each cabin at a different height on the slope, explaining that by staggering the eye level, guests would not feel that a neighbor was right next door. "It's a Zen concept," he said, "take the conditions as they are and go with the flow of the nature."
Ms. Winter served as interior designer, sourcing everything from around Nicaragua. While the architect chose the indigenous woods, Ms. Winter worked with local carpenters who handcrafted all the furniture, louver windows, and cabinetry. She even found handmade bathroom tiles from Grenada, a historical colonial town about two hours away. "It wasn't easy," she concluded, "to strike a balance between aesthetically pleasing and what's available."