Sound familiar? You're onstage. In a mosh pit at your feet, screaming fans chant your name. Dressed in skintight black leather and cradling a sparkling electric guitar, you pull an "orgasm face" and step up to the mic: "Once I had a love and it was a gas. Soon turned out had a heart of glass."
The crowd goes wild.
Ah, the rock star fantasy. Who hasn't been there? No wonder the annual Battle of the Fantasy Girl Bands, a beloved, all-female event that grants musical mortals -- i.e., beginners and amateurs -- access to their strutting gods and secret rocker selves for just one night, has reached fever pitch once again. Saturday, March 5, will be the sixth Battle, and this year around 50 women from all walks and ZIP codes will participate in this hell-raiser fund-raiser at the Stephen Talkhouse in Amagansett.
Battle of the Bands, as it's now known, began in 2016, the brainchild of Holly Li and Christine Sciulli, friends, Amagansett residents, and both with daughters who were part of Kate Mueth's Neo-Political Cowgirls, a nonprofit dance theater company that hosts creative workshops and stages productions for young actors. While attending a Cowgirls event, the duo decided that a rock band contest would make a "win-win" fund-raiser.
Rock's aspirational pull has taken hold on mostly middle-aged women, thereby injecting a much-needed Axl Rose-like gusto into the dreary February air.
"Everybody wants to be in a band," said Ms. Li last week, sitting in Ms. Sciulli's living room following band practice. "Everybody wants to be glamorous and onstage," she said, adding, "But none of us knew what we were doing at the beginning. None of us played any instruments. We were awful but we had so much fun."
(Full disclosure: I was the lead vocalist in Ms. Li's first band at the inaugural show. Yes, we were awful, but yes, it was tons of fun.)
As a fund-raiser -- proceeds go toward the Neo-Political Cowgirls' education fund -- the two women were right: It's an unequivocal success. The $25 tickets sell out quickly. Each band member pays $25 to enter, and there's a hugely popular silent auction on the night, offering goods and services from local businesses. In 2020, the event grossed around $10,000. This year, eight to 10 bands will perform, with a few karaoke acts to serve as a warm-up. Only women are allowed to participate.
"It's always been about girl power," said Ms. Sciulli, who will play bass in a band called the Liners, alongside Ms. Li on guitar, Almond Zigmund, the artist, on vocals, Barbara Dayton, the president of the Springs School Board, also on guitar, and Christina Sun, who lives on the North Fork, on drums. 
Song titles are kept secret, adding to the hype. Costumes, hair, and makeup are taken very seriously, and band members switch allegiances from year to year, forming new groups and bringing in fresh wannabe rockers. As always, the night's headliner band will be Spitnkitn, a talented amateur group with Lindsay Morris on vocals and guitar, Ms. Dayton on drums, and Susan Nieland on bass.
"Women get to act out a fantasy of performing in a rock band," Ms. Morris said. "It's a challenging and slightly terrifying thrill. Who wouldn't want to give that a shot?"
Melissa Norris certainly did. She's flying in from San Francisco especially for the evening, together with four friends who have formed the Bay Area Bitches. Last summer, while visiting the South Fork, Ms. Norris spotted a flier and was determined to participate. "I've always wanted to learn to play drums," she said over a recent phone call, "and pretend to be a rock star."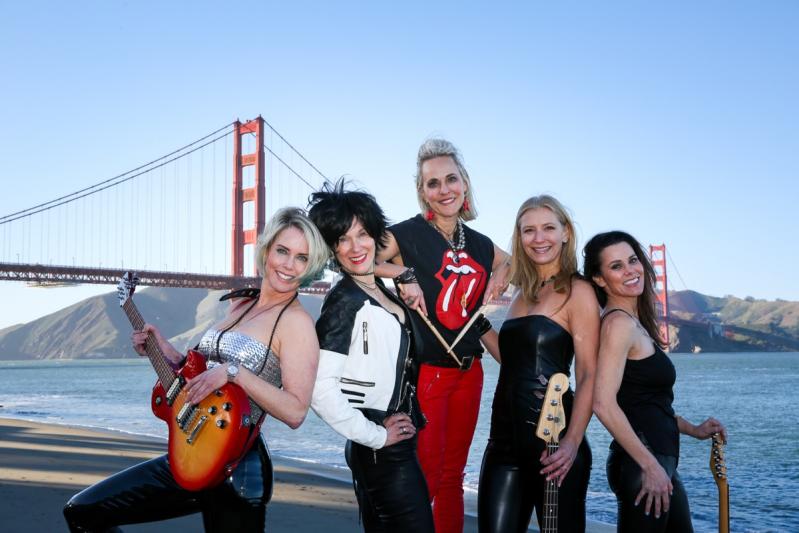 ---
In a rented studio space, the West Coast band practices regularly. "We were all seeking new experiences," said Ms. Norris, who co-founded an executive search firm for the asset management industry 20 years ago. "And I can't believe how much fun we're having. This is really good for our brains."
In the Amagansett home of Nika Nesgoda, a photographer, it was practice time. Her children's instruments were pushed to one side in a room to accommodate a drum set, keyboard, amplifiers, and seven other women who form the Antibodies. Yuka Silvera, a Northwest Woods resident, heads the band, which also includes Yupay Vong, a production assistant at The Star. For Ms. Silvera, a talented bassist, theatrical costume and clothing designer, and regular performer at the Battle, the yearly event offers an opportunity to emerge as glamorous and daring, transporting herself and her bandmates back to the 1980s, her favorite decade, which she experienced in Tokyo. 
A first-time "battler," Bryony Freij, a social worker in Sag Harbor and a leader of East End YIMBY, an affordable-housing advocacy group, appeared perfectly comfortable hitting the drum set. Behind her, handmade signs of her activism efforts were taped onto a basement wall. 
"I played drums 20 years ago in college," she said. "I moved to New York from San Francisco, for college, two weeks before September 11th and I watched the whole thing out my window. I was alone and new to the city and totally freaked out. So, I took the next semester off and joined a drum school, the Drummers Collective in Lower Manhattan, above a McDonald's. I may have been the only girl there but then I met these two other women and we started a band. We played gigs all over the city for years, but this was before iPhones so I have no proof of my coolness," she said, smiling.
Rediscovering her drummer roots during Covid, she formed Mustang Frida Gypsy Queen with keyboardist Emily Weitz McLean, a former yoga teacher, now managing director of the nonprofit Paper Fig Foundation, and guitarist and singer in a band called Born & Raised Music, as well as Kelly Dodds on bass guitar. Ms. Dodds, an accomplished musician and the president, co-artistic director, and co-founder of the Sag Harbor American Music Festival, joined the Friday band practice via Zoom from Curacao, where she was vacationing.
And this is how it goes right now in basements and living rooms across the East End and beyond: The Slots, the Tina's, Yo Mama, Miss Vicious, Feisty Lamas, Hymm -- rock's aspirational pull has taken hold on mostly middle-aged women, thereby injecting a much-needed Axl Rose-like gusto into the dreary February air. These predominantly white-collar warriors -- mothers, teachers, therapists, producers, podcast hosts, businesswomen -- are busy punching out power chords and blowing their lungs out on rock anthems.
For Ms. Mueth, this community-building show is at the core of the Neo-Political Cowgirls' mission. "Learning to play an instrument that's never before been tried, singing in public, and engaging with the challenges of rehearsing regularly with a group, births some pretty exciting outcomes in confidence and joy," she wrote in an email.
Ms. Li and Ms. Sciulli realize they've tapped into a universal truth: That something about rock transforms people. Their dream is to expand and perhaps introduce the concept to targeted cities where they have connections.
"It does take the right community and the right way to infiltrate the community, to communicate to the community, to make this a successful event," said Ms. Li.
They've certainly perfected this unique and fantastical jamboree here on the East End, offering a bunch of female fantasy rockers their one-night-a-year moment on the mountaintop.
---
This story has been updated since it was first published.