How sweet it is: East Hampton High School's junior varsity football team debuted here Monday with a 28-8 win over Babylon, a school that has perennially fielded strong varsity teams.
The Bonackers, led by their quarterback Topher Cullen, struck three times from the air and once from the ground as an appreciative gathering of parents, friends, and four seniors — Nick Wyche, Nick Lavelle, Cody Bezubek, and Danny Ortiz — who because they are seniors are not allowed to play junior varsity ball, looked on.
During the course of the afternoon, Bonac defenders sacked the opposing quarterback half a dozen times, and Cullen connected with half a dozen receivers.
East Hampton made little headway in the game's opening possession, but its defenders made themselves known right away as back-to-back third and fourth down sacks by Renee Criollo and Wayne Street put the ball in Bonac's hands at the midfield stripe.
This time, the locals were not to be denied as Cullen, who during the course of the seven-play drive connected with Drew Salamy, Street, and Colin Ruddy on passes that were good for first downs, ran the ball into the end zone from the 1-yard line. He converted the extra-point play too, for an 8-0 lead.
An interception soon after by Santi Maya at midfield set up East Hampton's second score — by way of a first-down pass to Criollo from the 15. Street was stopped on the extra-point play, but as the first quarter ended it was 14-0 East Hampton.
Cullen himself was intercepted near the end of the second quarter, at East Hampton's 30, and the visitors responded with a touchdown reception and two extra points of their own. (It was to be the sole consequential misstep the Bonackers were to make that day.)
Taking over at their 35 (Section XI has eliminated kickoffs and punt returns from junior varsity play), the Panthers began the third quarter with a 34-yard drive that came to an abrupt halt when Criollo sacked the quarterback on third-and-one at East Hampton's 31. The punt went to the 15, at which point, after making no headway on the first two downs, Danny Lester snagged a pass over the middle and ran the rest of the way, leaving Babylon defenders in his wake. A subsequent pass to Kevin Bunce Jr., East Hampton's chief running back, and the team's sparkplug, made it 22-8.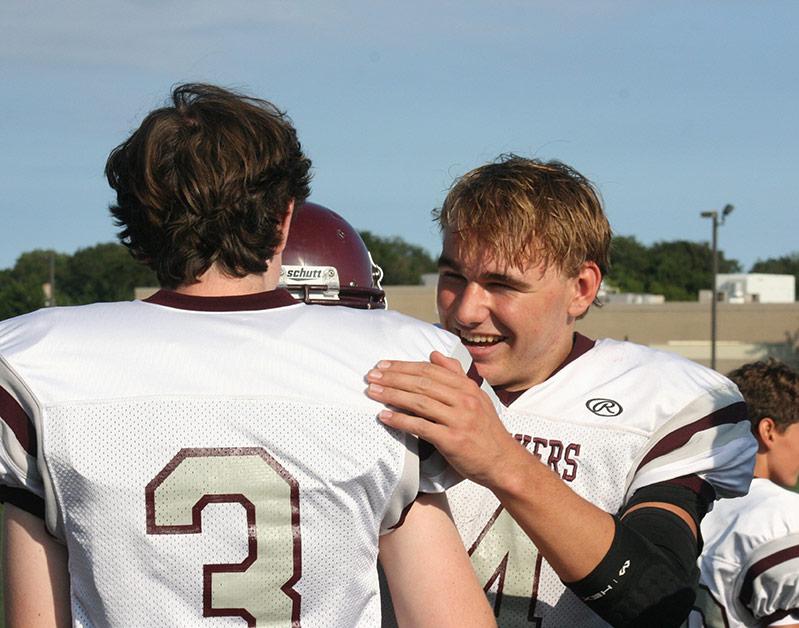 A holding penalty with a minute and a half left in the period nullified what initially appeared to have been a 41-yard touchdown pass to Street, but with a little more than two minutes gone in the fourth, Cullen and Salamy combined on a six-yard touchdown reception that extended East Hampton's already-commanding lead to 28-8, the final score as it turned out.
"There are some things we need to clean up," Joe McKee, East Hampton's coach, said afterward, "but it was a very good start for us, and, hopefully, we'll continue to get better."
The Bonackers' next game is to be with Center Moriches here on Sept. 23.
Other Sports
In other action this past week, East Hampton's boys soccer team lost 4-1 to Half Hollow Hills West after having taken a 1-0 lead; boys volleyball defeated Commack 3-2; girls tennis lost 6-1 to Islip, and girls volleyball lost 3-0 to Kings Park.
The cross-country teams, golf, and field hockey were to have competed in league openers Tuesday.
As for the girls swimming team, which has been undefeated in league competition the past two years, its coach, Craig Brierley, said Monday the team would take it one meet at a time.
The captains are Olivia Brabant, Julia
Brierley, Darcy McFarland, and Sophia Swanson, all seniors.
"Along with our other seniors, Reghan Anderson, Eva Doyle, and Tiana Treadwell, we'll have strong leadership this season," the coach said in an email.
A Maroon-Gray intrasquad meet was held at the Y.M.C.A. Saturday, with the Gray team, captained by Brierley and McFarland, prevailing 55-47 over the Maroons, whose captains were Brabant and Swanson. Swimmers of the meet were Catalina Badilla of the Grays and Maddie Elflein of the Maroons.
Brierley's roster comprises seven seniors, eight juniors, three sophomores, four ninth graders — Jane Brierley, Alyssa Brabant, Elflein, and Larissa Marin — and an eighth grader, Isabelle Caplin.