The Hamptons Dance Project was born on the sands of East Hampton's Main Beach many years ago, after Jose Sebastian was adopted at the age of 3 but before he joined the American Ballet Theatre in 2010.
Having grown up in Manhattan after spending time in several foster homes, Mr. Sebastian, now 30, enjoyed many summers here, where he made vivid memories with friends he'd convene with every summer.
That's why, when he decided to launch a project of his own design, he knew it had to happen in East Hampton.
"My mom, on a very limited teacher's salary, somehow managed to get me out here every summer," Mr. Sebastian said recently. "I met some amazing people along the way through camps and everything. I always look back and I say those were my best childhood memories, with my friends on the beach."
This weekend, the Hamptons Dance Project will bring together professional dancers from the A.B.T. and choreographers from as far away as Dresden, Germany, for two days of dance from different genres, including some new works commissioned just for this event.
"We are presenting a wide spectrum of dance, from classical to very contemporary," said Mr. Sebastian, who will dance in the show himself. "I don't feel like there's a lot of dance out here. There's visual arts, there's music, acting, theater, but there's very little dance. Being so close to New York City, I said there should be more dance. I'm trying to provide that to the community."
Music will also run the gamut from classical to pop. "It's a mixed program: some funny pieces, some high-energy pieces, some beautiful, loving duets, some physical group pieces," he said. "I hope the audiences enjoy that."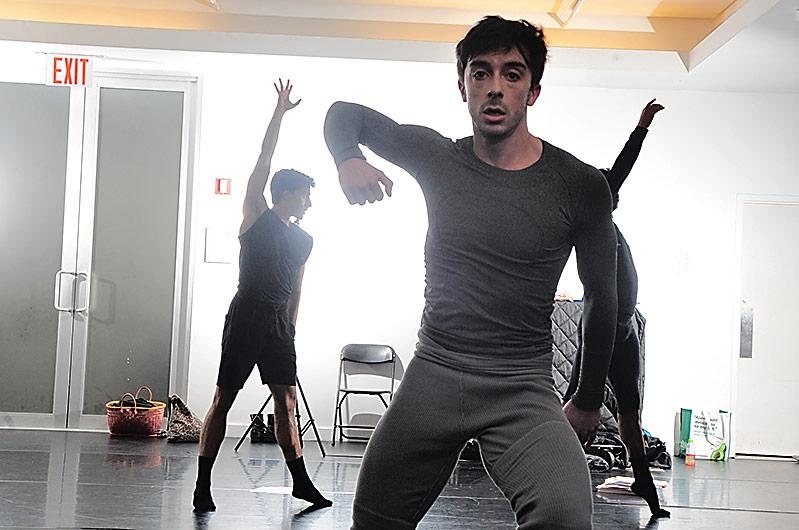 Joseph Hernandez, a longtime friend of Mr. Sebastian's who dances and choreographs for the Dresden Semperoper Ballet, has created an original work, a dance for four men, for the Hamptons Dance Project.
"I often work with these sort of larger, established institutions," Mr. Hernandez said, "but I was super excited to be part of this project because not only is it different from a lot of the summer gigs, it's my own creations and a group of people has really taken it on board to produce new work in a place that has history."
The event will be Mr. Hernandez's first trip to East Hampton, unlike his friend Mr. Sebastian.
"I'm looking forward to seeing how this work connects with the people of the Hamptons," Mr. Hernandez said, "and I'm looking forward to engaging in this chorus around dance and performance in this area of the world."
Mr. Sebastian, whose tall, lean, and graceful build is a telltale sign of his profession even from a distance, is the kind of human being who once asked his mother if he could be "the wind" for Halloween.
"Everyone was Ninja Turtles, and he wanted to be the wind. Jose always moved. His body moved," Pat Sebastian said.
She put her son in piano lessons, soccer, and — to his reluctance — dance classes when he was young. She had to bribe him with the promise of a video game system to get him to finish out the year in ballet, but by the time the year was over, the video game had been forgotten.
Mr. Sebastian said that more and more, this art form is being understood by the general public.
"I feel like the spotlight has shifted more on dance in recent years, which is great," he said, citing the work of Misty Copeland, the A.B.T.'s first black female principal dancer, as an ambassador of the art form, and the popularity of movies like "Black Swan," "Red Sparrow," and others.
"I love seeing it more in commercials and television and movies," Mr. Sebastian continued. "It's been nice to see the development of an appreciation for dance — trying to let it not be a dying art form."
With performances on Saturday at 8 p.m. and Sunday at 7 p.m., tickets to the Hamptons Dance Project are $35, or $150 with an after-show reception included. Tickets may be purchased at the box office at Guild Hall, by calling 631-324-4050, or online at guildhall.org.