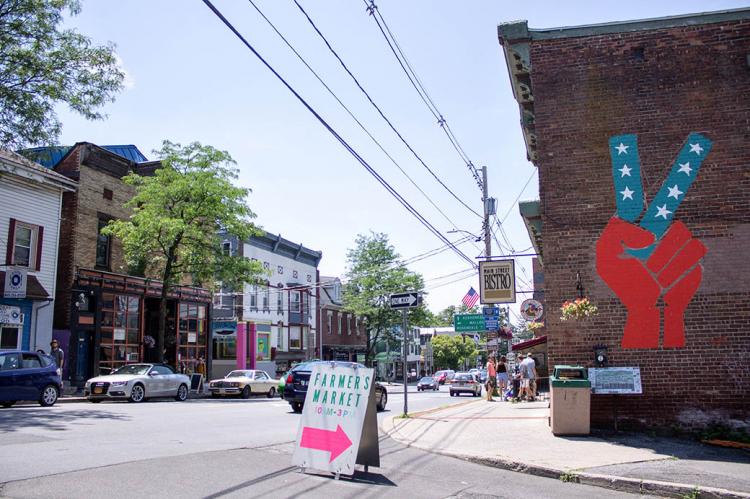 A series of two-lane roads bearing many similarities to our own Montauk Highway winds through much of the Hudson Valley. Of course, they're all called Main Street whenever they bisect a vibrant downtown village or hamlet, but — as with Route 27 — they each have numbers, like Route 213 or Route 299.
One of the best things about these roads is the view: lush greenery in the summer and golden scenery in the fall. Another is that you don't have to have a car to get from one town to the next. A bike will do, if you're up for the challenge of a good 30 to 40 miles in a day.
In the Hudson Valley, the town of New Paltz and nearby places like Rosendale, High Falls, and Gardiner combine for a perfect weekend getaway. History, culture, and green spaces come together spectacularly here; this is home to some of the country's most beautiful rivers, mountain ranges, farmlands, and vistas. You can put hiking, rock climbing, and even spelunking on your agenda in a single day, then sit down for a farm-to-table dinner or vegan smorgasbord. You can walk an entire downtown and find secondhand treasures at antique stores, used record stores, and vintage shops. You can even find a spa that's on a mission to eliminate the use of harsh chemicals in beauty treatments.
But before you do anything else, plan your accommodations. East Enders will relish a stay at the 1850 House Inn and Restaurant — a visual twin of a Sag Harbor gem, the American Hotel, which many of us know was built and then rebuilt by the cabinetmaker Nathaniel Tinker after a fire in 1845.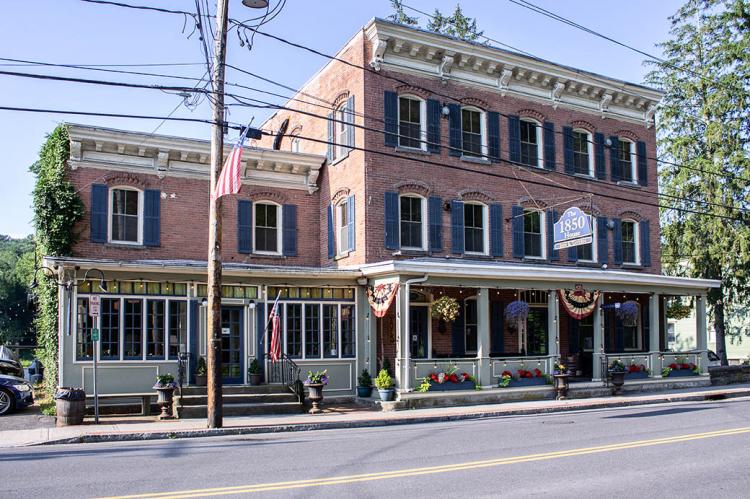 The 1850 House has had many names over the years, including Central Hotel, Hotel Bonnie Doon, and even, from 1934 to 1941, the American Hotel. Michael Ruger, who has owned the establishment since 2002, said he recently learned that the two American Hotels were most likely built from the same set of plans. He even visited the Sag Harbor version once and measured the dimensions of some of the rooms, finding them nearly identical.
"Originally, I thought you could buy plans, and they'd tell you you'd need 7,000 bricks or something like that. This is definitely the same plans," he said. "It's too close to be a coincidence."
Another not-to-be-missed Rosendale spot is the Widow Jane Mine, a throwback to the early-19th-century discovery of natural cement limestone here. A visit connects the historical dots: Cement from the Widow Jane Mine is said to have been used in the base of the Statue of Liberty and the Brooklyn Bridge. The caverns are dark and vast but strangely inviting, and a welcome 10 degrees cooler than whatever the temperature might be on a muggy morning.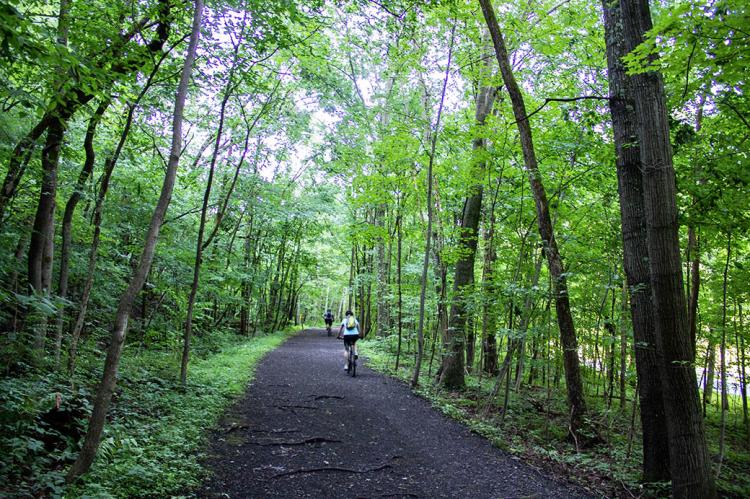 Regionally, the Wallkill Valley Rail Trail is a 23.7-mile "linear park" and trail that connects Wallkill to Kingston and passes through several towns and villages. Among its segments is, in Rosendale, a former train trestle over the Roundout Creek, once part of a railroad line that ferried produce from Ulster County to New York City. It also leads straight to downtown New Paltz, a town to which East Enders will relate as it is a resort and college town that ebbs and flows with tourism. Walter Marquez, a lifelong New Paltz resident who co-owns two antiques stores in town, says business is good.
"Traffic is bad, but that's everywhere now," Mr. Marquez said. "It's close enough to everything. We can run to the city, we can go to the ocean, but still be away from the rat race."
Summer is busiest in New Paltz, he said, followed by September and October, when the leaves and apples draw tourists by the car and busload.
"There's so much going on in New Paltz, from history to climbing, shopping to food. We're pretty lucky, because if it's not good, it doesn't last," said Mr. Marquez, who sold us a charming vintage typewriter.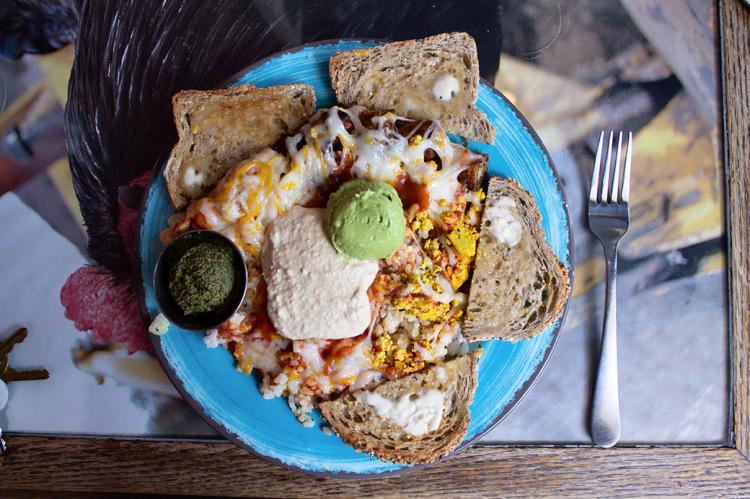 Downtown New Paltz is delightfully walkable and full of surprises, such as a beauty spot called Lush Eco Salon, where customers can breathe a little easier while getting their hair and nails done. It promises "a sustainable salon environment" using "products from companies that value the environment as well as consumer health and well-being," according to its website.
At Mud Puddle Cafe, where I obliged a sign that said "we prefer credit cards," an iced Moroccan mint tea with lemonade and agave plus an iced red-eye with milk and cinnamon cost around $6. We stirred our drinks with metal spoons rather than wooden or plastic stir sticks — just one of the many signs that New Paltz is, over all, an environmentally conscious place. (A bring-your-own-bag rule went into effect countywide in Ulster in July, too.)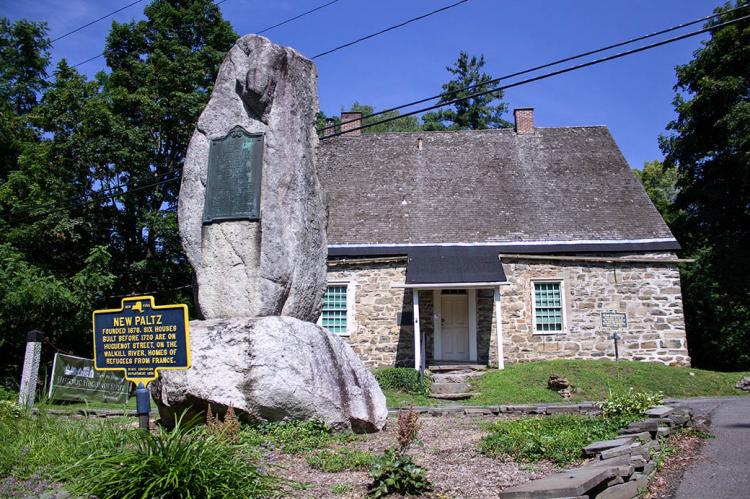 And then there's historical Huguenot Street. If you geek out over architecture like I do, or if you love history like my husband does, take an hour to walk down one of the oldest streets in New York State, dating back some 300 years. Plus, there's an amazing chocolatier, Lagusta's Luscious, nearby, offering "pagan bark," with an attractive rainbow of dried fruits, and a "furious vulva" bonbon, shaped exactly how it sounds, made of bittersweet chocolate with pink peppercorns and Hawaiian pink sea salt.
One of the finest dinners in New Paltz is to be had at Huckleberry, where a burrata-and-nectarine "small plate" pairing and a blueberry-ginger beer-basil-lemon "mocktail" were the highlights.
A "climber's plate" at the Karma Cafe, an earth-conscious, vegan-vegetarian joint in downtown New Paltz, is a staple among rock climbers who flock to the area.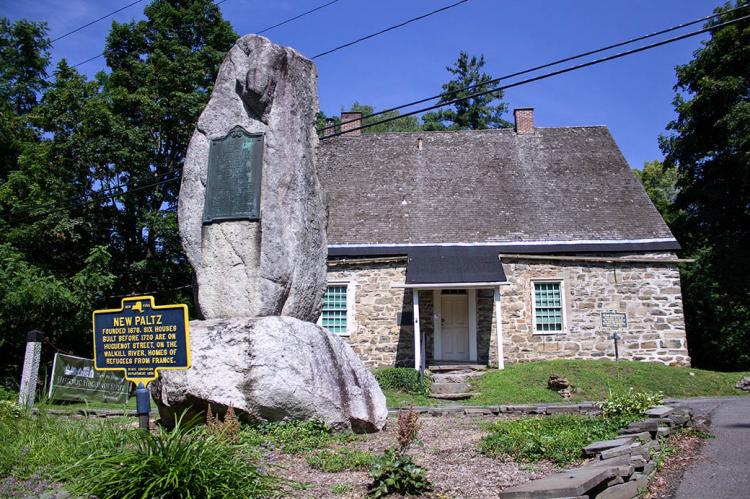 Then there's the Egg's Nest in High Falls, a neighboring town that's celebrating its 350th birthday this year and boasts a food co-op that's open to the public. A husband-and-wife team named Eric and Cristina Silver took over the restaurant about two years ago and kept the eclectic, vibrant art and decor for which it was famous. The Silvers source most of their ingredients from local farms, dairies, and breweries — "some as close as half a mile away, and throughout the Hudson Valley," Mr. Silver said. "We kind of fall into farm-to-table."
No trip to the Hudson Valley would be complete without a visit to the Mohonk Preserve, a private preserve in the Shawangunk Mountains with a longstanding commitment to conservation. Mohonk's tagline is "Saving the land for life," echoing its principle of protecting nature for people, not from people. After a rigorous morning of hiking or climbing amidst breathtaking scenery, be sure to dip (but don't jump!) into the Coxkill swimming hole to cool off. (Just take your wedding ring off before you do so — a lesson my husband learned the hard way.)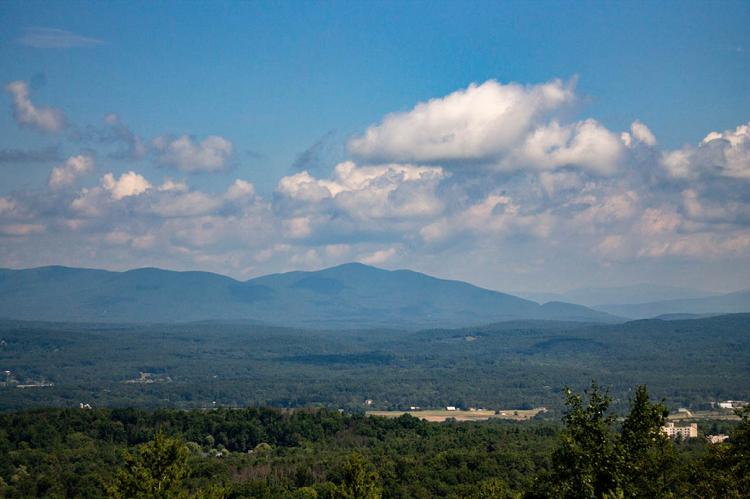 In April, The New York Times ran an article titled: "Is the Hudson Valley Turning Into the Hamptons?"
Sure, the Catskills have recently been dubbed "the Camptons," and the once-sleepy hamlet of Kerhonkson, where a number of ultramodern million-dollar homes have been built, referred to as "Kerhampton," but for me, the Hudson Valley, and New Paltz in particular, offers an authentic and unforgettable escape from the buzzing South Fork.
-
Christine Sampson is an award-winning writer who covers education news, food, arts, and architecture for The East Hampton Star. She makes a mean brie-and-fig grilled cheese and was secretly disappointed when her Hogwarts letter never arrived. Originally from Levittown, she enjoyed childhood summer vacations in Montauk and now lives in Amagansett.