Britta Steilmann, who had visited the East End for almost half a century before settling here 24 years ago, is adept both as a manager who thinks creatively and a designer of living spaces.
After a successful career in Germany as chief executive of the Steilmann Group, her family's apparel business, she started doing interior design  in 2004, with a focus on the restoration of farms, barns, and protected historical buildings in Europe, usually turning them into private residences.  
She had gone to high school in Germany and was later educated at the Fashion Institute of Technology in New York, the International University of Art for Fashion in Berlin, and then in Montreal and Paris.
She has always tried to use organic, green materials in both fashion and design, such as hemp for insulation and plaster made of organic clay and shells.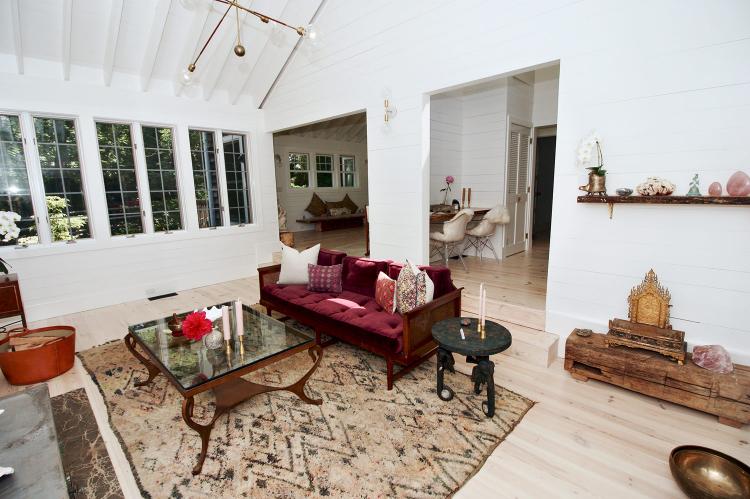 Her husband, a landscape designer, joined her in integrating the outdoors into the design of houses, following the movement of sunlight to create light-filled rooms and integrating local plants and trees, very much in the style of Piet Oudolf, a Dutch garden designer.
In 2004, when her daughter was born, she changed the focus of her zeal to be able to remain in one place. Deciding to give up her large East Hampton Village house, she looked at 82 smaller ones between Sag Harbor and East Hampton before settling on a 1,500-square-foot house on nearly half an acre in a woodsy cul-de-sac a stone's throw from Three Mile Harbor in East Hampton. An artist's studio adds another 300 square feet.
 It was "dark and cabin-y," she recently told a visitor, "but what I loved was the general layout . . . I saw the bones."
She put up birdhouses and put in plants that attract birds. "I knew I wanted to downsize," she said, "and I did love the proximity of this house to the water . . . the house is also nicely insulated."
She did not change much of the layout, or the windows or doors. She did remove part of the ceiling, rewire the whole  house, install new plumbing, add new bathrooms and a new kitchen, as well as a water filtration system and drinking water filtration. She put in a new furnace and water heater.
To bring in more light, she put in skylights. The walls have horizontal wood paneling, called ship lap, and she put in sleek European fireplaces, which add a Mediterranean feel. She also rebuilt all the closets and put in a new one for linens. She put marble in her bathroom shower, slanting the sill down to let the water run off instead of pooling.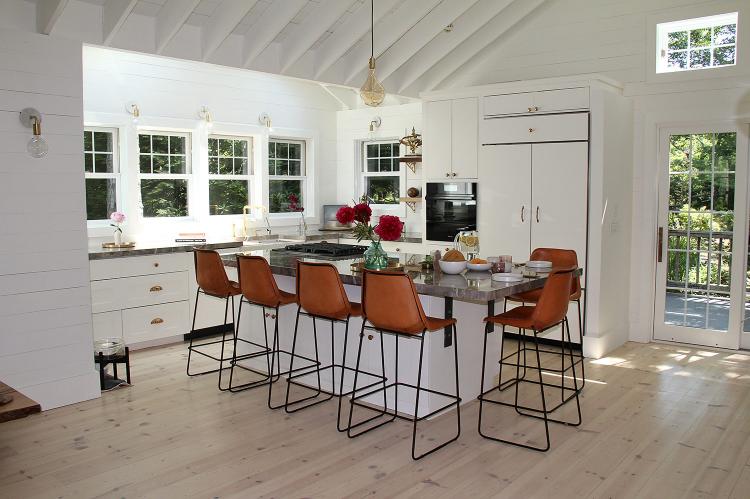 Ms. Steilmann also redid the decks and the outside of the sunroom, which is now her daughter's studio.
Closing on the house on Dec.  17, Ms. Steilmann and her daughter moved in on April 5 of this year, which, when you hear the horror stories of how long renovations can take, seems nearly impossible.
With 12 to 15 people working at the house at any one time, what may have taken the longest was painting. Perhaps renovating in winter distorted the effect of light on paint, making the colors look different than they would in spring and summer, she said. She painted the whole house white, before changing the color of the wood floors, which were a burnt orange. The result was that the white of the walls reflected too much blue, and was cold looking. "The house had a blue feeling, and I like warm colors," she said, which explains why she repainted every wall a warm white (Benjamin Moore OC 121).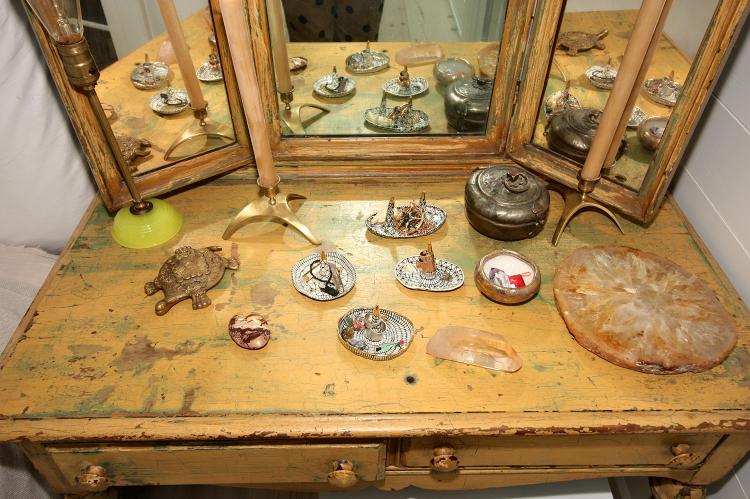 A new color for the floors required custom mixing: Ms. Steilmann tested 40 samples in different rooms until coming up with a warm but much lighter cream color. She would have preferred oak flooring but settled for the custom color to make the floors look like white oak. She obtained several wide oak planks, however, and used them for floating daybeds and shelving.
Focusing on the kitchen rather than a dining room, she put in an oversize island, which has a downdraft stove and a Fior di Bosco marble countertop, and can easily seat eight people. The copper hardware is made by hand in the U.K. She covered the refrigerater and dishwasher with paneling and for storage put in German-engineered pullout shelves.
The plan seems slightly sprawling but immaculate and open, with cozy details such as sheepskin covers for Lucite chairs (in the office) and a mix of modern and antique furniture, such as the bed in her daughter's room and old-fashioned night tables and a dressing table, and rather more modern stools, chairs, lamps, tea tables, and fans.
In Germany, Ms. Steilmann had won a federal medal of merit in both fashion and interior design for using new green technologies to preserve water and land, from organic cotton in 1989, nonhazardous dye to color denim, naturally finished leather, recycled buttons, and other innovations.
---
Ms. Steilmann's business is Britta Steilmann Artisan Studios. She also has a spiritual practice . . . and five dogs!