"When I was majoring in American studies in college, I never thought it would be practical," said Lynn Novick, a documentary filmmaker who was in Sag Harbor for a preview at Bay Street Theater of her most recent project, "College Behind Bars," a four-hour series that will premiere on PBS in November.
Little did she know that, after working as a research assistant at the Smithsonian Institution and a production assistant at WNET, and being hired in 1989 as an associate producer on Ken Burns's "The Civil War," she would become his directing and producing partner on "Frank Lloyd Wright," "The War," "The Tenth Inning," "Prohibition," and "The Vietnam War."
"College Behind Bars" is her first solo directorial venture, though she is quick to stress that the film is a collaboration with Sarah Botstein, its producer. The series explores the lives of a dozen incarcerated men and women working toward college degrees in the Bard Prison Initiative (BPI).
Prior to 1994, when President Clinton signed a crime bill that excluded prisoners from the federal Pell Grant program, college courses in prisons had been relatively common. Not only did funding for those programs dry up, the prison population exploded.
In response, undergraduates at Bard College founded the initiative in 1999. Today, it enrolls over 300 students at six medium and maximum security prisons in New York State. Since 2001, BPI has issued approximately 50,000 credits and 450 degrees.
Seven years ago, Ms. Novick and Ms. Botstein were invited to the Eastern Correctional Facility in Napanoch, N.Y., by a BPI professor who was teaching a course on social movements in American history, to talk about and show clips from their recently completed film "Prohibition."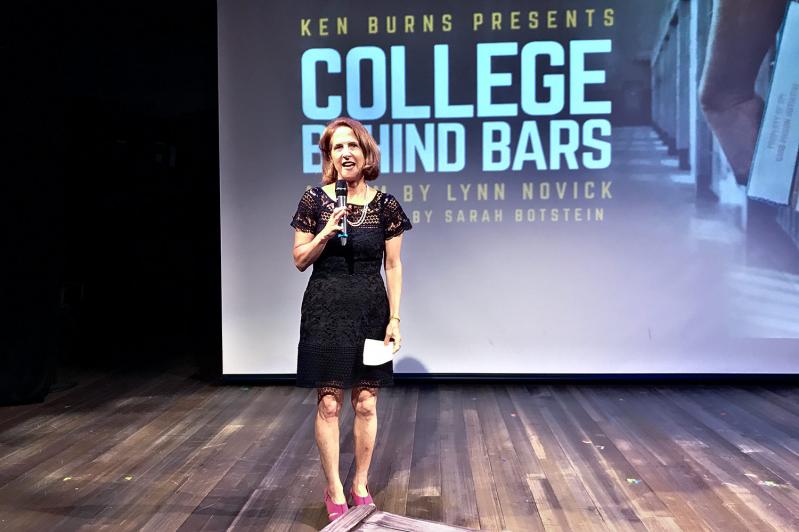 Lynn Novick at Bay Street  Mark Segal
"We were doing what we normally did in many other contexts," said Ms. Novick. "We had done a presentation for law students at the White House, and they asked the most ordinary questions. This group of incarcerated students asked the most amazing questions about the film, about Prohibition, why people follow laws, all these interesting questions."
As they were leaving the prison, Ms. Novick and Ms. Botstein agreed that somebody should make a film about BPI, but they were just starting work with Mr. Burns on "The Vietnam War" at the time and couldn't take on anything else.
A year after that visit, Ms. Novick had an opportunity to teach a course in history and documentary in the BPI program, after which she and Ms. Botstein decided to make it the subject of their next film. Over the course of four years they shot 400 hours of cinéma vérité footage.
Working as a solo director for the first time was "exciting, but it was also daunting," said Ms. Novick. "As Ken Burns always says, the buck has to stop with the director, so the ultimate responsibility for what's in the film is on my shoulders."
More important, it was a different kind of film from those she had worked on with Mr. Burns. "We were making a film about something that was happening in real time, not something that had happened in the past. We had to capture the story as it happened in front of our eyes, and Sarah and I had never done anything like that. To structure a four-hour film without a narrator or a built-in story arc was very challenging."
Friday's program at Bay Street featured 40 minutes of scenes from the film and was followed by a conversation between Ms. Novick and two BPI graduates, Dyjuan Tatro and Sebastian Yoon.
Mr. Tatro was released from prison in 2017, spent the next year working on his senior project and earning his degree, and is now serving as a government affairs associate for BPI. Mr. Yoon has only been out of prison for a few months, but he has already been hired by Open Society Foundations, a nonprofit grant-making organization.
It took six years from when Mr. Tatro first saw a segment about BPI on "60 Minutes" until he was finally able to enroll in the program. "Every day I walked into the classroom, BPI helped bring me to a place where I could reimagine myself. There's a sense of community inside the prison that we were able to build from this program that was really life-changing."
Mr. Yoon was incarcerated when he was 16 years old. "A lot of teenagers have been sent to prison for a really long time," he said. "It was BPI and the education it provided, being around like-minded individuals, that enabled me to survive and maintain my sanity. It has been the greatest thing that has ever happened in my life."
Ms. Novick said that she and Ms. Botstein will spend the next few months "getting the film off the ground and out into the world in a way that will really make a difference." In March they went before Congress to share clips from the film and discuss why education is so important. She noted that a bipartisan bill to restore Pell Grant eligibility to prisoners is being drafted and has considerable support.
She suggested that if Bard, a small liberal arts college with a modest endowment, can implement such a successful program, elite institutions of higher learning with far greater resources should be doing more. "I hope our film can hold their feet to the fire a little bit."
Meanwhile, she has several other projects under way. She, Mr. Burns, and Ms. Botstein are making a three-part biography of Ernest Hemingway that is due to be released in late 2020 or early 2021. They are also working on a film about America's response to the Holocaust, "which is essentially a question of our immigration and refugee policy in the 1920s, '30s, and '40s and our evolving idea of who is an American and who should be allowed to come here."
Her next personal project will be a history of crime and punishment in America, which she termed, with considerable understatement, "a big undertaking."
"College Behind Bars" will air on PBS on Nov. 25 and 26.