Paul Goldberger, who has been called America's foremost architectural critic, first visited the East End nearly a half-century ago. In the mid-1980s, he became a part-time resident of Amagansett, and he's kept a keen eye on local "progress" ever since.
Mr. Goldberger's perspectives are detailed and nuanced, yet broad; his opinions are balanced, occasionally contrarian. Take, for example, the conventional wisdom that preventing the extension of the divided, four-lane Sunrise Highway to Amagansett was key to avoiding overbuilding.
"There was a fallacy, a belief that the traffic bottleneck alone would hold people back," Mr. Goldberger said in a recent interview. "In fact, without accompanying restrictions in zoning, that didn't happen at all. In an almost perverse way, it's possible it even made things worse." Mr. Goldberger said all the farmland in Water Mill, Bridgehampton, and Sagaponack, had remained undeveloped because of the possibility it would be taken for the highway, but was instead developed. "So we had no highway but we also had more houses."
In a 1983 New York Times Magazine article, with the sensational headline "The Strangling of a Resort," Mr. Goldberger surveyed the South Fork. Despite a few anachronisms—real estate prices, for one—he said the main observations in the piece remain remarkably relevant. He called Hamptons architecture "something of a free-for-all," citing one new house that resembles a nuclear reactor and another, a miniature Sydney Opera House. "It is an architecture of shrill egotism, and its arrogance says as much about its owners' aesthetic tastes as about the extent of their responsibility to the land."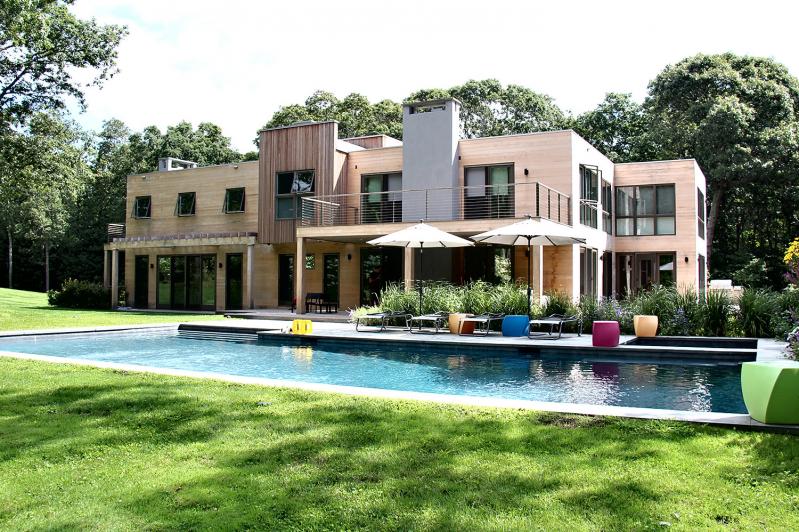 The return to the shingle style seemed like a very positive development, which was going to pull us away from too much arrogant and self-referential form making, he said, but in fact "it turned into an absolute blight. What I failed to see was that there would literally be hundreds of those houses and it would turn into the Farrellization of the Hamptons. [Joe Farrell is a successful contractor.] And it's not an accident that in the years since there's been a resurgence of modernism in a less flamboyant, relatively modest way."
Also in the Times Magazine article, Mr. Goldberger said local zoning was "a confused patchwork." He descried the "sameness of the battles," concluding that ". . . holding the line on the density of what goes upon [the land] is neither capricious nor elitist. It is vital if there is to be anything left of the South Fork a generation from now."
Mr. Goldberger also spoke positively of the future. "I think at the end of the day we have not done terribly. First, the community preservation fund has been a tremendous benefit. We did it a little too late but nevertheless we did it. You could say we've done very well wholesale but not very well retail. We've stopped enormous mega-developments; certainly, it's comforting not to see huge commercial projects or high-rises on the beach. The problem is far too many houses have been built one at a time. We have less and less open land, too many houses, too many people, and too much traffic. But the place is more like what it used to be than we often give it credit for."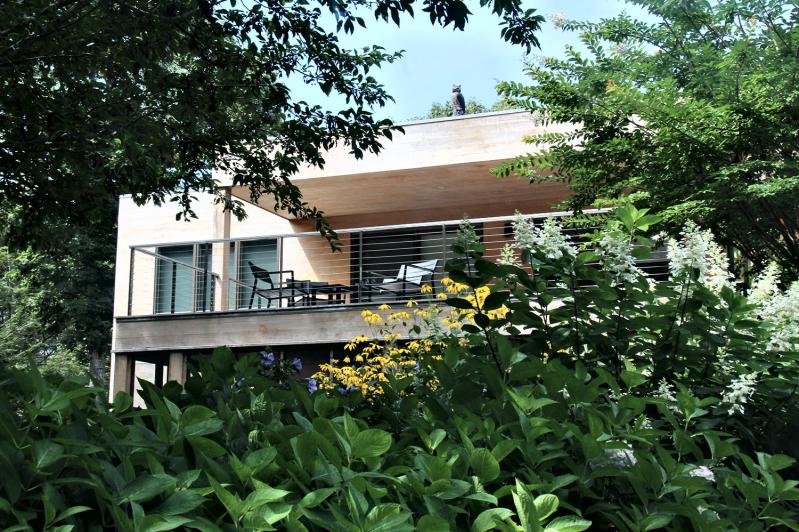 "There are key issues that can't truly be addressed without looking at some of the bigger issues in our society, like the question of income inequality and the fact that the price of entry into a community like ours is now so high."
Given the plethora of notable architects living and/or working in the Hamptons, Mr. Goldberger dreams of a design competition to create "an important piece of architecture that would help solve our affordable housing crisis and not look like some little wooden box."
Assessing current design over all, he said, "I've not seen a huge amount of great new architecture. There's more than there was a few years ago. It's promising, but there's not so much public. Most of it's private." In the former arena, he lauded the new Parrish Art Museum. "It's fabulous, a tremendous success, great for the community, great as an institution, and also a wonderful building. It's also a very happy story," he said, recalling that the original design turned out to be well beyond the institution's financial ability and that the architects, Herzog & de Meuron, were able to redesign it on a much tighter budget. "Everyone thought it was better and that's what they built."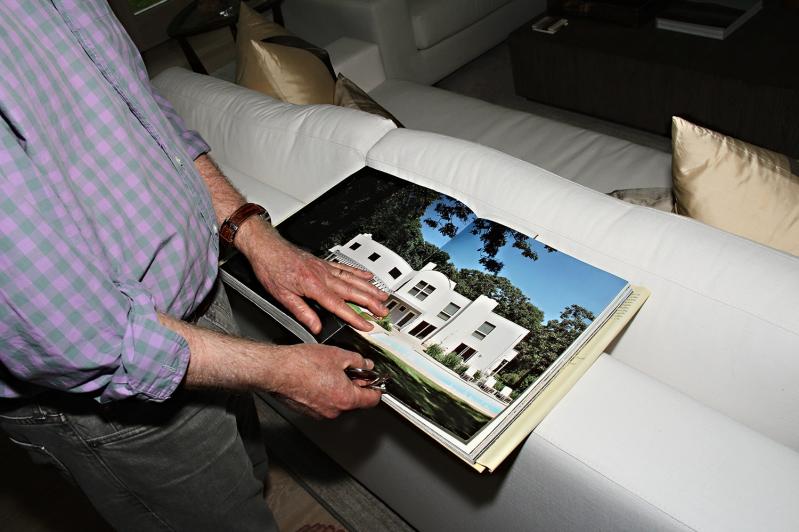 Mr. Goldberger likes the residential work of several local and some not-so-local firms, citing Bates and Masi, Stelle Lomont Rouhani, and James Merrell. He also praised Todd Williams and Billie Tsien, for a large residence they designed on Meadow Lane, Southampton, and Peter Bohlin (Bohlin Cysinski Jackson) for another on Flying Point Road, Water Mill.
Looking at earlier developments, he spoke of the lanes in Amagansett. "Most of the houses are too big for their properties and then there's the banality of so much of the design. Though reconstructing the lanes with new houses is still better than chopping up farmland in Sagaponack."
His opinions are more or less ditto about Meadow Lane, a.k.a. Billionaires' Row. "It's money made visible and sometimes we're lucky enough to have a little bit of architecture along the way. There's a mix of good and bad. Again, it bothers me a great deal less than seeing farmland chopped up."
He characterized other so-called estates as "a little bit silly and ridiculous." Among them he listed the Loeb House, at 73 Highway Behind the Pond, an ultra-modern structure facing Wiborg Beach in East Hampton, and the Ira Rennert property, the 68-acre oceanfront modern-day Versailles, at Peter's Pond Beach in Sagaponack. He quickly noted the former had been well-enough landscaped so it's barely visible from the parking lot while the latter at least wasn't subdivided into 20 or 30 trophy houses.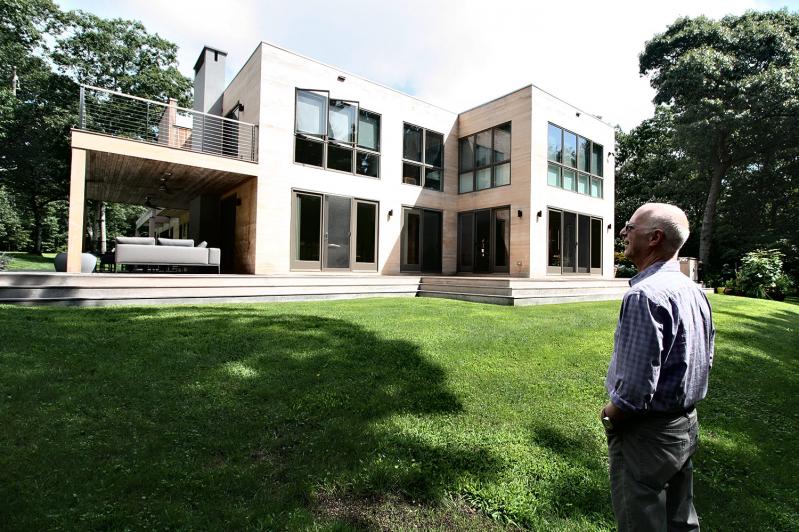 He then steered attention to the end of Two Mile Hollow in East Hampton, where there's a striking modern Diller Scofidio and Renfro house, whose roofline recalls Eero Saarinen's T.W.A. terminal at J.F.K. Airport . "Next door," he said, "there was a wonderful, much more modest modern house by Mayers and Schiff that I remember writing about back in the 1980s when it was new. Sadly, it was a teardown — for something like $52 million — and the new owner is putting up a huge traditional house."
---
Paul Goldberger's numerous awards include a Pulitzer Prize in 1984 while at The New York Times; 14 books, among them "Beyond the Dunes: A Portrait of the Hamptons," with the photographer Jake Rajs (Monacelli Press, $60) and most recently "Ballpark: Baseball in the American City "(Knopf, $35), which was reviewed by Richard Horwich in The Star on July 11. He now teaches at the Parsons School of Design in Manhattan and is a contributing editor at Vanity Fair.