Jonny Shapiro does not like to be called a music executive. "I feel it boxes me in. Executives are very square and corny, in my opinion," he said. Known as Jonny Shipes at Cinematic Music Group, an independent music label he founded in 2007 when he was 27, he discovered Sean Kingston, the late Nipsey Hussle, and Big K.R.I.T.
He prefers to be described as a producer or entrepreneur. No matter his own label, what is clear is that he learned to make moves, to make things happen for himself, right here in East Hampton.
He grew up in Manhattan, and during his sophomore year at a military school he was asked to leave. By then his mother, Linda Shapiro, who works in public relations, had made a home for herself in East Hampton, and he moved here. While he struggled in other areas of his life, it was his love of music and his natural ability to hustle that paved a future for him.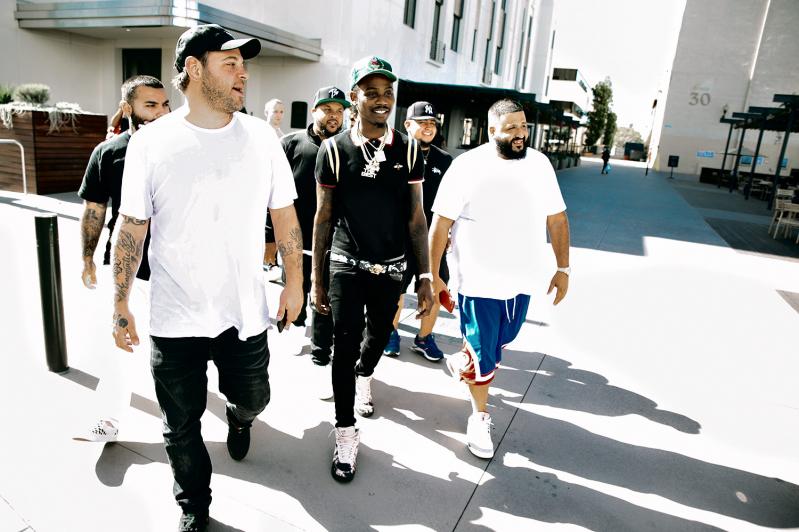 Shipes got his professional start in the East Hampton nightlife — back when there actually were clubs in the Hamptons. "So how it really all started?" Shipes said in a phone interview as he was on the move in Brooklyn. "We were throwing these parties, you know what I mean, these random parties called One Shot, and I basically convinced the owners of the Star Room at the time, which was called the Swamp and it was an all-gay club, to let us throw one random night on a Thursday for locals."
He and his fellow promoters packed the Wainscott club — which was torn down in recent years to make way for a park after the town bought the Montauk Highway property — with a thousand people, he said. "It just kind of spiraled out of control — in a good way . . . and then the LTV riot happened."
Shipes threw a party inside the warehouse home of the town's television studio at which local rappers were invited to perform. "A huge, huge fucking brawl broke out," he recalled. Gunshots were fired. A cop got hit with a two-by-four. "I lost all my money from there."
D.J.ing helped build his money up. Anyone who knew him back then knew that even when he slept on friends' couches, he lugged his turntables and his beat machine with him. And when he wasn't in a D.J. booth, he was on the basketball court. A former East Hampton High School Bonacker who was known to drop 30 points, he also found pickup games, which is how he met Sean Combs, also known as Puff Daddy, and his crew from Bad Boy Records.
"Puff and them," as he tells the story, planned their Bad Boy retreat in the Hamptons one summer but had failed to secure the necessary permits. "They had 100-plus staff out there ready to do this weekend and couldn't do it anywhere. Puff's head of marketing at the time, Jameel Spencer, called me, and he was like, 'Can you help us try to find a place?' "
Shipes called Nick Kraus, a fellow promoter who had access to a horse farm, and the owners agreed to host the retreat. "I wound up like saving the day. From there, Jameel hired me as his first employee at Blue Flame, which was Puffy's marketing company." He also got to work with Jessica Rosenblum, who was behind the hip-hop mogul's famous white parties in the Hamptons in the late 1990s and early 2000s.
Shipes had been living at the Mill-Garth Inn in Amagansett (which is where a friend coined his nickname based on his constant hustle), but, at 20 or 21, he found himself back in the city he grew up in. He was working in marketing during the day and sneaking into the studio at night to learn "how to mix, produce, manage, anything I could do to really get into the industry." He knew early on he did not want to be only a party promoter or D.J.
"Everything I do is really for the love of music," he said. He grew up in the "golden era" of hip-hop, before Biggie and Tupac were killed. He listened to Dre, Snoop, Nas, Jay-Z, E-40, UGK — "Outkast was literally played every single day." His father was listening to the Traveling Wilburys, while his mother had Ace of Base and hip-hop on the stereo.
His own record collection is diverse. He loved Dido, Portishead, and Bjork. Listen to Eryn Martin, he said. She's totally left of hip-hop, in the alternative realm with a hit on Spotify called "Ball." He signed her the morning of the interview after trying to get into business with her for two years. Persistence is the key, he said. Working with artists is the reward.
Nipsey, a Grammy-nominated rapper, a former Crip turned community activist, was the first hip-hop artist to give him a chance. Shipes signed him in 2009 and helped him release his first project, "Bullets Ain't Got No Name Vol. 1." They spent a lot of time together. Nipsey even attended Thanksgiving at Shipes's mother's house, and while he was no longer signed to Cinematic, the two remained close.
They pushed each other, Shipes said. As Nipsey bought up real estate to open black-owned businesses and worked with children in Los Angeles, it motivated Shipes to delve further into his own philanthropic work with kids.
"What I can say about Nip is that it crushed me," Shipes said of the rapper's death. He was gunned down outside one of his stores in L.A. on March 31. Shipes had just called him the day before to have him talk to one of his younger artists who was getting into trouble. "That was just my dog," he said, vowing "to always try to push his legacy."
In the 12 years since he started Cinematic, it has grown to a staff of 25, with a creative department and video production team working in a three-story converted firehouse in Brooklyn, complete with a music studio and office space for his clothing line, FELT.
"You come to my office and that is where the culture is living in New York City now," he said. It also includes a management side, with clients like T-Pain, Styles P of the Lox fame, and Cam'ron. Cinematic had more than 500 million streams in 2018 and is said to be on pace to increase to one billion this year.
In the studio, Shipes, who will be 40 in January, is involved in producing, sequencing, and vocal arraigning. Under his management, Sean Kingston released four Billboard Hot 100 singles, including the 2007 hits "Beautiful Girls" and "Take You There."
One of his recently successful artists is Flipp Dinero, who Shipes developed and signed with We the Best Music, a joint venture between Cinematic and DJ Khaled, the producer and performer. Shipes and Khaled go way back. Khaled hosted one of Shipes's mixtapes 15 years ago — and since Cinematic is completely independent, he knew Khaled's name could help elevate Dinero's single "Leave Me Alone." A year later, the record has gone platinum twice.
Shipes created the Smokers Club Festival and Tour with Smoke DZA, another one of his early signees. "I've smoked weed my whole life, and I'm lucky to be building a big marijuana brand," he said. The festival, which last year attracted 25,000 people, has become a staple of weed culture in California, and the two have plans to bring it to the East Coast and then to Canada. Shipes smokes only in the studio or when he's at home — he's pretty clear-minded during the workday, he said.
Above all, he mentors, both his artists and his staff. Although many of his artists come from backgrounds that were more impoverished than his, he feels he can still relate to them. Yungeen Ace, considered one of the South's rising stars, was shot eight times last year, losing three of his brothers in the shooting.
"I grew up in the inner city and definitely did my dirt," Shipes said. "I built everything myself. No one gave me a dollar. I used to have to hustle for my money. I can relate to somebody who has been in the streets in a different way . . . just because I went through a lot of struggling myself. There were days when I had to eat cheese sandwiches with ketchup or Ramen noodles or sleep on floors."
When he was cleaning pools at mansions in the Hamptons, he used to think, "Yo, I need this." He took his "street smarts and street mentality of hustling and just applied it to the bigger picture," he said.
What he is most excited about of late is a 20,000-square-foot space he took on Dobbins Square. With his partners at Brooklyn Youth Sports Club, he is building four state-of-the-art basketball courts and two state-of-the-art music studios as a way to help keep kids off the street and out of trouble. He plans to mentor them through his charity, Building a Dream, a career-readiness program, by offering studio tutorials.
"Nothing is more special to me than that, because I never had that growing up," he said, adding that he thinks it is his calling to show young boys and girls that there is hope.
"You might be coming from a bad situation, but I've seen many people rise out of that; you just have to believe in yourself. That is very important to me. I love that. You have to find things that you love in life. While I love music, the stress of music — the business and the emotional stress of losing friends — you have to find something that makes you smile at the end of the day outside of your work."
Correction: It was not JayDaYoungan who was shot, as reported in an earlier version of this article, but another rapper, Yungeen Ace.