Blending an eclectic medley of classical music with beautiful outdoor settings, Music for Montauk's summer series will present four programs from Thursday through Aug. 23, three of which are free to the public. There will be music from Bach, Vivaldi, and Brahms to the avant-garde George Crumb in some of Montauk's favorite settings, timed as activities for after the beach or before dinner.
The first free concert takes place outdoors at Third House at Montauk County Park tonight at 6:30 p.m., and is billed as a family friendly, take-your-own-picnic event. It features Brahms's Gypsy Songs, and "Part of the inspiration for this program came from some of the text of the Dvorak 'Gypsy Songs,' which has to do with the identity and freedom of the Gypsy and how their music and their wandering life is tied to their whole idea of freedom," the pianist Milos Repicky, one of directors of Music for Montauk, said last week. There is also a 21st-century piece written by one of the performers on the program, Jessica Meyer. "It's a cutting-edge, crossover piece, a kind of rock-star piece, called 'Bridge and Tunnel,' continuing with the traveling idea," said Lilah Gosman, a mezzo-soprano and Montauk native who founded and directs the festival along with Mr. Repicky, her husband.
Rounding out the program are movements from Brahms's F Minor Sonata, originally written for clarinet and arranged by the composer for viola, played by Ben Fingland, a clarinetist, and Ms. Meyer on viola, and the raucous Rondo alla Zingarese from Brahms's Piano Quartet in G Minor.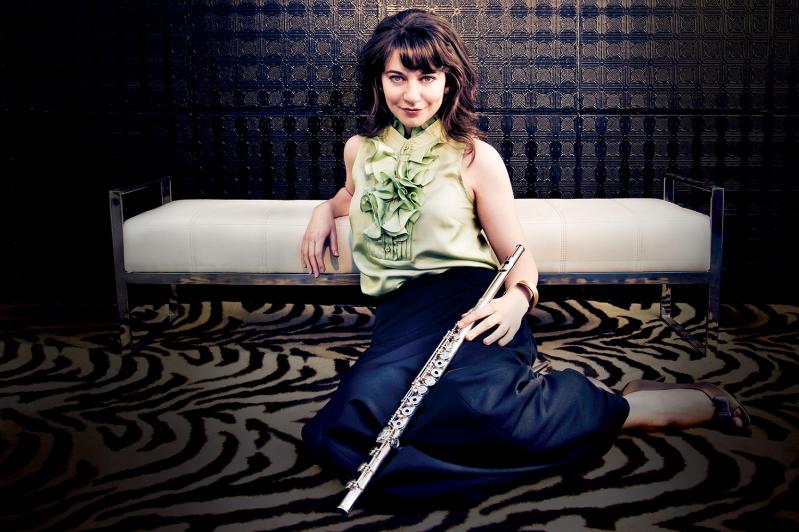 Another event at the pastoral setting of Third House is Bach & Co. on Saturday at 6:30 p.m. and suitable for families and picnics. "We have always wanted to have a trumpet there, to hear it ringing around Third House," said Ms. Gosman. "We have a really fabulous trumpet soloist," the Grammy Award-winning trumpeter  C.J. Camerieri. Although his varied career has taken him to pop and jazz, he will be featured in the virtuosic part in Bach's Cantata "Jauchzet Gott in Allen Landen" ("Rejoice in God in Every Land"), along with the international operatic singer Rachelle Durkin and strings.
Before the Bach cantata, "We're going to start with something unexpected, 'Fratres' by Arvo Part," said Mr. Repicky. Written in 1977, it is often used in films and documentaries. "Fratres" juxtaposes frantic arpeggios in the violin with a stillness in the piano chords, and "it sets the scene of this outdoor space as this spiritual space, or temple, if you will. And that's great because 'Jauchzet Gott' in this context is a celebration of that which is around us."
This year's benefit program will take place on Wednesday at Solé East at 6:30 p.m. "We've always wanted to do something in that outdoor space; Solé has these really beautiful little garden areas. It's going to have a casual feel, like a cocktail hour. There'll be several new works, and older works reimagined along with the new. It will feel welcoming and spontaneous," said Ms. Gosman. There will be cocktails and light fare. Tickets cost $100.
The last concert of the summer series, on Friday, Aug. 23, at the Montauk Lighthouse, has some imaginative and innovative programming and is also free and suitable for a picnic. The strains of a string quartet playing the familiar and beloved "Four Seasons" by Vivaldi and Piazzolla will waft through the air of the Lighthouse amphitheater, and the audience will be called into the Oceans Institute in smaller groups for George Crumb's "Vox Balaenae," or "Voice of the Whale." It is scored for "electrified" piano, flute, and cello with various avant-garde techniques; and experiencing (not merely hearing) this piece from 1971 in the Oceans Institute, with its floor painted in a mural of whales, would certainly be a one-of-a-kind experience. Tickets are $25 and  seating space is limited.
In addition to Ms. Gosman and Mr. Repicky, other performers in the series are Mimi Stillman on flute, Annaliesa Place and John Marcus on violin, the cellists Ani Kalayjian and Diego Garcia, and Bradley Aikman on double bass.
Music for Montauk will continue in the fall with a program focused on outreach to the Montauk School. More information is at musicformontuak.org.