New York State's Department of Agriculture and Markets has issued a clarification of its rules pertaining to cannabidiol, or CBD, as a food, food additive, or ingredient — saying, specifically, that CBD cannot be used in those ways in New York. The move has implications here on the South Fork, where many merchants were selling edible CBD products such as gummies, carbonated beverages, and coffee drinks up until last week.
"As soon as we got the letter, we pulled it off the menu," Shane Dyckman, who owns Sag Town Coffee in Sag Harbor, said of his cafe's popular CBD latte. "I can't jeopardize my business over one beverage."
He also removed carbonated CBD drinks from his store's refrigerated shelves.
CBD gummies and canned beverages could even be found at some local gas stations, and the Southampton Car Wash had sold gummies, but not anymore.
According to the July 19 letter from Agriculture and Markets, foods containing CBD are considered "adulterated."
An answer to one of the "frequently asked questions" on the department's website explains that "CBD has not been approved as a food, a food additive, or ingredient" by the United States Food and Drug Administration. It notes that CBD oil itself as a dietary supplement is still legal. "The state's standards for those processing CBD . . . are more rigorous than current standards for food processing," the department said on its website.
CBD oil is derived from the flowers of the industrial hemp plant, which is a species of the cannabis family. It doesn't contain enough tetrahydrocannabinol, or THC, to give someone a high, as marijuana does. A different byproduct of the hemp plant, hempseed oil, is derived from the leaves. Both hemp oil and hemp seeds have been approved as food ingredients or additives because they are "generally recognized as safe" — an actual term used by the F.D.A.
David Falkowski, who owns Open Minded Organics, a mushroom and industrial hemp farm in Bridgehampton, said New York State's rule clarification is actually beneficial because it will help keep consumers safe.
"There are a lot of people who are manufacturing CBD products that are under no sort of inspection, license, or permits," Mr. Falkowski said. "This is a perfect example of how the industry is its own worst enemy at the moment. There are people who are doing great things, but there are also people who are lying, cheating, and possibly even defrauding people."
He himself went through a stringent state licensing process to be able to farm industrial hemp and process CBD oil as one of a limited number of "research partners" in New York.
"Right now, they're saying it's not allowed [in food] because they want to clear the table and deal a new hand under this guidance," Mr. Falkowski continued. "They want to make sure that these beverages and products are labeled correctly. I think this isn't a dead end. This is a great way for people to adapt and shine — a great opportunity to show the public that the people who are the facilitators and stewards of cannabis right now are doing what's best for human beings."
He said he has had people approach him about using Open Minded Organics CBD oil — which is labeled as a "dietary supplement," and is therefore still legal — in yogurt, honey, popsicles, baked goods, and more, but he has always politely declined.
"This was all spelled out for me two years ago," Mr. Falkowski said. "I get it, people want to consume their cannabis products in various ways, but the state has said unless it's labeled as a dietary supplement, you can't do that."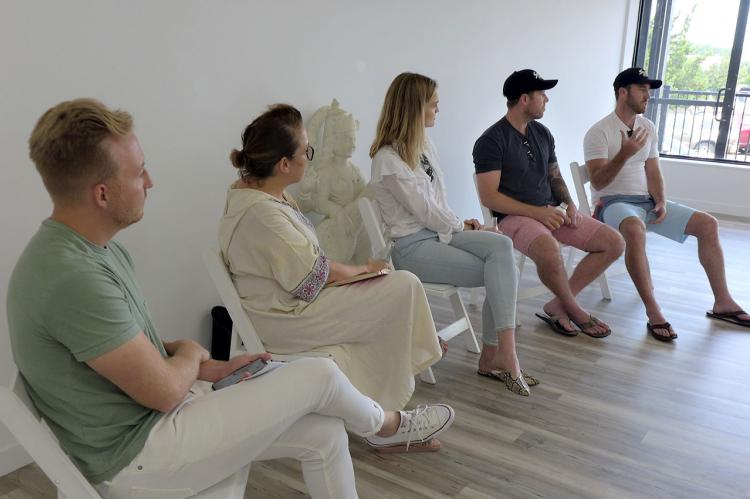 Taylor Rose Berry, who brewed CBD teas first at her Main Street bookstore, Harbor Books, in Sag Harbor, and later at her new shop on Division Street, Berry and Co., has also stopped serving them. She called the state's clarification "still vague."
"When you read more about it, the concern is that it's running rampant. You can't throw a stone without getting 'CBD something,' " Ms. Berry said. "In the long run, it's going to weed out — no pun intended — the people who don't have good practices. If this gets rid of the farms that give CBD and cannabis a bad name for everybody, that's a great thing. The problem is, in the meantime, it inhibits the good guys."
According to Agriculture and Markets, merchants who are found to have continued selling food products containing CBD are subject to seizure or destruction of those items, monetary fines, failing marks on health inspections, or a combination of those penalties.