The Town of East Hampton's chief fire marshal, Buzzy Browne, this week reminded residents and visitors that a new town regulation governing beach fires requires such fires to be built in metal containers rather than in pits dug in the sand.
The rest of the prior rules still apply, Mr. Browne said. According to the town code, those rules mandate that beach fires must be a minimum distance of 50 feet from any beach grass, vegetation, tent, fence, building, or permanent structure, and a minimum distance of 100 feet from any lifeguard stand. Only in cases where the beach is less than 50 feet wide will a minimum distance of 25 feet suffice. Fires must be 30 inches or less in diameter and 24 inches or under in height; anything larger is considered a bonfire, which requires a special permit, and violations may result in being ticketed.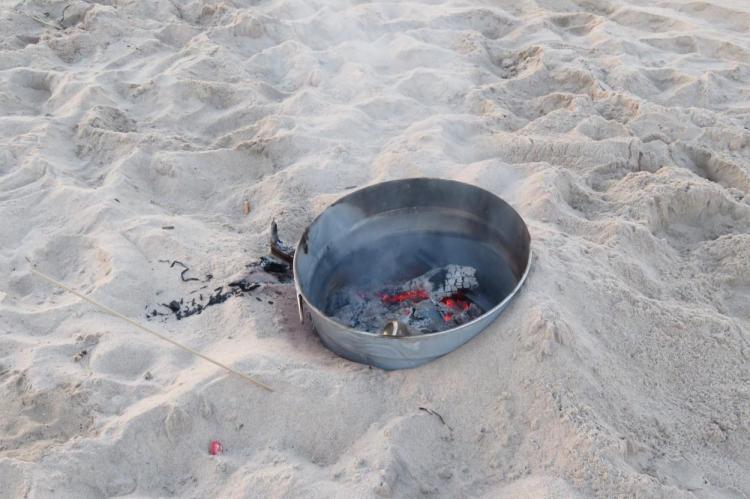 Beach fires should not be left unattended and should not be used to burn metal, plastic, or glass, the town code says, and they must use "clean wood," meaning nothing that has been chemically treated, painted, nailed, used as a pallet, or otherwise processed. The New York State Department of Environmental Conservation has also recommended the use of "local wood," meaning wood derived from sources not more than 50 miles away, to prevent the spread of invasive species of insects and pests.
Beach fires must be completely extinguished with water, and no embers may be left smoldering or smoking. "A two-gallon bucket of water must be kept within 10 feet of the beach fire at all times," the town code reads.
Fires are limited to the seven hours between 5 p.m. and midnight. All debris must be removed and properly disposed of, leaving the beach in its "natural condition," the town code says. 
Fires are prohibited during very windy evenings, defined as winds exceeding 20 miles per hour, though police officers, code enforcement officers, and fire marshals may, at their discretion, mandate that a fire be extinguished when winds exceed 10 miles per hour or "whenever atmospheric or other circumstances present an increased fire hazard that threatens public safety."
More information is available on the East Hampton Town website.