Once again Market Art + Design has the South Fork's art fair market to itself, its erstwhile competitors, Art Southampton and Art Hamptons, having given up the ghost after the summer of 2016. Located on the grounds behind the Bridgehampton Museum along Corwith Avenue, where it began in 2011, the fair, with 90 galleries, will be open from Friday through Sunday.
Nine South Fork galleries will participate: Janet Lehr Fine Arts, Roman Fine Art, and Folioeast from East Hampton; Chase Edwards Contemporary, RJD Gallery, and the White Room Gallery from Bridgehampton; ARDT Gallery and MM Fine Art from Southampton, and Monika Olko Gallery from Sag Harbor.
The roster will be filled out by galleries from throughout the United States as well as outliers from London, Madrid, Tel Aviv, Buenos Aires, Paris, Toronto, and Quebec.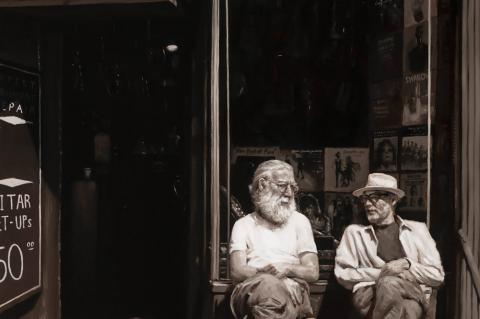 For Coco Myers, the founder and curator of Folioeast, this year will be the gallery's first at the fair. "I felt it was a good way to get further exposure for Folioeast and the artists I represent," she said. Her booth will feature paintings by Anne Raymond, Amy Wickersham, and Beth O'Donnell.
Janet Lehr Fine Arts will show an assortment of artists, including Richard Avedon, Willem de Kooning, Tom Wesselman, and Mym Tuma, who will talk about her long relationship and correspondence with Georgia O'Keeffe on Saturday at 2 p.m.
RJD Gallery will have two booths at the fair, one featuring a cross-section of gallery artists, another focused on hand-signed, limited-edition prints by Andrea Kowch. ARDT Gallery of Southampton, which seems to specialize in artists with single names, will show Candice CMC and Ceravolo, both of Water Mill, as well as work by Christophe and Sanseviero.
The booths of the other five South Fork galleries will represent the range of their year-round offerings, with each showing five or more artists.
The fair will open with a preview Friday from 1 to 6 p.m. A V.I.P. party will follow from 6 to 10. The public hours are Saturday from 11 a.m. to 8 p.m. and Sunday from 11 to 7. One-day tickets are $25, tickets to both public days are $35, and $50 includes Friday's preview and party as well as the public days.