It was so hot that nature at night overwhelmed nature during the day. On the evening of July 16, during Dai Dayton's full moon walk, the trees and wetlands were alive with the sounds of tree crickets and tree frogs and the air was alive with fireflies. On Sunday evening after it topped 90 degrees during the day, shortly before 8 the tree crickets around our Noyac house began to chime in, but only for brief spurts, five or six of them in a row, each separated by a few minutes of silence. The fireflies got active just after the tree crickets stopped their rehearsal at 8:10. It was as if the former were warming up for a grand opening on Monday evening, but their concert had to be canceled as a thunderstorm with rain swept through the area before it was completely dark.
Snowy tree crickets are pale green and about an inch long. Since they make their chirps by stridulating wings against each other, it would seem only healthy that they practice a bit first so that they don't damage the edges of their wings. In track talk they run a few heats and then stop. They normally get going at this time each summer, and once they start, the males will sing each dry night from dusk to dawn without stopping in order to serenade the females and ensure a new crop of tree crickets come the following year. When they are in the throes of attracting mates they begin producing regular beats, the number of which is tied to the ambient temperature. According to Wikipedia the tree cricket is sometimes called the thermometer cricket because one can tell the outside temperature by counting the number of chirps in 15 seconds, then adding 40 to that number to get a fairly accurate temperature reading in Fahrenheit.
As it was heating up on Friday, I had the pleasure of escorting Adelaide de Menil and her niece Taya and Taya's son Maxwell around much of East Hampton. Adelaide has done so much for East Hampton over the years, including the gift of her Further Lane house and outbuildings plus a pile of money to turn it into the present East Hampton Town Hall, as well as promote causes important to baymen. Her photos of baymen and their work dot the walls of the Marine Museum on Bluff Road in Amagansett.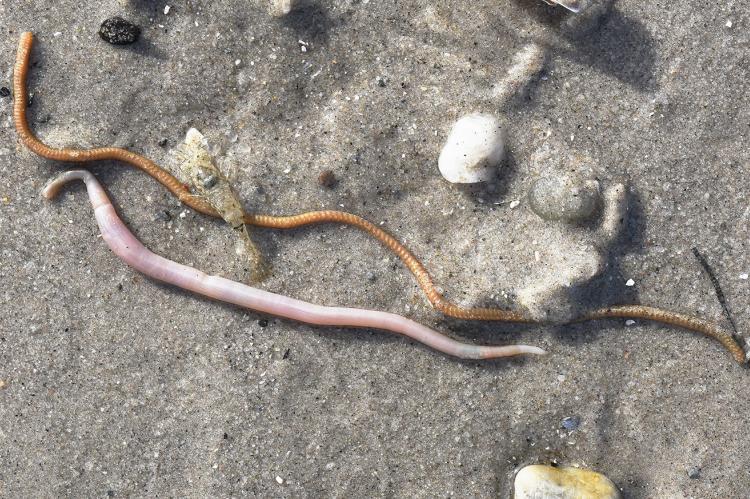 We ended up in the late afternoon at the Nature Conservancy Merrill Lake Preserve in Springs, an old field filled with grasses, different herbs, and the like, including many milkweeds in flower. On our way to look at the eagle's nest on Accabonac Harbor, we saw a great number of monarch butterflies — I had only seen two up until that day. There was also a female deer sitting in the middle of the field watching us without moving, feeling very safe, I'm sure, as we made our way toward the eagle's nest.
When we finally spied the nest at the edge of the Accabonac Harbor wetlands, it was occupied by a single brown eagle, one of the two eaglets, we imagined. We spent about 20 minutes watching, but neither the adults nor other offspring showed up. Maxwell lives in Wyoming and has an eagle's nest a few doors down from him. He knows a lot about bald eagles, having watched them a lot.
Taya, the daughter of Christoff de Menil, grew up out here when East Hampton was still quite rural and from the time she was in grade school rode horses with riders including the late Fannie Gardiner, who would take them on overnight camping trips.
Matthew Galcik's monarch garden has taken over his lawn and he is happy to note that a new clutch of caterpillars is on the way and quite advanced as we speak. The adults like to sneak in, lay their eggs and bug out before he has a chance to count and photograph them. Karen Blumer who had the patience to see her buttonbush finally bloom after planting a seed 20 years ago, saw two monarchs mating where she lives. The male "enwrapped the female in his wings." Sounds romantic, doesn't it? 
Jean Held continues her Havens Beach watch in Sag Harbor. The other day she found two very long and very different marine worms beside each other. One was a brownish lugworm, the other a whitish plumpish nemertean, or ribbon worm. They are harmless but scary looking; you wouldn't want to find either in your bed. Havens Beach continues to change from one type to another, especially after each rain. Last Thursday's rain created a new pond, which will eventually dry up, we hope.
 And aren't the humpback whales plying the ocean waters off Southampton and East Hampton too magnificent for words? John Magnan sent me a video of his grandson, out in the ocean off the White Sands Motel in Amagansett right next to a huge humpback that breached a few feet away in a spectacular display. So the East Hampton Town Board and Trustees want to see 15 wind turbines in the ocean off our shores? Where will the whales go when that happens?
 Solar panels do not interfere with marine mammals, marine fish, and marine birds. And they do not kill eagles and other birds the way wind turbines do. Politicians, please wise up before it's too late! Tropical plants occupied what is now the tundra before the last glaciation. Global warming is due to occur with or without an increase in CO2 and other gases. It's part of a very old cycle and bigger than both of us.
---
Larry Penny can be reached via email at [email protected].