Jasmin and Jaida Campbell, 2-year-old twins, were likely dead before their mother, Tenia Campbell, now charged with their murder, was found in Montauk with the girls strapped in their car seats, Suffolk County police said on Friday. 
After a countywide hour-and-a-half search, it was East Hampton Town police who found Ms. Campbell's Chrysler Town and Country minivan in the entrance to Third House at Montauk County Park. The 24-year-old Medford woman had parked her car and was walking toward Montauk Highway when an officer pulled up. She screamed at responding officers to shoot her, according to Police Commissioner Geraldine Hart, who spoke to the media the county police headquarters in Yaphank.   
"During this chaotic time, the officers took her safely into custody and located the girls in the car seats in the vehicle. Both were in cardiac arrest," Ms. Hart said. 
They had no outwards signs of trauma, the commissioner said. Autopsies will be performed on Friday to determine their cause of death and when it occurred. 
Around 2:30 on Thursday afternoon, Ms. Campbell's mother called 911 and told an emergency operator that her daughter was on the other line threatening to kill herself and her twins. They were able to initiate a three-way call between Ms. Campbell, her mother, and the operator. "The call lasted nearly 12 minutes. During that time the E.C.O. elicited as much information as possible. However, Tenia, who was at times hysterical, would not reveal her whereabouts," Ms. Hart said. Ms. Campbell also indicated that the girls were already dead.
A massive search began, from the Medford area all the way to Montauk, across about 40 miles and multiple county precincts and other police jurisdictions. Suffolk County aviation, county park rangers, state police, Southampton Town and East Hampton Town police, as well as the Coast Guard, were notified. Police went to several locations, including Ms. Campbell's apartment in Medford, her mother's house in Mastic, and her children's day care in Brentwood, though they had not been there in a few days. Police also checked current and previous places of employment in East Northport and Westhampton. Ms. Campbell worked as a home health aid. 
Police found her 4-year-old son unharmed and with his father, who is not the father of the twins. Ms. Hart declined to say what town he was located in. 
The father of the twins and Ms. Campbell were estranged, said Ms. Hart, who added he had "no real relationship with the girls," though he has been notified of their death. 
During the search, Ms. Campbell was entered into a national crimes database as a homicidal and suicidal subject and her car description and license plate were broadcast to local law enforcement. An Amber Alert process was initiated, but by the time an alert was ready to go out to the public, the twins had already been found in Montauk, Ms. Hart said. 
Due to the urgent circumstances, police were able to get permission from the cellphone company to get telephonic GPS and help lead police to her location at the county park. They found her at about 4 p.m., when she screamed at them to shoot her.
She was taken into custody and held overnight at East Hampton Town police headquarters in Wainscott.
"On behalf of all law enforcement, our sincerest prayers and condolences to the Campbell family on this horrific, horrific incident," Ms. Hart said. "I want to tell you, we've worked together using all of our resources in hopes of bringing peaceful resolution to the Campbell family. Unfortunately, Jasmin's and Jaida's were lives cut short in the most tragic way imaginable."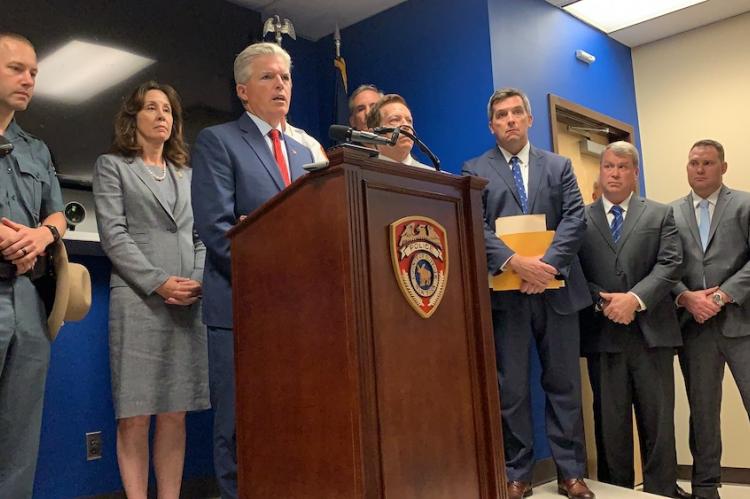 Ms. Hart said Ms. Campbell offered no motive for why she killed her daughters. She said police have no record of domestic violence or Child Protective Services involvement. There is no history of mental illness that police were immediately aware of. However, her mother said in a written statement to police that her daughter had been diagnosed with bipolar disorder as a teenager and that she battled depression and anxiety.
As she was brought into East Hampton Town Justice Court on Friday, Ms. Campbell hung her head and said nothing. Justice Steven Tekulsky ordered her to be held without bail due to the charge of second-degree murder. Brian DeSesa represented Ms. Campbell at arraignment and entered a not-guilty plea on her behalf. 
Ms. Campbell, handcuffed at the hands and ankles, wore a short black dress and blue hospital slippers, and covered her face with her dress and tissues. A grand jury is being summoned to hear the case. Mr. DeSesa expects she will be indicted by Monday and the case will be transferred to Suffolk County Criminal Court. 
Police had an officer monitor her all night at headquarters in Wainscott and Justice Tekulsky ordered a suicide watch and medical attention for her at the Suffolk County jail. 
"I speak on behalf of parents all across this county is incomprehensible," said Suffolk County Executive Steve Bellone, who was on hand for the press conference Friday. "As the father of three young kids, it's unimaginable, it's beyond tragic. Those two girls, Jasmin and Jaida, those beautiful young girls, who lost their lives yesterday, today in Suffolk County our hearts are broken."
Town Police Chief Michael Sarlo said a stress debriefing will be offered to town police and personnel from the Montauk Fire Department, who tried to resuscitate the girls. "Most of our officers on scene have children, if not young children — [you] can't really prepare for that. It's one of the most difficult parts of our jobs," he said after the press conference.
He said he was proud of how his officers handled a tragic situation, relying on training, from cardiopulmonary resuscitation to defensive tactics and de-escalation. " I think they did everything they possibly could do to handle her and get to the children to render them aid as quickly as they possibly could. I'm proud of their efforts. They step up under pressure," he said. "Unfortunately, it was too late." 
While he would not disclose the name of the first officer on scene, he called it "a phenomenal job of handling a very difficult situation." 
"Obviously, there was some intent there, whether it be suicide-by-cop or not. To show that kind of restraint and handle it as quickly as she did, I think it just shows the professionalism, the commitment to try to do the job properly in the heat of the moment, and then to get other officers in to get to the car and render aid as quickly as we possibly could."
Chief Sarlo said it has been a difficult few weeks, starting with the murder of Robert Casado in Kirk Park on June 6 — the first in East Hampton Town in a decade and the first in Montauk in 22 years — and the subsequent arrest, just a week ago, of Joseph A. Grippo. 
"With everything we deal with in Montauk with the volume of calls and the quality of life issues, these last two cases really have absolutely nothing to do with the volume of people or the party scene, but they bring to light that tragic circumstances can spring up anywhere."
"We focus a lot on the quality of life issues and the basic little things, day to day, but obviously we need to be prepared for these kinds of tragic circumstances," he said. "I would hope, like I said after the last incident, that the people of Montauk get some sense of relief and closure to the idea that they are not at risk. . . . These are completely isolated and unrelated." 
With Reporting by Christine Sampson