Strictly entre nous, times seem to be a bit tight at Chatsworth House in England, the Duke of Devonshire's baroque jewel in the Derbyshire countryside, about 160 miles north of London. Peregrine (Stoker) Cavendish, the 12th duke in the Devonshire dynasty, which began in 1640, was onstage at Guild Hall on June 29, to tell a packed John Drew Theater, rather charmingly, all about noble poverty and his leaky ancestral home.
In actuality, he was there to promote "Treasures From Chatsworth," an exhibition at Sotheby's newly renovated galleries in Manhattan. Free of charge and open to the public until Sept. 18, the exhibition features over 40 artworks, including a Leonardo, a Lucian Freud, and a Thomas Gainsborough, the royal portraitist of the 18th century. Other regal items on display include furniture, eye-popping jewels, family heirlooms, clothing, and significant archival materials. These treasures are part of the Devonshire Collection, amassed over some 500 years by the Cavendish family ("Layers upon layers upon layers of collecting," said the duke), and are usually on display at Chatsworth House. The immersive installation at Sotheby's was designed by David Korins, the creative director and designer who has worked on Broadway blockbusters such as "Hamilton" and "Dear Evan Hansen," as well as "The Hamilton Exhibition," a 30,000-square-foot, 360-degree experience at present in Chicago. Mr. Korins was also onstage for the Guild Hall event.
Within a minute of listening to the duke, a real-life Downton Abbey type, it is obvious that he is warm, charming, witty, interested, and self-deprecating in a very British way. He wears his titles and staggering history with a shrug of acceptance, like a birthmark. He was not at all "tweedy," as one might have expected, instead looking dapper in an off-white suit and fuchsia socks — perhaps a nod to his late father, the 11th Duke of Devonshire, whose trademark was yellow socks. Like many of Britain's stately homes, the 300-plus-room Chatsworth, built in 1549, is now run by a charitable trust that oversees preservation efforts, its art collection, garden, woodlands, and park for the benefit of the public. About a third of the $4 million-a-year operating cost is generated by the hordes of paying visitors who come to the palatial home, eager for a heritage experience. Complete with souvenir shops, cafes, and an adventure playground, Chatsworth has successfully rebranded itself as a symbol of the continuity of the past alongside the new demands of the present. The duke and duchess pay market rate rent to occupy some of its rooms.
Almost relentlessly modest in manner, the duke took the Guild Hall audience through a slideshow of his well-appointed palace, with its gilded window frames, its staterooms, its Rembrandts, its Leonardos, its Van Dycks, its Freuds, its ancient Roman and Egyptian statuary, its beautiful gardens and parklands set in some 35,000 acres, as well as the Cascade, a 300-year-old water feature that spills over 24 groups of steps.
However, it seems, the underside of the Cascade is in dire need of repair. It's leaking terribly and will cost about $1.2 million to fix. And there's the vast servants quarters that need about $15 million to spruce up. And the silk damask upholstery inside the family's silver-mounted state carriage has split and requires $26,000 to be repaired. Add to that the cost of lightbulbs — 2,084 needed to fill all the chandeliers of Chatsworth  — and what's a duke to do?
I know what you're thinking because I thought it, too: Why not sell off a Leonardo? Or, even a few thousand acres of land? Or, maybe get rid of one of the family's other properties like Lismore Castle, the Cavendishes' Irish home built in 1170; Bolton Abbey, a shooting estate in Yorkshire; large chunks of Eastbourne, a resort town in southeast England; a house and a bookshop in Mayfair, London, or the Pratt's Gentleman's Club, also in London.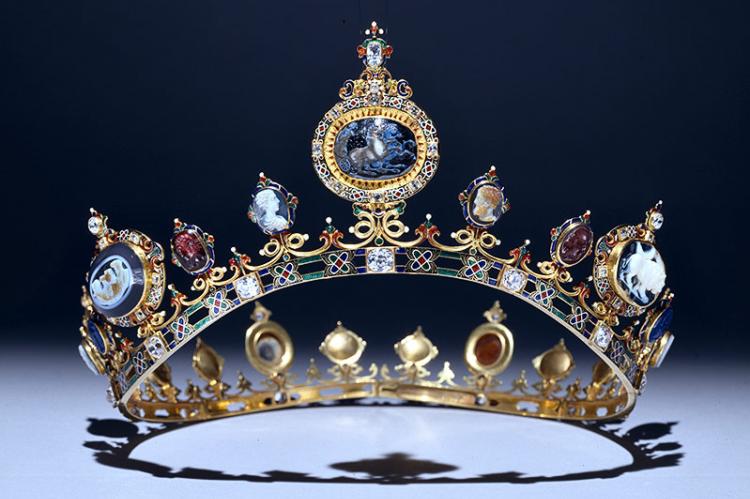 Maybe it will come to that. As it did for the present duke's father, who faced a crippling $12 million inheritance tax in 1950 (the equivalent of about $350 million today) when his father died. He sold a mountain of treasures including a Rembrandt, a Greek bronze of Apollo, a Van Dyck sketchbook, 42,000 acres around Chatsworth, and several thousand more elsewhere. He also rented out his Eastbourne house to a language school, and gave Hardwick Hall, an Elizabethan country manor, to the National Trust. By 1974, he'd finally cleared all the death duties owed.
But for now, the Duke of Devonshire and Sotheby's have opted to tap into America's soft spot for British aristocracy, at an unprecedented high after 52 episodes of "Downton Abbey" and two seasons of "The Crown." According to the United States-based British historian Simon Schama, America has been struck by "cultural necrophilia" and "gripped by the clammy delirium of nostalgia," turning a once brutal feudal system into a quaint historical curiosity.
And, so, like "Downton Abbey: The Exhibition" currently on tour in the United States, offering "Abbey-heads" (Sean Diddy Combs's term) a chance to "experience the history, the fashion, the house," Sotheby's has put on a visually glorious "Chatsworth: The Exhibition" in New York, as well as "Inspired by Chatsworth: A Selling Exhibition," for anyone looking "to begin or enrich their collections with works of outstanding quality in the Chatsworth taste."
The sun, apparently, will never set on the British Empire.