In 1951 when Vincent Grimes witnessed a ceremonial blessing of various boats while serving in the Navy at Port Hueneme in Southern California, it made a lasting impression. 
"During the Korean War, I was stationed out there and I thought it was a very touching moment to see the boats blessed by members of the clergy," said the 90-year-old Montauker, who is known as Vinnie. He stored that emotional memory for future use. "Given how well it was done, I thought it would be nice if we did something similar here in Montauk," he said last week, and so, thanks to Mr. Grimes, the annual Montauk Blessing of the Fleet was born in 1955. 
While only about a dozen boats showed up for the first blessing, the popular ceremony continues its strong tradition to this day, and this June some 200 commercial and recreational craft sought their annual blessing for safe passage and calm seas. It's a ritual that many local boat owners and captains appreciate and refuse to ignore.
Mr. Grimes will be honored Sunday evening as the Fishing Legend of the Year at the 19th annual Montauk Mercury Grand Slam fishing tournament in recognition of his many decades of involvement and volunteerism in the community. It's an honor that Mr. Grimes looks forward to sharing with his many friends and family, including his sons, James and Keith, as well as five grandchildren and four great-grandchildren. 
"The recognition is certainly nice, but so many other people have given back to the community here in Montauk," he said at home on Second House Road in Montauk. "I'm the last guy I thought they would honor."
"There are many people who are deeply involved in their local community, but there are few who have gone above and beyond to serve and give back more than Vinnie, who always puts the interests of others before himself," said Henry Uihlein, the owner of Uihlein's Marina, where the Mercury Grand Slam tournament will be headquartered. 
"Name an organization or charity, and the chances are good that he was likely involved in some way," added Uilhein. "He is so deserving of this honor."
The Grimes family can trace its lineage to 1639, when ancestors lived in several seaside villages on Cape Breton Island on the rocky east coast of Nova Scotia. Coming from a family deeply involved in fishing and boatbuilding for several centuries, Grimes entered the burgeoning charter boat fishing business after serving four years in the Navy; his first boat was the Cigaret.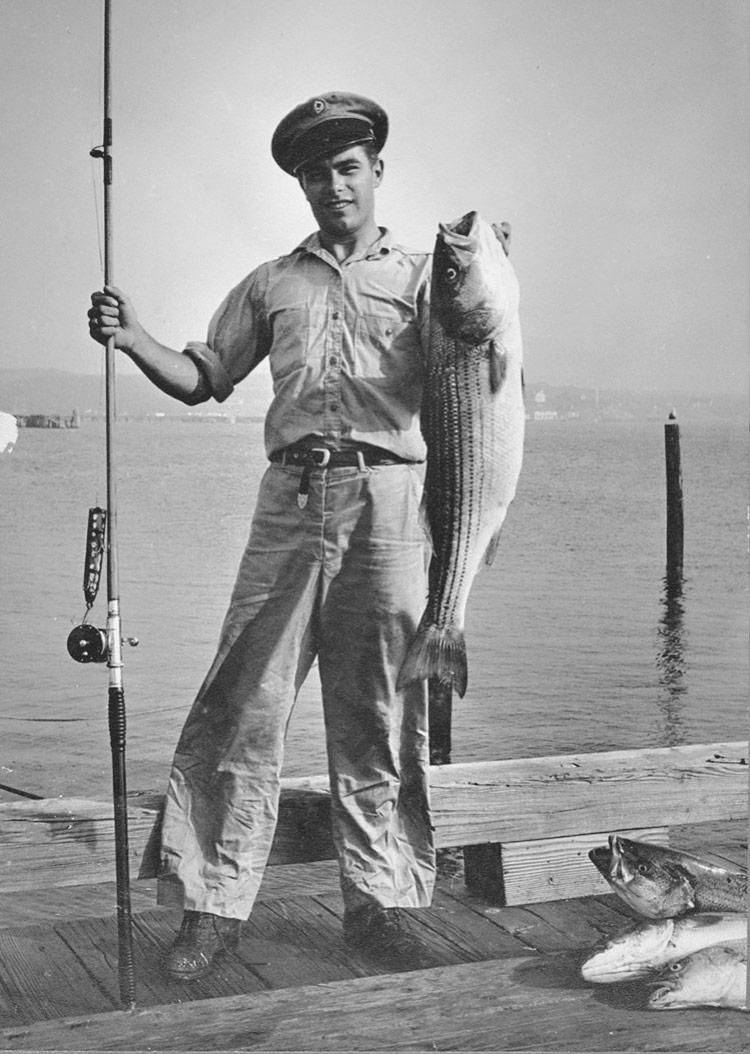 But it did not take long for Mr. Grimes to decide that the prospects of earning a living on land provided more financial security. "The economy was not doing well and by the time I returned to Montauk, there were so many new charter boats in the harbor that it was tough to make a living," he recalled. "I had just gotten married and we had our first child, so I entered the service station business selling gas and repairing cars. And I have no regrets of ever making that decision." It was a business that he ran successfully for nearly 40 years.
Over the years he has dedicated endless hours to organizations like the Boy Scouts — he joined at 11 and later became a scout leader. He is a member of the Montauk Point Lions Club and the Montauk Fire Department, where he served as the fire commissioner in 1968. 
Mr. Grimes was also a co-founder and chairman for life of the Montauk Horse Show, which he started in 1970 and continued for nearly 40. The horse show benefited causes like the Boy and Girl Scouts, the fire department, Montauk Youth, the Montauk Lighthouse, and many other groups. He was involved with local organizations like the Trailblazers and the Lost Tribe of Accabonac (known as the Sons and Daughters of East Hampton). In 2014, the Montauk chamber of Commerce honored him as its Person of the Year, and he was named grand marshal of the Montauk Friends of Erin St. Patrick's Day Parade in 1986. His many citations, recognitions, and awards adorn the walls of his house. 
"I've known Vinnie and his family for such a long time," said Capt. Richard Etzel of the charter boat Breakaway. "He has given so much to the Montauk community."
"We are all so proud of my dad," his son Jim Grimes said. "I know this recognition means a lot to him."