This original song was written by a woman identified only as Mrs. Molly Corwithe, possibly Mary Halsey Corwithe of Bridgehampton (1755-1843, daughter of Matthew Halsey), in 1776. This Mary Halsey married Caleb Corwithe (also spelled Corwith) in 1779. Caleb Corwithe of Bridgehampton served in Col. Josiah Smith's Continental Regiment and fought in the Battle of Brooklyn.
The song describes the retreat of George Washington's army following that battle. Calvin Halsey of Southampton transcribed the lyrics in 1838.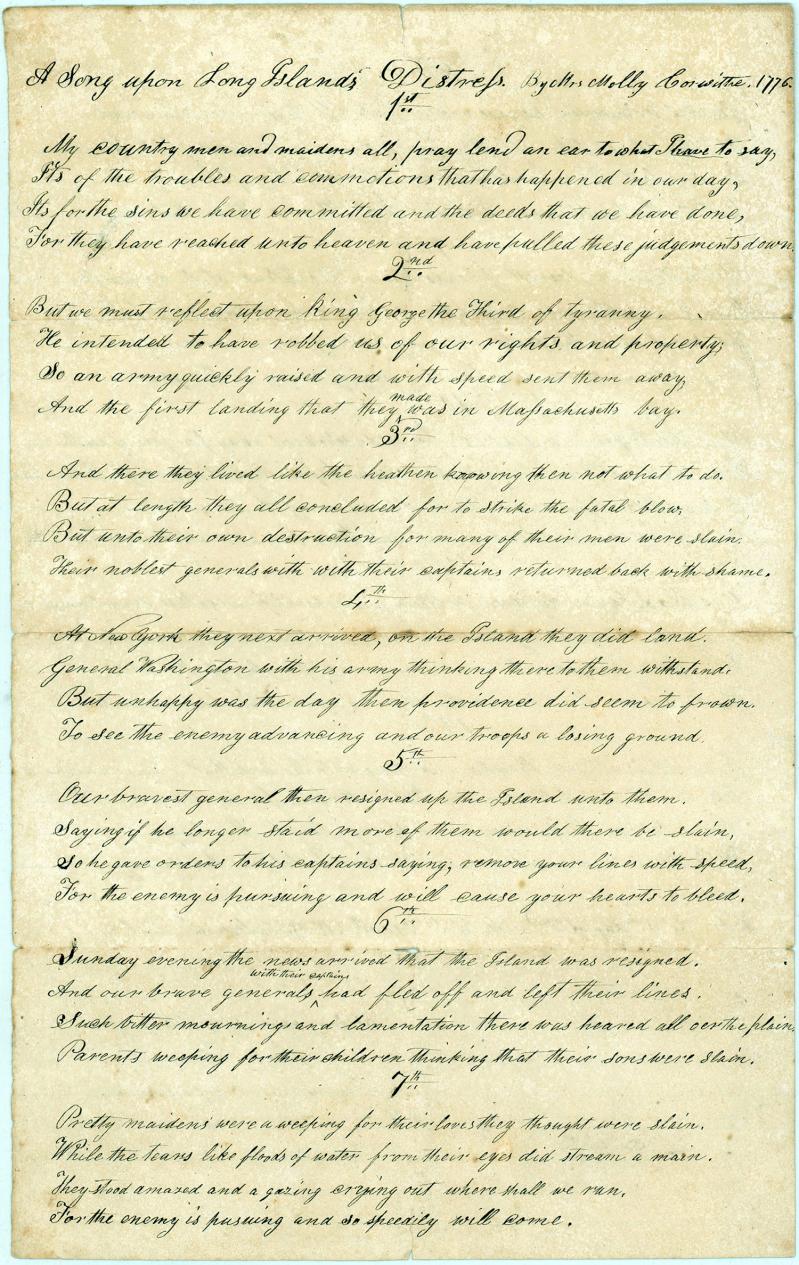 On July 2, 1776, Congress voted to approve the Declaration of Independence, and British warships landed men on Staten Island. The song chronicles the arrival of British forces in New York and the events after Long Island fell under British control on Aug. 30, 1776: "Our bravest general resigned up the Island unto them." The lyrics continue, "General Washington he gave orders onto all that here remained. That they should take all they possessed and with speed fly to the main [land]."
Long Island remained under British occupation until November of 1783, when the last British troops left America. The families who stayed on the Island were subjected to constant harassment and raiding parties from both sides during the occupation. Of the Long Island families who left, many fled to Connecticut, which Washington's army controlled. 
The song's wording suggests that the songwriter may be among the refugees when she writes, "my dearest friends that on the Island still do dwell. . . ."
Regardless of which side of the enemy lines she wrote from, she captured both the emotional distress resulting from Washington's defeats in New York and the daring, optimistic "spirit of 1776" that fueled the ideals in the Declaration of Independence at a time when Washington's victory — let alone a country without a king — seemed incomprehensible to many.
—
Andrea Meyer is a librarian and archivist in the East Hampton Library's Long Island Collection.