The weather was about as good as it's ever been at the Shelter Island 10K Saturday, bright with a fortifying wind out of the southwest, a good day for breaking records, though none were.
Eliud Ngetich, a 25-year-old native of Kenya, who because he was a late entrant had not been on the elite runner list, won it — no surprise given the fact that he had won Shelter Island in 2015. 
Ngetich's winning time of 29 minutes and 49.19 seconds was about a minute slower than what he'd done in 2015, but it was enough to leave the two Ethiopians, Tariku Demelash Abera and Urgesa Kedir Figa, who had been with him practically the entire way, about 25 yards in his wake as they entered Fiske Field's snow-fencing chute on the way to the finish line.
Abera finished in 29:59.71 and Figa in 30:02.53. 
Later, Abera said the wind had not been a factor, but that, as could be expected, he was a little tired after having won the 10K in Flushing Meadows that morning, after which he and about a dozen other elite runners were brought out to Shelter Island by Bill Staab, a longtime running coach from Manhattan's Upper West Side.
The female winner Saturday, Catherine Mwanzau, 19, is also a native of Kenya. She won handily (and was eighth over all) in 33:03.24.
The top 30 included a number of young South Fork runners — Erik Engstrom, 21, in 33:55.51, Kira Garry, 26, in 36:11.38, Paige Duca, 21, in 37:00.83, Eric Perez, 21, in 37:54.35, and Kal Lewis, 17, in 38:20.39. Former Gov. Hugh Carey's granddaughter, Delia Hayes, a recent graduate of Boston College, where she ran cross-country and track, was 33rd, in 38:32.97.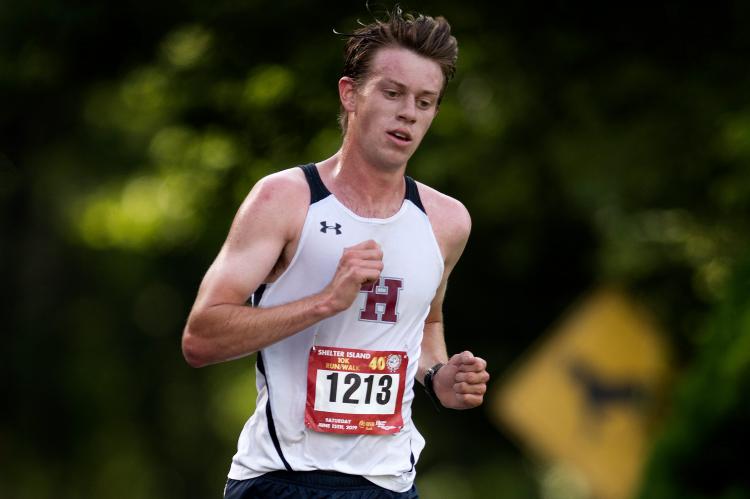 Engstrom, who is about to enter his senior year at the University of Massachusetts, and who's working this summer at Montauk's Deep Hollow Ranch, was 11th, Garry, who ran at Yale, was 20th, Duca, a Boston University distance runner and East Hampton Town lifeguard, was 22nd, Perez, who, with Engstrom, has begun overseeing workouts on Monday and Wednesday evenings at East Hampton High School's track, was 26th, and Lewis, a Shelter Islander who ran a 4:15 mile this spring, was slowed by allergy problems in the postseason, and is feeling better now, was 29th.
The locals list continued with Anthony Daunt, 27, 63rd; Megan Gubbins, 36, 67th; Janelle Kraus Nadeau, 68th; Barbara Gubbins, 59, 73rd; Alyssa Bahel, 21, 74th; Paul Hamilton, 58, 90th; Penelope Greene, 16, 152nd; Sharon McCobb, 55, 156th; Ava Engstrom, 16, 164th; Craig Brierley, 53, 171st; Kevin Barry, 56, 173rd, and Mike Bottini, 64, 293rd, just ahead of Benji Durden, 67, of Boulder, Colo., who in the early 1980s was the seventh-ranked marathoner in the world. 
There were 1,016 finishers in the 10K and 646 in the 5K, which was won by Samuel Gotts, 26, in 17:58.96, and Rose Hayes, 15, a highly competitive tennis player as well, in 21:23.68.
Peter Hawkins, 55, and William Lehr duked it out in the wheelchair race, with Hawkins crossing the line in 37:30.71, about four minutes ahead of Lehr, a Shelter Islander.
To celebrate the race's 40th anniversary — Justin Gubbins and Burke Koncelik were its first winners, in 1980 — the committee, headed by M.E. Adipietro, brought out a number of running legends, among them Joan Benoit-Samuelson, who in 1984 became this country's first female Olympic marathon winner, Bill Rodgers, "The Marathon Man," a four-time winner at Boston and New York, Jon Sinclair, Kim Jones, Keith Brantly, and Durden and Kyle Heffner, who finished second and third to Tony Sandoval in the 1980 Olympic trials, posting times, all personal bests, that reportedly remain unsurpassed in the trials to this date.
Sandoval, as aforesaid, won, in 2:10:18, with Durden second, in 2:10:40.3, and Heffner, who was not even listed among those with an outside chance, in 2:10:54.
Despite a nagging calf muscle, Heff­ner, who lives in Dallas, ran Saturday's 10K in 43:14.28, at a 6:58-per-mile pace. He topped the men's 60-to-64 age group. Durden's 51:19.30 was good enough to place him first among the 65-to-69-year-olds. Rodgers, 71, was second in the men's 70-74 division, in 52:23.53. 
Other age-group place-winners were: Benoit-Samuelson, 62, first among the female masters, in 40:26.93; Barbara Gubbins, first in the female 55-59 group; Megan Gubbins, first among the female 35-39s; Duca, first among the female 20-24s; Garry, second in the 25-29s; Nadeau, second among the female masters. 
Hamilton, second in the men's 55-59 group; Alyssa Bahel, third among the female 20-24s, in 43:05.36; Penelope Greene, third, and Ava Engstrom, fourth, among the female 19-and-unders, in 46:44.65 and 47:03.52; Lewis, third among the 19-and-under males, and Erik Engstrom, fourth, and Perez, fifth, in the male 20-to-24 division.
The male masters winner was Guillermo Pineda Morales, 46, in 34:53.22.