Doug Kuntz, a photojournalist who turns his lens on populations in peril — from the dying days of the baymen culture of Bonac to neighborhoods ravaged by Superstorm Sandy to the "hell on earth" of Moria, the migrant camp on Lesbos, Greece — has returned recently from what might be his most harrowing, and awe-inspiring, artistic journey yet: documenting the voyage of a ship called the Sea Watch 3 as it rescued 47 migrants from a sinking rubber raft off the coast of Libya. 
The Sea Watch 3 is a vessel dedicated to saving migrants who have risked death by crossing international waters in inadequate boats. It is owned by Sea Watch, a nonprofit organization based in Germany that conducts civil search-and-rescue operations in the Central Mediterranean. Sea Watch claims its volunteers have so far saved more than 14,000 people from drowning.
Mr. Kuntz, an East Hampton native and longtime contributing photographer to The East Hampton Star, was asked to join Sea Watch 3's latest mission, Mission 18, as a field media coordinator, charged with transmitting documentary photographs and videos daily to the N.G.O.'s headquarters in Berlin. 
He was one of a crew of 22 that included doctors, psychologists, trauma specialists, emergency-services personnel, journalists, and mariners — all of them volunteers who took turns at two four-hour watches every day and slept as little as three hours a night during a long, harrowing month at sea.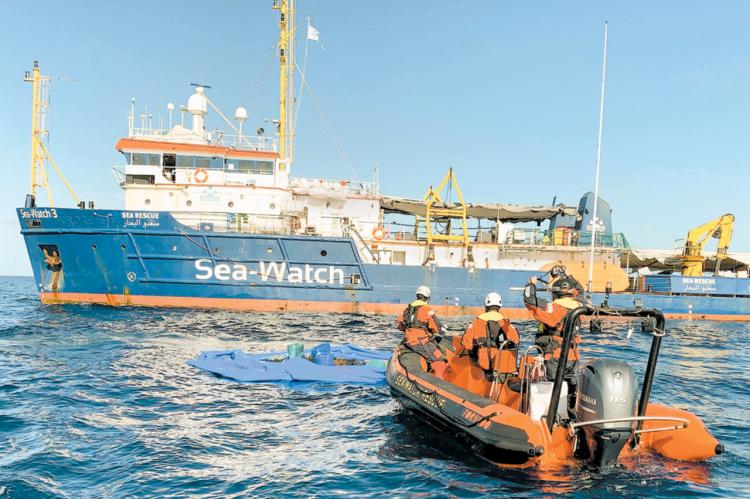 Days were a grinding round of training, as each participant learned the basics of firefighting, emergency first aid, and the use of a rigid-hull inflatable boat (RHIB), as well as "pirate training," in case the ship were boarded by armed bandits. Many of Mission 18's crew were from the Netherlands or Germany. Mr. Kuntz was the only American.
The role of the Sea Watch 3 is straightforward: to rescue people who are drowning. "We are not the water taxi to take you to Europe," Mr. Kuntz said in an interview on Tuesday.
Survivors of a shipwreck are, under international law, supposed to be taken to the safety of the closest port, but many European nations — roiled by unease and unrest by the waves of migrants moving north — have been refusing entry to rescue ships like the Sea Watch 3. 
While Mission 18 was underway, the Sea Watch 3 was the last operating N.G.O. refugee ship in the Mediterranean Sea; all the rest had been seized by different nations that did not want them delivering migrants to their door.
Aboard the Sea Watch 3, the rescued were not called migrants or refugees, said Mr. Kuntz. "We called them guests." By all accounts, many of the "guests" of these rescue ships go through the trials of the damned as they struggle to reach the relative peace and freedom of Europe. Many of the men Mr. Kuntz met aboard the Sea Watch 3 told him that they had been held as slave laborers in Libya. Many told of beatings and torture.
Lugging a camera bag weighing over 60 pounds (three times the carry-on limit), Mr. Kuntz left Newark Airport on New Year's Eve and traveled through Rome and on to Malta, where the Sea Watch 3 was waiting offshore on Jan. 4. 
He and the rest of Mission 18's crew were carried out by a small transport ship to meet the Sea Watch 3 offshore; it cannot be docked in most Mediterranean ports because it might well be seized by the authorities.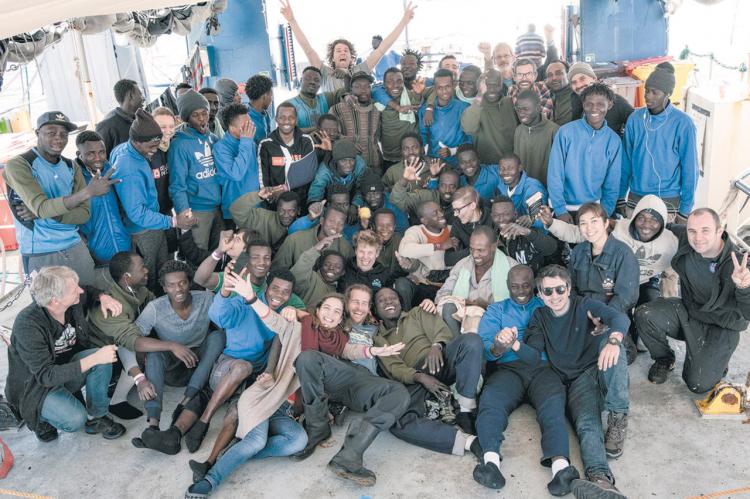 Aboard the Sea Watch 3 the incoming crew were greeted by the 49 guests who had been rescued during the previous mission, Mission 17, on Dec. 27; they were awaiting word on when, or if, they might be allowed to disembark and enter Europe. 
The ship prowled the coast of Malta for weeks, awaiting permission for the migrants to go ashore. At night, if the weather was fair, the 49 men, women, and children slept outside, in a covered space on deck. By day, the crew of Mission 18 kept them occupied with lessons on guitar and ukulele, and spent as much time wiht them as they could. 
"Music is the universal language," Mr. Kuntz said.
What happened over the next month was a life-and-death drama that unfolded in near-real time on Mr. Kuntz's Instagram feed, as his followers nervously awaited updates on the fate of two groups of migrants — and of the ship itself, after it was caught in a legal snare in Sicily.
Mr. Kuntz told the tale in words and pictures on Instagram:
Jan. 8: Our "guests," who traveled separately from 10 different countries in Africa and the Middle East, have no home left except the ship we are on, as no country in Europe will give them safe passage. Tonight we all ate dinner together in the part of the ship where they stay. In that same space we, the crew, sit down with them every morning and listen to their hopes and fears, at times touched by sadness, frustration, and occasional anger. . . . 
[Today] the pope called for safe passage for the migrants on this ship, and 13 more on another rescue ship, that like us travels back and forth off the southern coast of Malta awaiting what lies ahead. For the 49 survivors of thousands of miles of travel, the only fair solution is safe passage. The whole world watching, and kind words from the Pope are not what they need. They need a chance to start over. They need home, and they need it now.
The crew gathered around to watch a YouTube video of the pope's remarks, watching as the view-count clicked upward and upward.
That very day, as it happened, The New York Times published a front-page article — "Rescued Migrants, at Sea for Weeks, Struggle to Reach a New Life" — about the plight of the 49 migrants aboard the Sea Watch 3. 
Mr. Kuntz believes the attention drawn by this Times article, combined with the comments of the pope, were the spur for what happened next. On Jan. 9, the Coast Guard of Malta contacted Sea Watch to arrange an offshore rendezvous, so the migrants could finally be transported to Malta. (A video that Mr. Kuntz made as the head of mission delivered the news to his jubilant guests currently has more than 170,000 views on YouTube.)
For the next week, the Sea Watch stood off the coast of Northern Africa, anchoring for 24 hours to ride out bad weather. 
Mr. Kuntz's first sight of the continent was a common gull, "the Universal Bird," he called it.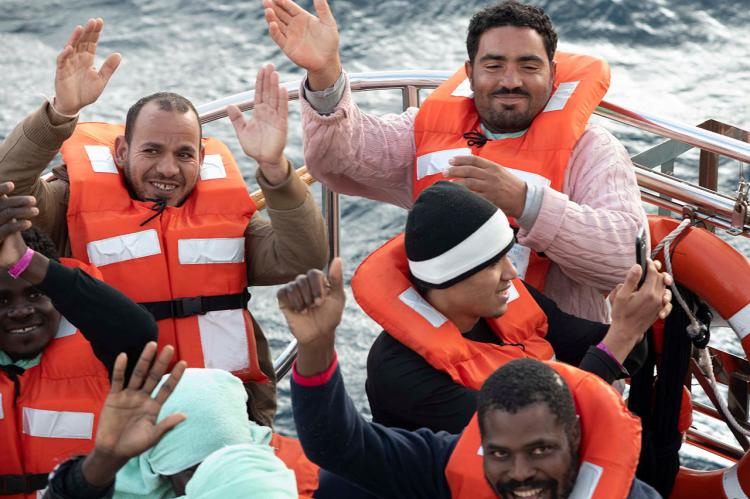 On Jan. 18, the training, waiting, watching, and searching were interrupted by a harrowing day that clearly haunted Mr. Kuntz as he retold the story:
Saturday, 2:57 a.m. The Italian military is reporting this morning the drowning of close to [117] migrants in the Mediterranean Sea, 35 miles northeast of Tripoli, who were spotted in a sinking rubber raft. We were six hours away when we made the decision to head to the area and attempt to retrieve the dead. Doing this would have ended this mission 12 days early, because having that many bodies aboard would have sent us immediately to Malta to take them off. By the time we arrived on scene, the only thing we could find was the life raft that that Italian military dropped from a helicopter, and it was empty. After searching for over three hours we were unable to locate a single body, but we know that aside from the three survivors picked up by the military helicopter there was little hope that anyone else lived.
The very next day, Sea Watch 3 was called into action to attempt to rescue another group of migrants — this time, they hoped, before their raft went down. The call came from AlarmPhone, an N.G.O. that monitors maritime-radio traffic for news of ships in distress ("Hotline support for people crossing the Mediterranean" is its tag line). Word was speeding around the area that someone, who must have had a satellite phone, had sent out a distress call from a rubber raft that held a large group of men. 
Sea Watch 3 was given the location and a brief summary: sinking raft, no food, no water. 
They were close enough to reach them. 
Sea Watch 3 soon came upon a large, blue rubber raft with its bow in the air, a sign that it was leaking air and would not stay afloat long. The crew approached the raft in two RHIBSs, but, at first, the men were wary, Mr. Kuntz recalled: Who were these strangers? Were they from the Coast Guard of Libya? 
"They were so terrified of being sent back to Libya," Mr. Kuntz said. "Libya is run by militias. It's lawless." 
The migrants were quickly reassured, in French and in English.
The men who were taken on board Sea Watch 3 that day numbered 47, and they came from 10 different nations (none of them, Mr. Kuntz stressed, Libya). The medical volunteers assessed them, and they were fed. "A lot of rice, a lot of beans, carrots — stuff that was sort of healthy," Mr. Kuntz said.
Jan. 22: I have sat with them and heard their stories of human slavery and torture. One man was tortured with a knife while his captors live-streamed the stabbings to his family until they paid money that they didn't have to stop it. I saw his physical scars, but can only begin to comprehend the deep-rooted psychological trauma that he lives with. He told our doctor that he has felt dead inside for three years now.
The ship turned north toward Europe, taking a beating for several days of rough weather. Many aboard were seasick.
Sea Watch wanted to take their human cargo to Syracuse, on the Italian island of Sicily, which is said to be friendly to rescued migrants, Mr. Kuntz recalled, but the captain stumbled into trouble when he accidentally crossed into the territorial limits of Italy. "It's all monitored electronically," Mr. Kuntz said of the waters of the Mediterranean. "You cross, and they bring you in." 
The ship was ushered into the harbor of Catania, Sicily, under armed escort. 
"We knew we were heading into a trap," Mr. Kuntz said, because Matteo Salvini, Italy's deputy prime minister, had become part of the drama.
Because the Sea Watch 3 was the first migrant-rescue ship to come ashore in Italy in some four months, according to Mr. Kuntz, it became a cause célèbre among the right wing in Italian politics who fiercely oppose the presence of migrants and refugees. "He [Salvini] calls for an investigation of the ship, and for the crew to be thrown into prison, charged with human trafficking," Mr. Kuntz said. 
Mr. Kuntz got on his cellphone and called an acquaintance in Amagansett: Michael Griffith, an international criminal-defense attorney, who gave him the name of an Italian lawyer. He wrote the name of the Roman lawyer in Magic Marker on his arm, and did not wash it off for many days.
After the ship was tied up, it was boarded by police and immigration authorities, who combed through every inch, above and below decks, looking for infractions of the law, he said. He feared that his computer, digital files, and camera equipment would be confiscated, but he and the rest of the crew were permitted to leave with their belongings intact.
The ship's operators were charged with 31 violations. Sea Watch 3 was not seized, but could not leave port, either.
All but three of Mission 18's crew scattered for home, Mr. Kuntz said, having spent an exhausting month at sea and needing to get back to families and jobs. Mr. Kuntz stayed in Catania for the next two weeks, to help the remaining crew provision the ship for its next voyage, Mission 19.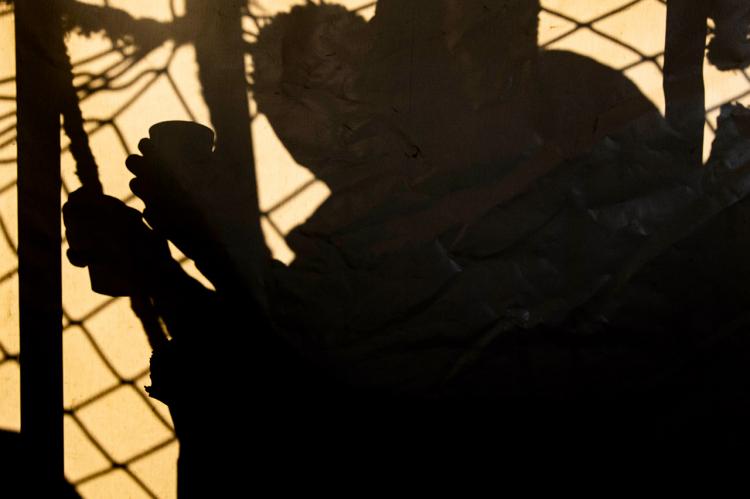 Feb. 2: The 22 crew members of Mission 18 have left such a powerfully positive impression in my heart and soul that part of me will remain with them, and aboard that ship, for a long long time. I'm staying in Catania for a few days to come back to the real world, so to speak, but more than that I want to stand on the pier when Italy lets them out of "we-will-do-anything-to-shut-you-down jail," and wish them well when they go back out to do what they do best which is to save men, women, and children from drowning. There are not many people in this world whose purpose is as profound as that.
The ship was held in limbo, as Sea Watch organizers attempted to clear up the violations and get it released from its legal snare.
While it was held up in Catania, Mr. Kuntz said, there were no other refugee-rescue ships in the Mediterranean Sea. No one knows how many migrants may have drowned. 
Many of the migrants from Mission 17, who had been transferred to Malta, were still being detained there as of press time. The same was true for many of those Mr. Kuntz met during Mission 18: Their journey, and their trials, are not over. 
For his part, Mr. Kuntz intends to continue to shed light on the humanitarian catastrophe that is still playing out in the Mediterranean. Having made a jaunt — in the immediate aftermath of his voyage — to the Netherlands, where he gave presentations of his work to 250 high school students, he was back in Lesbos by late February, meeting up with old friends beside whom he had worked in the migrant camp, and now has plans to return to the Netherlands within the month to speak to 700 university students, to tell the story of what is happening in words and pictures.