East Hampton High School's girls swimming team, going all out, according to its coach, Craig Brierley — an effort that resulted in the entire team receiving the captains' swimmer-of-the-meet designation — placed second to Sayville-Bayport in the league championship meet at Hauppauge High School on Oct. 29.
And the next day, the girls volleyball team trounced Half Hollow Hills West in four here in a first-round county tournament game, which set up a match that was to have been played Tuesday at second-seeded Hauppauge. The winner is to advance to the Class A final at Newfield High School in Selden Monday at 2 p.m.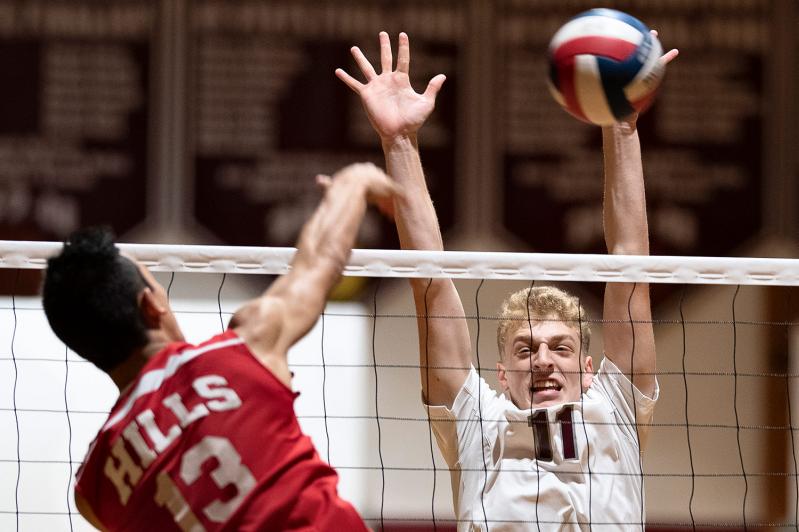 The boys volleyball team, on Oct. 29, was impressive in a 3-0 win over Half Hollow Hills here, capping the regular season at 10-4. Second-seeded in the county's three-team Division II tournament, Josh Brussell's charges are to play third-seeded Hauppauge here tomorrow at 5 p.m. The winner of that game is to face top-seeded Westhampton Beach in the small schools final at Newfield High Monday at 4.
In an emailed account of the league championship swim meet, Craig Brierley, the coach, said his charges "swam their hearts out. . . . The Bonac girls had season-best times in every event, and lifetime bests in all but one event."
The 200 medley relay team of Julia Brierley, Jane Brierley, Sophia Swanson, and Darcy McFarland, and Swanson, in the 100 butterfly, and Jane Brierley, in the 100 breaststroke, swam state-qualifying times at Hauppauge that day — Swanson swimming a lifetime best in the fly and Brierley a season best in the breaststroke. The relay team, which "touched the wall .07 seconds behind Sayville's winning team, dropped almost six seconds from their season best."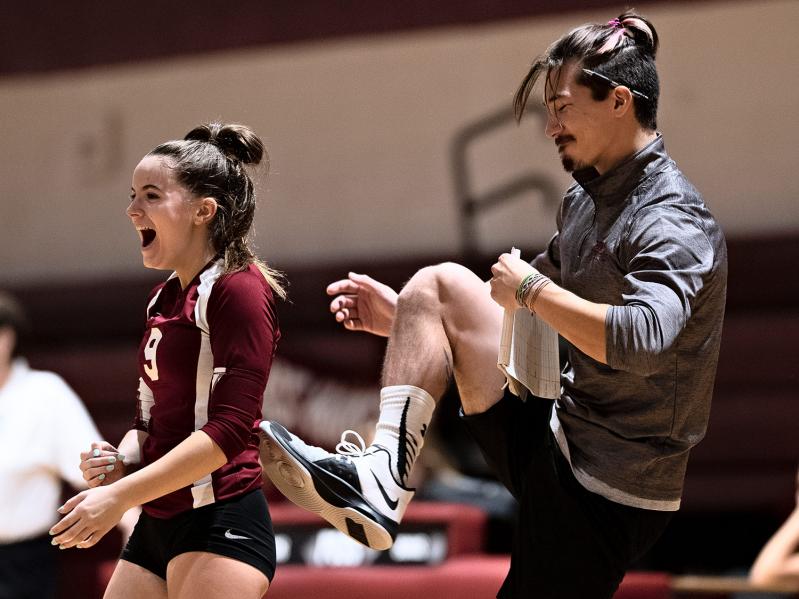 "There were so many swims worth highlighting," Coach Brierley said. "A few of them were Julia Brierley's runner-up finish in the 50 free in a season-best 26.47, Catalina Badilla's third-place time of 58.79 in the 100 free, and the 200 relay [Jane Brierley, McFarland, Julia Brierley, and Swanson] team's win in a season-best 1:42.02, almost six seconds lower than its previous best, just three-tenths of a second shy of the state qualifying time."
All three relay teams are to swim in the county meet at Suffolk Community College-Brentwood Saturday. Swanson (five), Julia Brierley (three), Jane Brierley (three), Badilla (three), and Kiara Bailey-Williams (two) are to swim in individual events.
Getting back to volleyball, East Hampton's girls, after playing a bit ner­vously in the first set here on Oct. 30, which they lost 25-17, cruised the rest of the way, winning out 25-13, 25-14, and 25-17.
Molly Mamay notched nine service points — five of them aces, one of which was to the floor — setting the tone in the fourth and final set.
Mikela Junemann, the senior middle hitter, had a dozen kills, some through double blocks and one or two from midcourt. Her last one, a hard smack, ended the match.
But really, Alex Choi, the team's coach, said, "Everybody played well — it was a good match."
If East Hampton wins at Hauppauge Tuesday, it would probably meet Kings Park — a team from which it has yet to take a set — in Monday's final, he added.
Bonac's boys made quick work of their Half Hollow Hills opponents 25-10, 25-19, and 26-24.
With the score tied at 24-24 in what proved to be the final set, Henry Garneau followed a block with a kill, and Clark Miller, the go-to middle hitter, who was to finish with 15 kills, tipped the ball to the floor after Logan Gurney had made a point-saving dig.