Ten minutes after he walked through the door of Ed's Lobster Bar in Sag Harbor, Matthew Hunt had a job as a server. Next on his to-do list is finding a new place to live — which may or may not turn out to be a new sailboat. It's a little up in the air right now.
Either way, Mr. Hunt, the 21-year-old sailor whose boat sank after having motor trouble and running aground near Shadmoor State Park in Montauk last Thursday, has fallen in love with the South Fork and plans to stay awhile.
Mr. Hunt, originally from Maricopa, Ariz., bought a 27-foot sailboat, a 1982 Catalina, on eBay last Wednesday. He put in his $700 bid a few moments before the auction was to end, and came out on top. Intending to start over on the East Coast — he said his life was rough in Maricopa, and he had just lost his job at a computer-chip company — Mr. Hunt flew to New York's La Guardia Airport, took the Long Island Rail Road to Montauk, and picked up the boat, the Vanna White, last Thursday.
But a maelstrom of low tides, changing winds, a failed engine, and strong ocean currents led to his running into rocks and beaching the boat. Mr. Hunt, who is also a certified lifeguard, was able to escape with just a few bruises. He salvaged a single suitcase filled with his possessions, and made a few trips back to the boat to grab a few more essentials, including his wallet and a spare can of diesel fuel that he took with him to prevent an environmental emergency.
"You wake up and you never know what the day's got in store for you," Mr. Hunt told The Star last week. "So far, it's been a wild, wild roller coaster of people trying to help me, offering me jobs, offering places to stay, wanting to help me as much as they can. Everyone has been so welcoming and gracious, and it really touched my heart."
He had taken sailing lessons in California before, and said he had piloted boats larger than his 27-footer. But the sailboat's previous owner had warned him that its inboard engine was prone to trouble, he said. His ordeal began when the engine cut out at around 1:30 in the afternoon last Thursday.
"As I was out there sailing, I got all the way around the Lighthouse, down the cliffs, and then the wind changed," Mr. Hunt said. "I put the diesel inboard engine on. Fifteen minutes afterward, it ended up dying on me and would not start again. I kept cranking it and cranking it, and I kept getting closer and closer to the beach. The surf was pulling me in. I put the sail out to try and catch the wind. Unfortunately, the wind had turned again so I had to put the sail down. The waves kept hitting me, crashing into my boat. I was paralyzed with fear. It was really terrifying. The waves pushed me into the rocks and that was it."
Mr. Hunt stayed the last few days with Doug Kuntz, a photographer for The Star, and said he hit it off with Edward McFarland, the chef and owner of Ed's Lobster Bar, when one of Mr. McFarland's friends brought him in for an interview. Mr. McFarland said his first impression of Mr. Hunt was that he was eager to learn, listen, and get ahead.
"It's fortuitous timing because we're a little understaffed here right now," he said by phone this week. "He seems like a nice kid who fell on some hard times. If I can help out, I'm always happy to help out. It worked out."
Mr. Hunt said the beautiful greenery of the South Fork is quite a departure from his hometown, and he said the overwhelmingly helpful response to his emergency has shown him the people of Montauk are welcoming.
"No one had known me. I didn't know them," he said. "All I know is they wanted to help, and everyone has been so generous and so kind. They're rooting for me."
He hopes it's only a matter of time before he can find another boat, and perhaps even live on it.
"I'm passionate and want to get back out on the water," Mr. Hunt said.
Before then, he has some legal hurdles to overcome related to last Thursday's incident.
Mr. Hunt appeared yesterday in East Hampton Town Justice Court after he was charged with violations of two New York State navigation laws, misdemeanors to which he pleaded not guilty.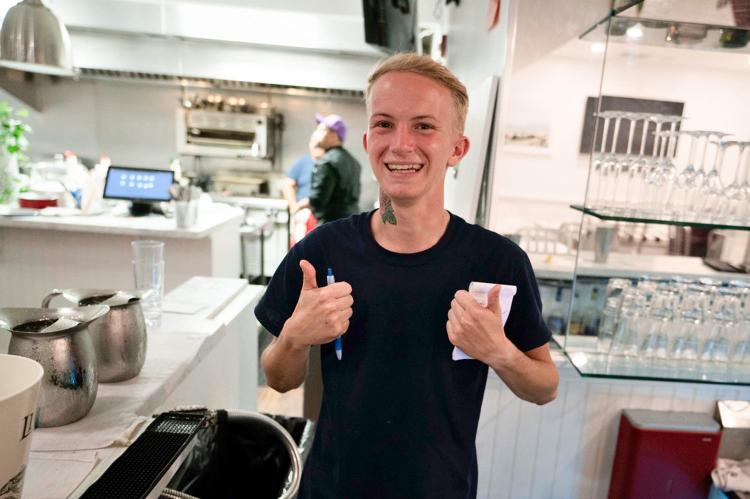 One is reckless operation of a vessel. State law mandates that vessel operators "shall at all times navigate the same in a careful and prudent manner in such a way as to not unreasonably interfere with the free and proper use of the navigable waters of the state." According to state law, the second charge, "littering or abandoning," prohibits throwing, depositing, or discharging "bottles, glass, crockery, cans, scrap metal, junk, paper, garbage, rubbish, trash, or similar refuse" into public waters or within 100 feet of private lands contiguous to the waters "unless such person enters or remains with the permission of the owner of record or his representative or agent."
Justice Steven Tekulsky set another court date for Oct. 23. Mr. Hunt had been ticketed by Tim Treadwell, a senior town harbormaster, who could not immediately be reached for comment yesterday. He is being represented by a Legal Aid attorney.
"It was very scary stuff," he said a short time after his court appearance yesterday. It was his first time ever appearing in court. "I was beating myself up all last night, but it could have ended up a lot worse."
With Reporting by Doug Kuntz