After having begun the fall season at 0-3, East Hampton High's girls tennis team, whose 14-player roster is evenly divided between students from Sag Harbor and East Hampton, has been coming on of late.
Last Thursday, for instance, Kevin McConville's team defeated William Floyd 4-3 here, thus avenging a 4-3 loss at William Floyd on Sept. 13.
Romy Lauer, one of the players from Pierson High, won the all-important fourth point with all eyes on her, bettering her fourth singles opponent 6-2 in the third set.
"All the parents were there and her teammates — it was super exciting," McConville said during a conversation Monday at Hampton Racquet, where he is the head pro.
McConville had just come off the court with Juliana Barahona, East Hampton's number-one singles player, a Pierson junior who wants to win a collegiate tennis scholarship. Whether she will or not remains to be seen. "She's come a long way, but she's got a long way to go," said McConville. "Her work ethic is great. She's always wanting more, more, more."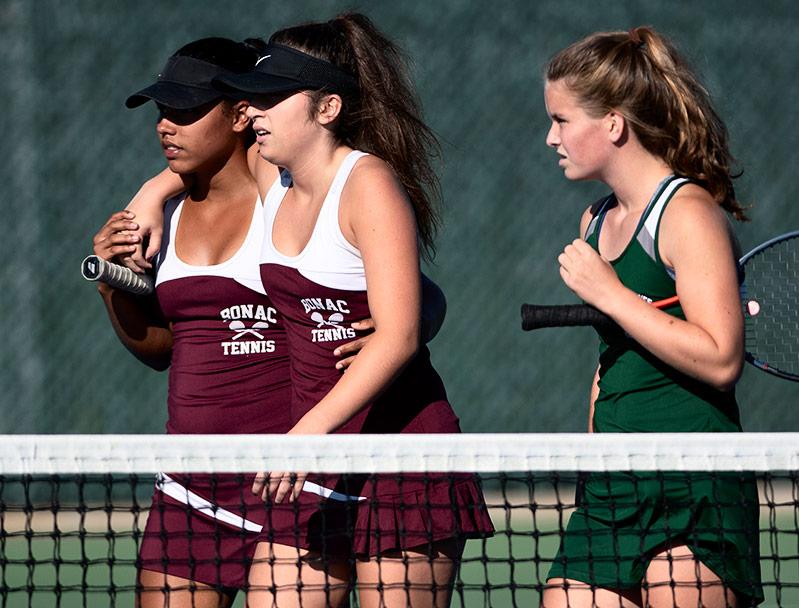 "She had a slow start this fall," he continued, "but she's turned it around — she's becoming more confident and is playing an all-court game now, taking steady baseliners out of their comfort zones by attacking short balls and coming to the net, or by bringing her opponents to the net with drop shots to their backhand sides and then passing or lobbing them."
"She's also begun playing U.S.T.A. tournaments, in the 16s, and thus getting more match experience and learning how to be comfortable playing under pressure. As I said, she's come such a long way — she plays the net so much better and serves so much better now. She's a natural mover, a good athlete. So, yes, a college scholarship is possible for her."
McConville told his players after they'd gone winless the first three times out that they would greatly improve as the season went along, and they have. As of Monday, East Hampton, at 4-3, was in third place in League VII, behind 6-0 Westhampton Beach and 4-2 Shoreham-Wading River. The Bonackers beat Shoreham 4-3 at home on Sept. 20, and will have to beat Shoreham again on Monday to finish as the league runner-up and thus cop a higher seed in the county team tournament, which is to begin Oct. 23.
His team is young, the coach said, with only one senior starter, Kaylee Mendelman, who is the captain. Mendelman and Chiara Bedini, both returnees, have developed into a formidable doubles team, with wins over their Westhampton Beach and William Floyd peers. "They should get a good seed in the individual tournament and make a good run. They're right there."
The doubles teams in general were "very much improved," the coach said. "I had four returnees in doubles — Kaylee, Eva [Wojtusiak], Catherine [LeFevre], and Chiara. Riley Roesel and Lily Somers, both freshmen, have been playing third doubles lately. . . . I've got a lot of freshmen, and the big thing was that at the beginning of the season none of them knew how to play the net — they used to be scared. But I've been feeding them low balls all fall, and they're all comfortable at the net now."
Returning to singles, McConville said, "Three of them — Romy, Eve Iulo, and Eve Marsden — are pretty much even. Romy beats Eve, but Eve beats the other Eve. . . . I've left Eve Marsden at three, and Romy has been at two and four — the same with Iulo. I'm trying to develop their all-court games too, just as with Juliana. The whole singles lineup is coming in on short balls and drawing opponents to the net with drop shots when opportunities arise. It's easy to say, but an all-court game, which is what you've got to do when you're facing a baseliner who's steadier than you, takes a lot of practice. You have to have the
confidence to execute these shots when it matters."
His charges were "hesitant at first" when it came to adding to their arsenal of shots, "but now they've bought into it, and are having fun."
McConville added that he'd heard there was a Pierson seventh grader who might well be capable of playing number-two on the varsity right now, but that, unlike "all the other good schools," seventh graders here are required to play at the middle school level if the middle school fields a team in the sport they play. "I'm still trying to have that rule changed," he said.
As for the county tournament, "I'm hoping we can avoid Westhampton, which was the only team we lost to last year. I like our chances with anyone else."