MM Fine Art in Southampton has a refreshing show of photography up through the weekend. Composed of many East End artists, the exhibition is a brew of thoughtful vistas and beach scenes, figure studies that often have a twist, interiors, and some experimental or more conceptual works.
If it sounds busy, it isn't. The landscapes dominate the north wall of the gallery, a mixture of straightforward scenes and subtle abstraction. On the south wall, there is a lively combination of experimental work involving the body or other forms, interiors, and the like. This wall, too, has a few landscapes, but they are of the indirect or unconventional sort.
Along with the landscapes on the north wall, Jeremy Dennis offers some magical realism in his depiction of Native American stories and legends in digitally adjusted photography. "Choknanipok (Man of Flint)" depicts a stony giant who appears to startle a young tribesman in a scene that's reminiscent of other classical legends of giants and young men using their wits to outsmart the strong and powerful.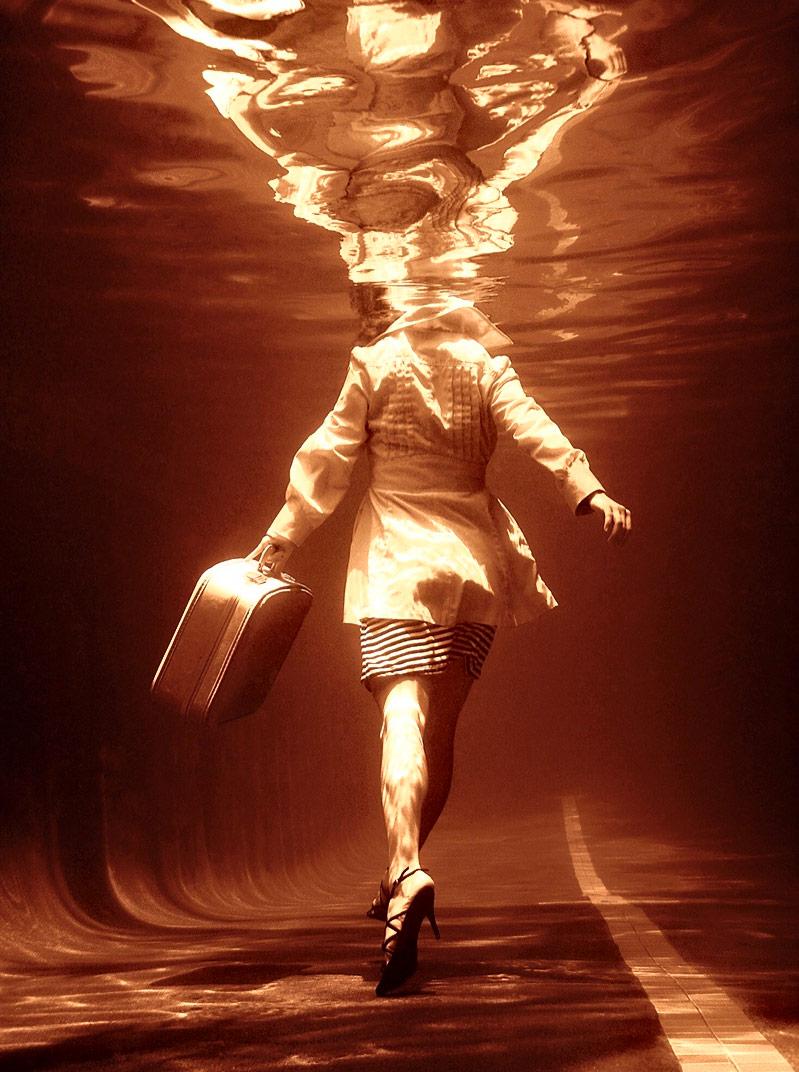 Placing something from the fantastical and supernatural in this setting gives the composition a heightened sense of the uncanny. The image surprises but doesn't shock the senses, allowing viewers to take it in on its own terms. That it looks like scenery from the Shinnecock Reservation gives it an additional plausibility, despite the unusual nature of the colossus depicted.
Another young photographer, Joey Farrell, takes a more straightforward approach in a scene that has some familiarity but is hard to place. Could it be out on a rolling dune road or something farther west? The sign from which it takes its name, "One Way," is centered and prominent, as if the title wasn't enough to bring it to one's attention. A suggested metaphor, it prompts more than a few questions.
Another standout on this wall is Christophe von Hohenberg's "White Out Series: Two Girls," a photograph in which the landscape is rubbed away, leaving two figures struggling to navigate it.
The back wall forms a bridge between north and south with a seascape and striated sky by Blair Seagram and some figurative works involving water and beaches. Jonathan Morse's photo presented as a tondo or round-shaped composition features the kind of foreshortening of form that a Renaissance master could spend years trying to arrive at in paint. "Reclining Nude" doesn't make too much of the abstract qualities of depicting the female figure this way. The traditional title and irregular angle deliver only slight dissociation, with references to other mechanical and organic forms present but not overwhelming.
The installation on the south wall begins with two of the most captivating works in the show. Dianne Blell's "Tragic Chairs," two standing photographs of life-size and decaying antique side chairs in the French style, have been cut out in a computer-aided process and mounted on a black background that is seven feet high, giving them even more of a physical presence. The artist implies with the name of her series, "Artifacts of the Contemporary," that it might be today's response to older Christian notions of memento mori, often explored in old still-life paintings. It's the idea of "As I am, one day you shall be," or quite literally, "Remember you will die." Here, these once-treasured pieces pass into ruin and obsolescence, but may outlive us as they have others from previous generations.
A recurrent theme is the figure near or in water. Raquel Glottman contributes two of these. "Katie," an apparent nude, floats Ophelia-like near the surface, mostly submerged except for part of her face and an arm and hand holding a flower bud over her mouth and nose. The image is severely cropped to include only what is described, making what remains look like abstracted landscape or connected parts otherwise detached from the whole.
"Momentary Logic" features a fully dressed female, raincoat and all, striding purposefully through a pool of water that has a floor striped like a highway. The suitcase she carries and her high-heeled sandals offer hints of an imagined adventurous escape or, alternately, a career-stress dream. Either way, the image fulfills her idea of photographs as symbolic unconscious realms.
Other distinguished and thought-provoking contributors in the mix are Renate Aller, Linda K. Alpern, James Croak, Michael Dweck, David Gamble, Anthony Lombardo, Christopher Makos, Mike McLaughliln, Cindy Sherman, Paul Solberg, Anne Stavely, Robert Strada, Rosemary Tufankjian, and John Zieman.