East End residents woke up to flooding, power outages, and downed trees on Thursday morning after a powerful storm blew through the region on Wednesday night.
Flooding closed the Amagansett School, an electrical outage closed the East Hampton Post Office, and a large tree shut down North Sea Road in the vicinity of the North Sea General Store, but Hampton Bays saw perhaps some of the worst damage in the region, piggybacked on top of damage to the dunes by a different storm last week.
According to a statement posted by the Southampton Town Police Department on Facebook, Dune Road east of the Ponquogue Bridge was closed for several hours Thursday, reopening at about 2:40 p.m. Southampton police had monitored conditions "from last night's high tide through this morning, and at 6 a.m. saw the need to further bolster the berm that was created last week after the nor'easter washed away significant portions of natural dunes and the ocean breached in several places."
Southampton Town Supervisor Jay Schneiderman had declared a state of emergency at 4 on Wednesday afternoon, which allowed the town to close some roads, purposefully cut power, and take other protective steps throughout the town.
In Amagansett, the Fire Department was called to a house on Windmill Lane by a homeowner who woke up, went downstairs and found flooding in her house."We called PSEG to disconnect power to the house, [and] managed to get her car out of the garage even though it had water in it," Amagansett Fire Assistant Chief Chief Chris Beckert said, adding firefighters were able to walk her out, as the water was up to their knees. "She drove to East Hampton House to call her insurance and have them deal with it."
Firefighters in East Hampton also grappled with flooding. The East Hampton Fire Department got a call for a structure fire at a house in Oyster Shores on Albertines Lane on Wednesday night at about 10. While the chief said it was "a minor electrical event," getting to the house was difficult. North Main Street was flooded and impassable, he said, and with Accabonac Road already closed due to the Metropolitan Transportation Authority's work on the train trestle, "It made response quite challenging."
On the water, a few boats washed ashore, including at least one on Three Mile Harbor. In Sag Harbor Village, a 17-foot boat at the West Water Street docks flipped over during the storm, according to Bob Bori, the village harbormaster. He said a few others broke loose and washed ashore, but there was minor damage.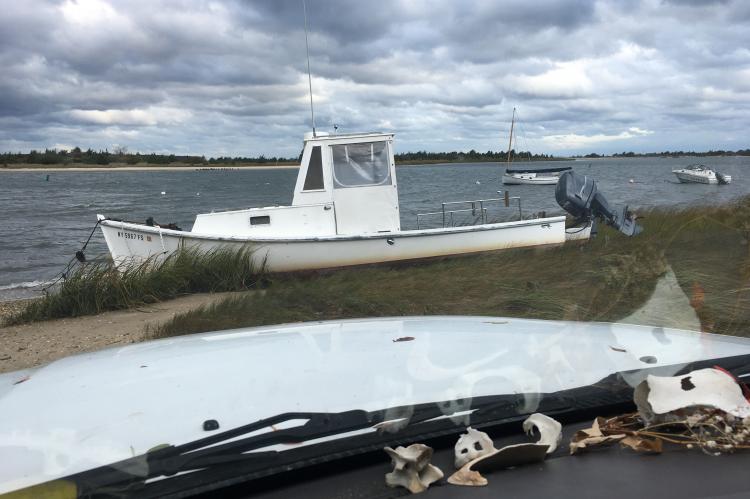 Though the power was out at the East Hampton Post Office building, mail delivery was not affected. "Thanks to the extraordinary efforts of the East Hampton postal employees, mail delivery to street addresses and Post Office Boxes remain unaffected," said George B. Flood, a U.S. Postal Service representative. "Customers are also able pick up packages and other shipments at the East Hampton Post Office if they get a notice of attempted delivery. While the utility company is working on restoring power in East Hampton, customers can use the nearby Amagansett Post Office to purchase stamps, ship packages, and conduct other postal retail transactions."
According to a late-morning update by PSEG, more than 57,000 homes on Long Island were impacted by the storm, though 72 percent of the power outages reported between midnight and 11 a.m. have already been restored. In East Hampton Town, 33 outages, affecting 271 customers remained at about 3:30 p.m. In Southampton Town, 58 outages were still reported this afternoon and 278 customers affected. 
"We will continue to see additional outages reported due to the high winds today," PSEG said in a statement. "Crews have been working all night assessing damages and making repairs. . . . Crews will work to restore critical facilities and outages affecting the largest numbers of customers first."
The East End isn't totally out of the clear for Thursday afternoon. The National Weather Service has issued a wind advisory effective 1:43 p.m. until 6 p.m., warning of high winds from the west, with gusts up to 50 miles per hour.
With Reporting By Taylor K. Vecsey