What better way to cap off a hot summer and warm start to fall than with some cool Halloween fun? From totally scary to just plain silly, here are 10 ways to spook yourself over the next couple of weeks.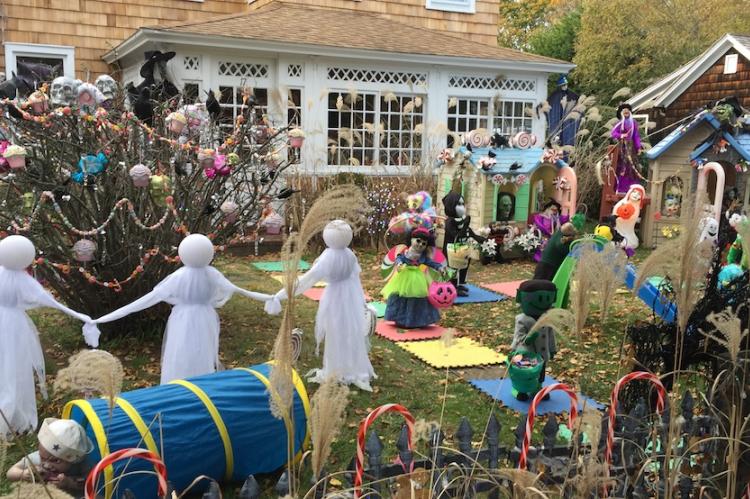 Trick-or-Treat Street
East Hampton Village is tons of fun on Halloween. People go all-out to decorate their houses. As a result, families flock to a few core streets -- including Cooper Lane and Sherrill Road, which are closed to traffic for the evening -- and if you like checking at costumes, it's fun no matter your age. Grab your pumpkin bucket and head out.
Gourd Crazy
Speaking of pumpkins, they're everywhere -- farm stands, orchards, grocery stores, etc. Get 'em now ahead of the Bridgehampton Lions Club's annual Carving Contest -- held the Monday before Halloween at the Bridgehampton Community House starting at 5 p.m. -- so you have plenty of time to plan your masterpiece. 
Party Hard
For the grownups, places like Rowdy Hall in East Hampton and the Clubhouse in East Hampton have 21-and-over gatherings on and around Halloween. The Long Island Aquarium in Riverhead also has a big masquerade party planned. Get dressed and designate a driver before you head out. 
Shop Scary
No need to schlep UpIsland to a party store for costumes and decor. Places like the Sag Harbor Variety Store in Sag Harbor, the Party Shoppe in East Hampton, and White's Drug and Department Store in Montauk have costume pieces, props, and makeup, and the East Hampton's Ladies Village Improvement Society is a must-shop spot for vintage items and other unique finds. And speaking of the L.V.I.S., it will host a Halloween open-house event for kids on Oct. 26 from 2 to 4 p.m. with treats, storytelling, and decorations to show off.
Monster Mash
"Frankenstein's Follies" is an annual production by Stages, a local children's theater group, and 2019 marks its 25th year putting on the Halloween-themed musical revue. The curtain rises at Bay Street Theater on October 25 for four shows: Friday at 7:30 p.m., Saturday at 2:30 and 8 p.m., and Sunday at 2:30 p.m. The Saturday show features alumni from past years' "Follies" and will be followed by a party. Tickets to the shows are $15 except for the Saturday night show, for which tickets are $35 for adults and $25 for students. Proceeds benefit the Stages scholarship program.
Spooked in the Stacks
Libraries are a focal point of Halloween fun on the South Fork. The East Hampton Library transforms into a haunted house on Saturday, Oct. 26, at 7 p.m. (no children under 10 years of age). On Oct. 25 and Oct. 31, Rogers Memorial Library in Southampton will have children's Halloween parties. The Amagansett Library, Montauk Library, Hampton Library, and John Jermain Memorial Library also have spooky and silly children's movies, activities, and crafts coming up. More information is available at the libraries' respective websites.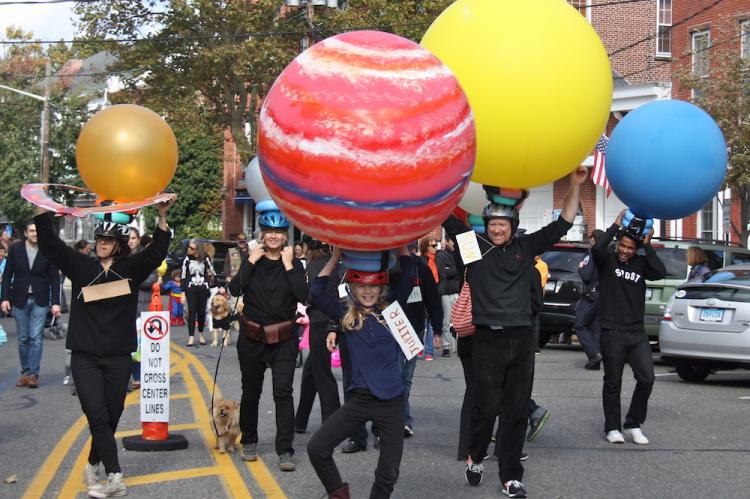 Halloween in the Harbor
Sag Harbor's Chamber of Commerce will hold its annual Ragamuffin Parade on Sunday, Oct. 27, at 1 p.m. starting at Nassau Street (near the Laundromat) and proceeding down to the Custom House. On Halloween, downtown Sag Harbor turns into a Pumpkin Trail from 3 to 5 p.m. for safe trick-or-treating. Also, the Sag Harbor Historical Society is hosting its first Annie's Field of Jack O'Lanterns on Oct. 30, where, for a $5 donation, people can take their carved pumpkins to show off and enjoy festivities.
A-maze-ing
South Fork visitors and residents looking to get a little lost in a corn maze have a couple of options. The Maize at Fairview Farm in Water Mill is an eight-acre challenge through 10-foot-tall corn stalks, open through Nov. 10. Hank's Pumpkintown, also in Water Mill, has a corn maze among its highly popular (and heavily trafficked) seasonal offerings. In Riverhead, the orchard maze at Harbes Family Farm becomes a haunted night maze -- reportedly not for the feint of heart -- on Saturday nights from 7 to 9:30 through Nov. 2. Admission is $14.95, and flashlights are required.
"Rocky" in Riverhead
The Suffolk Theater is just a hop, skip, and jump away in downtown Riverhead. On Friday, Oct. 25, at 8 p.m., the theater will host an interactive screening of "The Rocky Horror Picture Show" complete with a costume contest. Tickets are free, but there's a $20 food and drink minimum per person, and bags of props are available for $10 and $20 (no outside props will be permitted into the showing).