Four years in the making, East Hampton High School's boys volleyball team, aside from a loss to Connetquot, a large school, has been sailing along in divisional play, and could well find itself as the county small schools tournament's top seed in November provided it continues firing on all cylinders.
"It's important, though, that we not get ahead of ourselves," Josh Brussell, the team's coach, said in a conversation at The Star Monday. "I don't even want to say we'll make the playoffs at this point — we're just concentrating on the next test."
So far, the senior-heavy Bonackers — there are five senior and two junior starters — have been meeting these tests. They were as high as second in the countywide power-ranked Division 1 a couple of weeks ago, and were sixth among the 22 schools as of Monday, at 6-1 in league matches. "Beating Commack [3-2 on Sept. 5] was huge — it gave us a lot of power points," said Brussell.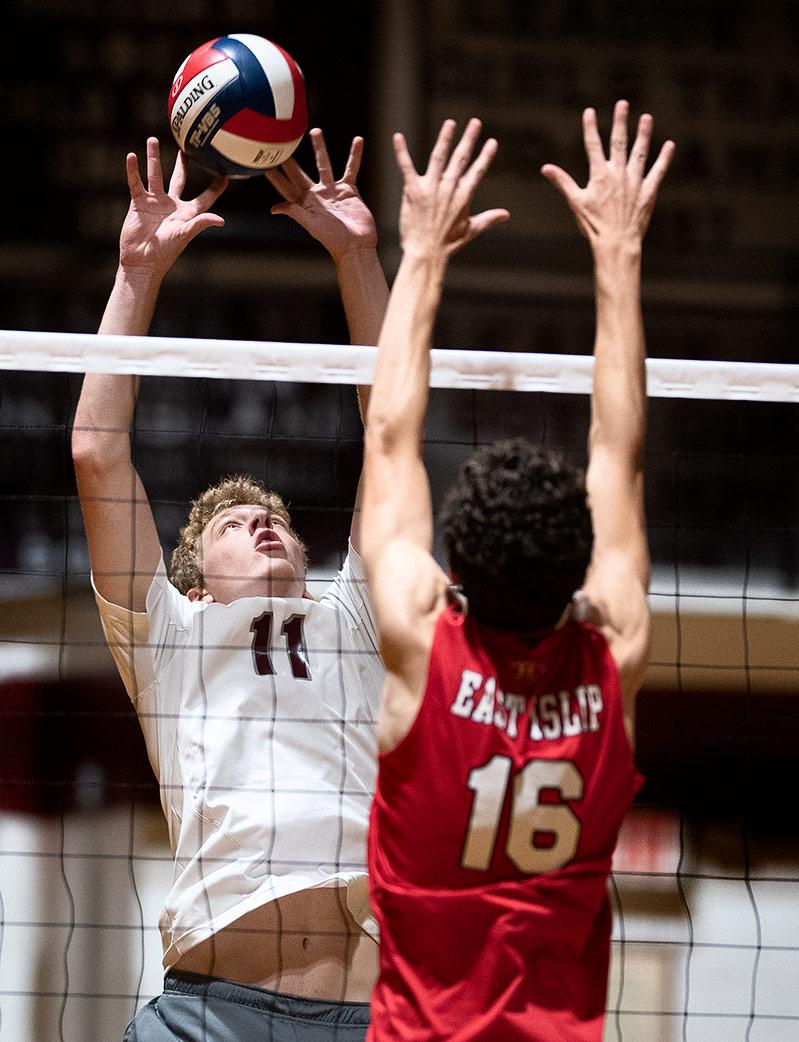 Thus far, his charges have wins over such fellow small schools as Shoreham-Wading River, Center Moriches, and Hauppauge, with matches versus Westhampton Beach and Sayville yet to come.
"We played Westhampton in a tournament and split with them," said Brussell, "so it will be interesting when we play them [on Oct. 17]. There will only be three teams in the small schools playoffs this year. If we can get the top seed, we'll already be in the final."
The last time East Hampton played in a county final was "about four or five years ago, against Eastport-South Manor. They beat us. But they're no longer a small school."
Brussell has coached the varsity here for the past eight years, and in that time can recall no other boys volleyball team doing as well as his present one.
"We have no captains, and for a reason: No one sticks out on this team. We're looking for the entire team to do well. It's our team, not my team — we're in this together. . . . In every practice we'll spend about 15 minutes just talking, about our chemistry, about strategy, and about positive things we can say about each other. It's inspiring. They want it. As Coach [Mike] Burns used to say, they've bought in. . . . I don't have to yell at them because everyone's paying attention, they're listening."
"I've asked them to look at this as if we're climbing a mountain — every game is a step up the mountain, the top of which we'll reach at the end of the season. We're getting better every day, we're talking like a team, supporting each other . . . but they know that no matter how well we're doing there will always be stuff to work on."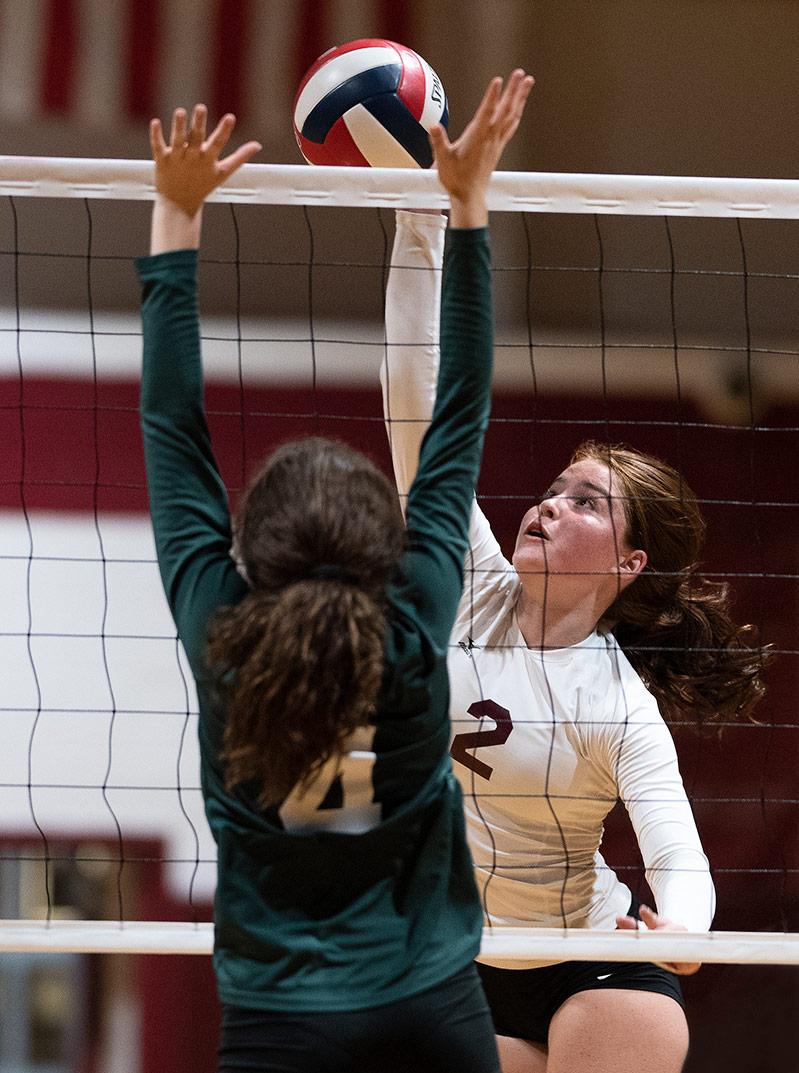 Last Thursday, said the coach, "we played really, really well against Shoreham. It was 25-17, 25-15, 25-16, something like that. . . . The danger in playing a team like Shoreham, which isn't as good as us, is that we may not play our game. Clark [Miller, the 6-foot-4 middle hitter] had the first three kills, and that set the tone."
As for hitters, Brussell has often had one good go-to guy in seasons past, but this fall he's got four who can put the ball away with regularity. "Logan [Gurney] is often up there with Clark in kills, and Luc [Campbell] and Cole [Jowers] are not far behind. Henry [Garneau] is getting kills too."
Morgan Segelken, the setter, tops the school-record list when it comes to most assists and digs in a game, most digs in a season, and could well wind up with most digs in a career. "Morgan will not let the ball hit the floor — he's relentless."
As aforesaid, the team is senior-heavy. "Morgan and Logan have been starting since their freshman years, Clark has been starting for three years, Luc and Tucker [Genovesi] are in their second year as starters. Henry's our only new one. As I've said, this team is four years in the making. I've got five seniors and two juniors starting, and one, two . . . five seniors on the bench."
"Right now," he continued, "we are cooking on all cylinders. When we're not doing well it's because of our passing [serve returns]. It all starts with the pass. But if there's a bad pass, we'll stay up and not worry about it. That's one of this team's strengths. We don't get down on ourselves — we support each other. When we're doing everything right we're tough to beat."
East Hampton's homecoming game is today at 5 p.m. with Ward Melville. "We'll be missing Tucker, our libero, who will be at a baseball recruiting camp, but I think we'll be all right. I'll play Clark and Cole in the back row, and then there are guys on the bench like Miguel [Mizhquiri], Jared [Luna], Jake [Klarman], and Andy [Ngo] who can fill in in the back row positions. I think we'll be fine."
"The following Thursday we'll play West Islip, which will be a fund-raiser for the Dezy Strong Foundation, which helps families who are dealing with cancer. We won't have Henry for that one, but we've got Travis Wallace, a tall junior who's been playing well. West Islip has been doing better than they ordinarily do. It's an important game for us, but we'll be okay."