I really don't have any excuses, but it's been well over a month since I have picked up a fishing rod. I'm not quite sure of the reason, but other than pulling my lobster and crab traps out of the water for the season shortly after Labor Day, I had not even untied my dock lines. My boat, and my body, have sat idle for too long.
But on early Sunday morning, I finally broke my extended streak on terra firma. Sunrise was a few minutes before 7, and there was a gentle breeze out of the northeast as I waited for my guest to arrive at the dock. I was finally going fishing.
Despite the early morning sun, it was chilly, but not enough to persuade me to turn on the heater in the main cabin. The hot cup of coffee in hand felt reassuring as I started up the diesel engine and various electronics. The tide had just started to flood, which boded well for striped bass and bluefish in the South Ferry area between Shelter Island and North Haven. 
Rumors of good action made the rounds dockside, but until you actually try, rumors are just that. That said, a quick visit to Tight Lines Tackle in Sag Harbor the previous morning was not exactly reassuring.
"I'm sorry, I really have not heard of many reports the past week," said Ken Morse, the longtime proprietor of the establishment. "But let me know how you do."
It was only a 10-minute ride to get to the first rip line. The fish finder confirmed that no life existed in the 65-degree water, so we pushed a bit westward to the next rip. A few blobs of bait showed up on the machine, and we dropped a green parachute bucktail jig down to see if anyone was home and, more important, hungry. Several passes on the troll resulted in zero hits. Not exactly the start we were looking for.
Heading farther west, we were met by about five other boats casting diamond jigs at Jessup's Neck. By this time, backed by the full moon, the tide was ripping at over three knots. The first few drifts produced no action, and by that time, three of the boats had left to find greener pastures on the blue water. But on our seventh drift, I finally hooked into a spunky two-pound bluefish.
The action for the next hour was not hot by any means. I ended up with five blues, while my partner got skunked (we've all been there). The bluefish fillets are now in a brine and will be ready for the smoker in the next day or so. It was nice to be back on the water on such a fine fall morning. I just need to make sure to get back on it sooner rather than later.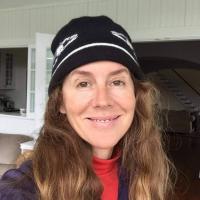 Back on the broader fishing scene, a special shout-out must first be given to Bonnie Brady of Montauk. Brady, who serves as the executive director of the Long Island Commercial Fishing Association and as a member of the board of the Responsible Offshore Development Alliance, was recognized on the cover and in a feature story in the October issue of National Fisherman magazine as a 2020 Highliner, someone known for giving back to the commercial fishing industry, locally, nationally, or globally. In addition, the hard-working Brady was also a recipient of the first-ever lifetime achievement award for her career of service to commercial fisheries. 
"I was totally amazed, but I'm very honored and humbled by the recognition," said Brady on early Monday morning. "But I also feel a bit unworthy, as there are a number of other people who deserve this more than me."
Brady, who is married to Capt. Dave Aripotch, the owner of the Montauk dragger Caitlin & Mairead, which are the names of their two daughters, remains steadfast in her commitment to the betterment for those involved in the fishing industry. "It's an enormous amount of effort and long days with meetings, travel, and phone calls," she added. "But it's really a team effort with the many people who work on this. I'm not the only one."
"The ocean beaches have come alive with striped bass and the fishing is really good," said Sebastian Gorgone at Mrs. Sam's Bait and Tackle in East Hampton. "And diamonds are not just a girl's best friend either." Gorgone's glittery reference is to the fact that diamond jigs are the hot lure of late. They look similar to sand eels, pencil-thin baitfish that have shown up en masse in recent days. 
Gorgone added that large sea bass are still around in the deeper spots north and east of Gardiner's Island, and that the fishing for false albacore has been gaining steam in many areas, including Gardiner's Bay, Block Island Sound, and even off the jetties of Montauk Inlet. 
Over at the Tackle Shop in Amagansett, the owner, Harvey Bennett, said that bass fishing in the surf has been solid, with a good number of keepers in the mix. "Montauk too has seen some nice blitzes on the north and south side, with a good amount of false albacore around too," he said.
Bennett noted that going forward his establishment will be open on weekends and by appointment. He also added that he is currently running a "bigger than life" sale on a wide variety of fishing equipment.  
For the second year in a row, Emily Bruno of Montauk was crowned the Queen of Fluke, as she came out on top of the Montauk Youth Fluke Tournament with her 10.8-pound fish. Hayden Elliot came in second with his 8.6-pound flattie. By any standard, Emily has the skill and patience that is the envy of many seasoned fishermen. I'm hopeful one day she will share her secrets of success with this scribe. 
The tournament raised over $4,000 for the Tyler Project, which was established several years ago in Montauk after the passing of Tyler Valcich, to increase awareness and improve the coordination and delivery of mental health services for students, young adults, and families on the East End.
"I want to once again thank all of the sponsors and local businesses who helped make this tournament possible," said Capt. Tim O'Rourke, who coordinated the popular, season-long event.