Consider the dandelion: It is important for honeybees and other pollinators. "Dandelions bloom very early when there is not much else available for bees and other pollinators to feed on," says Nikki Seelbach of Charlie and Sons Landscapes. A "first food" for bees, the dandelion is also nitrogen-fixing, "which means it adds nitrogen back into the soil," great for the lawn.
These small, sunny flowers, scorned by many keepers of the East End's rambling stretches of unbroken green lawn, are looked down upon as weeds — but at what cost?
Weed killers and pre-emergent fertilizer may target crabgrass and dandelions, "but the chemicals kill everything, including beneficial insects, and they cause runoff," said Judiann Carmack-Fayyaz, teacher of horticulture and agriculture at the Bridgehampton School.
Tony Piazza of the Piazza Horticultural Group elaborated. "Back in the '50s when fertilizer and pesticides companies were developing products, they targeted the dandelion. It was the poster child for 'We have chemicals that can make these things go away.' Even to this day, certain people consider dandelions a sign of an unkempt lawn."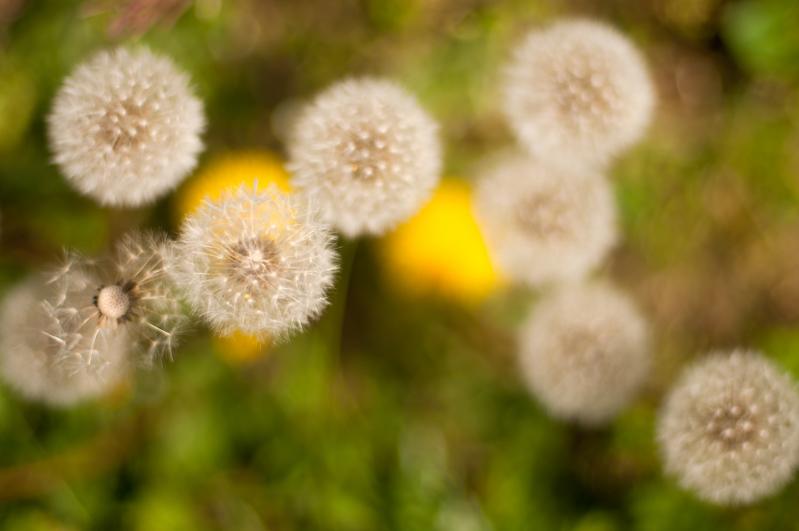 Bio Basics
A member of the sunflower family, or Asteraceae, the dandelion's taproot, similar to the deep root of a carrot, is one of the reasons the flower is so ubiquitous or, depending on your camp, hard to get rid of. Another reason is "it's like a little helicopter," said Ms. Carmack-Fayyaz. There are about 20,000 seeds per flower with filaments that can travel hundreds of miles when picked up by the wind.
Julie Sakellariadis, president of the Garden Club of East Hampton, said that she takes her lead from the endocrinologist Diane Lewis, who, in her book "The Great Healthy Yard Project," explains that there is relatively new and disturbing science on the impact on humans of the endocrine disruptors in the chemicals used to get rid of dandelions.
Alternatives
In place of chemicals, Ms. Sakellariadis uses two Fiskars dandelion weeders. Since dandelions are a cool-season plant, in the spring she will have them removed from her lawn before they produce seeds. "I've done this for two springs, and always have enough dandelions to please the bees, and they're kinda pretty, but not enough to take over the entire lawn."
On the Menu
To the kinda-pretty point: It's a matter of taste, indeed, and every part of the dandelion is edible! Rumor has it, the flower came over on the Mayflower, Ms. Carmack-Fayyaz said, because they are so nutritionally dense in vitamins A, C, and K, calcium, and iron.
Considered a natural "vitamin," dandelion greens have a bite like arugula when eaten among other salad greens -- Ms. Carmack-Fayyaz's preferred method. "You can use the root for tea. It was used by Chinese, mostly, for everything, a diuretic and cleanser for liver."
A son of Italian immigrants, Mr. Piazza grew up eating dandelions picked right out of his lawn and these days enjoys them braised in a salad. "My grandma told me that they had a restorative property after the winter. They were usually cooked almost like a soup with some sort of a smoked pork and white bean, very much Southern Italian peasant food." Check out his recipe for dandelion greens with ham hock and white beans.
He explained that dandelions are good to eat only when tender, before they start to flower, and after they flower, those can be used to make dandelion wine, fermented "with a lot of sugar," he recalled of his grandma's recipe for the sweet wine.
Get Reacquainted
"As a matter of fact, in my company, we do a lot of vegetable gardens. Many request dandelions to be grown, a different, more robust variety. My landscape designer side wants people to fall back in love with dandelions," Mr. Piazza said.
"People need to learn to embrace the dandelion — the leaves are very beautiful and very serrated. That's apparently how it got its name: dens leonis, or the teeth of the lion. It's basically a mispronunciation of a French word," said Ms. Carmack-Fayyaz. "I think people just really need to look at the dandelion with a new set of eyes."