Successful hosting involves careful preparation, lovingkindness, and making your guests feel welcome but disinclined to return.
The First Rule of Hosting
Greet them as follows: "Welcome! I can say with full sincerity that having you guys visit us for the weekend is worth far more than the three grand we were offered for your room on Airbnb." If you deliver this correctly — practice — they will catch a Jitney home by morning.
Practical Steps
1. Guest Selection: Only invite people out of obligation (e.g., relatives, lenders) or those with vacation homes in the mountains or Europe. Never allow anyone near your home who self-invites or fishes for an invitation (e.g., "Oh, we were thinking of taking a drive out to the beach this weekend"). Absolutely no drop-ins. Do not answer that door — lock yourself in the basement safe room.
2. Scheduling: Everyone will want to be invited for a summer weekend. Suggest February, when you are in the Caribbean.
3. Gifts: If the guest fails to ask what they can bring, cancel the invitation claiming a plumbing issue. If they do ask, tell them, "Oh, just bring yourself." If they actually bring nothing, stage a plumbing issue.
4. Sleeping Arrangements: The guest room should be welcoming and clean and festive: a bouquet of peonies, a bottle of Channing Daughters Petillant Naturel, Belgian chocolates on the pillows. Unfortunately, the HVAC in the room does not quite work. If they complain, offer them your safe room.
5. House Rules: After your guests have settled in, say, "Let's have drinks by the pool and go over the house rules." The house rules should be printed on laminated single sheets with bullet points such as: sandy floors make me grouchy, one person, one towel, one weekend, and if it's brown, flush it down; if it's yellow, let it mellow.
6. Freedom: Your guests mustn't feel obliged to invite you to go with them to the beach, shopping, brunch, or dinner. Conversely, they should understand that this goes both ways because you have dinner plans every night.
7. The Two-Night Rule: It's really common sense and if you break this one, we cannot help you.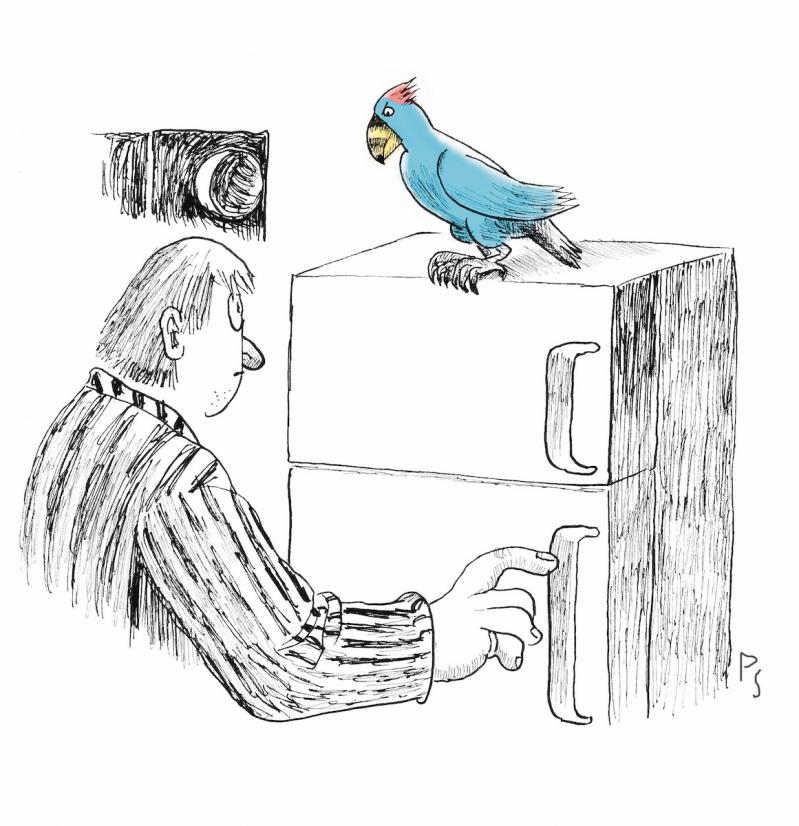 Pro Tips
It's crucial to identify the trouble-makers so you can swiftly nip things in the bud. 
1. The Fault-Finder: Pesky guests (especially relatives) have been known to point out chipped paint on the radiator cover or smudges of dirt on the skylight. "You're right," you say as you hand them touch-up paint and a brush, or a ladder with a bucket of sudsy water. Offer to hold the ladder. 
2. The Pet-Bringer: "So happy you brought little Mary Puppins. Our Doberman, Deiter, loves other dogs . . . for dinner."
3. The Baby-Bringer:  "Wonderful, you brought your baby! I'm 75 percent sure our house is babyproof."
4. The Lounger: The guests who think they can lie down on your living room couch should be placed on notice that your nephew lost a pet python while playing on it. "We never found the python, but I don't believe his B.S. that it built a nest."
5. The Midnight Snacker: Train a parrot to make snide remarks to anyone who enters the kitchen: "Back again?" "Not your cookie."
6. The Late Sleeper: Count your blessings. Leave a note and head to the gym.
7. The Night Owl: As you retire for the night, power down the electric main.
8. The Bickerer: Do you have guests who can't go five minutes without making unpleasant remarks to one another? This is your spouse's cue to stage your theatrical death with a
chain saw.
9. The Lingerer: "We were thinking of staying another night. Is that okay?" No, it's definitely not okay. Pretend to be leaving yourself and drop them off at the nearest L.I.R.R. station, even if the train isn't for three hours.
Final Thoughts
We guarantee results if you follow this guide. One Springs resident reports huge success. Now, when her parents visit from Ohio, they rent an Airbnb down the block. With contact limited to dining out and babysitting her kids, they hardly step foot in her house. Her in-laws bought an R.V. that they park on the street and only leave to hose it down.
Guests to my home are familiar with my philosophy and aware of these guidelines. I've never had a problem. I've been blessed with visitors who are fun, generous, considerate, and who make Dieter and me feel like prized guests in our own home.