Jail Time for Princess Diner Owner Who Bilked Employees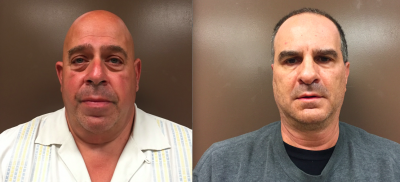 Courtesy of the New York State Attorney General
The owner of the Princess Diner in Southampton was sentenced Friday to six months in jail for his part in scheming to defraud and failing to pay his employees. Richard Bivona, 58, of Water Mill also had to pay $132,000 in unpaid wages to 23 restaurant workers, according to Attorney General Barbara D. Underwood, who announced the sentencing on Friday.
John Kalogeras, 57, of Commack, the former manager of the Princess Diner, who, with Mr. Bivona, falsely promised the workers their wages, including credit card tips that had been illegally withheld, was sentenced Friday to a conditional discharge, which means if he is arrested on another crime within the next year he could be resentenced.
The two were arrested in September 2017 following a 35-count indictment on charges that they withheld more than $82,000 in wages from 13 employees and threatened the workers and their families when they asked to be paid, the attorney general at the time, Eric Schneiderman, said. The number of employees and the amount owed increased as the investigation unfolded. 
Suffolk County Supreme Court Justice Fernando Camacho also sentenced the business entity, RJT Food & Restaurant L.L.C., to a conditional discharge. 
Mr. Bivona had been required to pay $88,428 to 15 workers for unpaid wages earned between August and December 2016, and an additional $43,583 to eight other employees for unpaid wages earned between January 2017 and February 2018, for a total of over $132,000, the attorney general's office said. 
"Every worker is entitled to the wages they earn – period. When employers skirt the law and steal from their employees, they'll face the consequences," Ms. Underwood said. "We'll continue to enforce the law to protect all New York workers."
Mr. Bivona took over the now-defunct diner, on Montauk Highway near the Flying Point Road intersection, from Mr. Kalogeras and his family in August of 2016, but kept Mr. Kalogeras on as the manager to run the day-to-day operations. Restaurant employees, such as cooks, dishwashers, bussers, and servers — some of whom had worked at the diner for over 10 years — continued to work under the new ownership.
Between August and December of 2016, the two men withheld wages, which often included overtime hours. "Employees who received cash tips lived off those cash tips exclusively since Bivona withheld most of their credit card tips from them or paid them only a partial amount several weeks later," a statement form the A.G.'s office said. 
The men repeatedly promised their employees that they would pay them soon, and the employees continued to work at the diner in the hopes that they would eventually be paid. They ultimately quit after months of broken promises.
Mr. Bivona pleaded guilty to a scheme to defraud, a felony, and failure to pay wages, a misdemeanor, on March 9. Mr. Kalogeras pleaded guilty to failure to pay wages. RJT Food & Restaurant L.L.C. pleaded guilty to a scheme to defraud and failure to secure workers' compensation coverage, felonies.
The attorney general said the New York State Department of Labor, the New York State Workers' Compensation Board, the Suffolk County District Attorney's Office, and the Southampton Town Police Department were involved in the investigation.