Biden's Cash Swing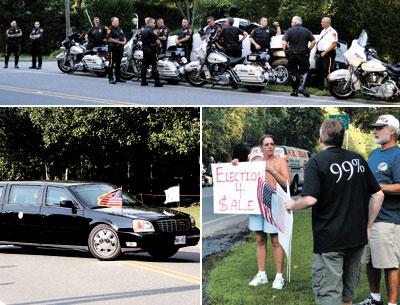 Rossa Cole and Carrie Ann Salvi Photos
Jobs growth rate not enough, vice president said
    Vice President Joseph R. Biden Jr. was in town on Friday to address supporters at an East End for Obama fund-raiser, held at the Ocean Avenue, Bridgehampton house of Matthew Mallow and Ellen Chesler.
    Only pool reporters, a limited group pre-approved by the White House, were allowed in. According to the pool report, furnished by Washington and written by Rohma Abbas of The Press Newsgroup, 300 people attended the outdoor event, including the actor Nathan Lane, who hosted it; the folk signer James Taylor, who performed, and Senators Kirsten Gillibrand of New York and Frank Lautenberg of New Jersey. Representative Tim Bishop of the First Congressional District, which includes the South Fork, was there as well. Several unnamed sources reported that the vice president was late showing up.
    Tickets ranged in price from $500 for "young professionals" on up to $10,000. Of a half-dozen attendees contacted by The Star, none wanted to discuss what happened in the tent in any detail.
    Mr. Biden was introduced by his wife, Dr. Jill Biden, who talked about jobs, the economy, and the challenges Congressional Democrats face when they attempt to work with Republicans, according to the report.
    The vice president expressed compassion for the many Americans confront by tough times and stressed the need to grow the country's middle class, the report stated.
    "There are lot of people going to bed tonight staring at the ceiling wondering whether they're going to be living in that house a month from now," he reportedly said. "There are a whole hell of a lot of people who've made that long walk up a short flight of stairs to their kids' bedroom to say, 'Honey, we can't live here anymore,' and most of these people lost it all through no fault of their own. None."
    "You know it's not enough. We know it's not enough," Mr. Biden said, referring to the 150,000 jobs per month, on average, gained in the private sector over the last 29 months.
    "[Republicans] basically totally obstruct anything that would help the country," he said. "And they characterize themselves as bold and gutsy and new. I don't see anything bold about seeing to it that you all get an additional tax break beyond what's there while at the same time you eviscerate Medicare. I don't see what's gutsy about going out there and deciding that you're going to knock 19 million people, 200,000 kids off of Medicaid and Head Start. I don't see what's bold and gutsy. I don't see what's new."
    "We're going to make a decision at this election about choosing two fundamentally different paths," he said. "Fundamentally different. And I am absolutely, I am completely certain that if we have an opportunity to continue the path we move on, that this country is going to reach new heights and new capacities far beyond anything in its history."
    The New York Post reported that the vice president had attacked Mitt Romney and Paul Ryan over their economic proposals and joked that Republicans love bumper stickers. He said his sticker would be "Osama bin Laden is dead and G.M. is alive!"
    Following the event, event hosts made their way to dinner at the Bridgehampton house of Chad Leat, passing protesters from Occupy East End (not to be confused with Occupy Long Island or Occupy Hamptons), who carried posters and wore T-shirts that stated their frustrations.
    "I'm here to raise public consciousness that the government is no longer in the people's hands," said Kyle Cranston, who was wearing a "99 percent" T-shirt, carrying an upside-down American flag, and holding a poster saying "The system is not broken; it's FIXED."
    "Both political parties are whores of Wall Streeters, transnational corporations, and 1-percenters," said Terri Scofield, who is also a member of Economic Security Campaign, an affordable-housing advocacy group. "We don't have representation; everything has already been decided before we enter the voting booth."
    "The system is corrupt," said Robert Shainwald, who waved a sign that said "Government of the 1 percent, for the 1 percent and, by the 1 percent." "It's obscene that billions will be spent on this election."
    On the Republican side, The New York Times reported that Mr. Romney had held another fund-raiser on the South Fork, on Aug. 17, where he raised $7 million for his campaign.
    Also on Aug. 17, President Obama sent an e-mail to supporters headed "We Expect Mitt Romney to Outspend Us." It stated that Republicans are spending double the Democrats on on-air advertising in most battleground states.
With Reporting by Carrie Ann Salvi