It takes more than a pandemic to stop LTV. While a majority of its small staff was forced to work from home when the coronavirus arrived here, East Hampton's public access television service has emerged throughout the pandemic as an important source of information. 
"It became increasingly clear to me during this thing just how important," Michael Clark, LTV's executive director, said on Monday. In March, when the town and East Hampton Village's public government meetings abruptly migrated from municipal buildings to remote video conference format, LTV was instrumental in hosting those meetings and connecting the public to the elected bodies via telephone. "I think the town board is happy, everyone is happy," said Mr. Clark, who took the helm at LTV last fall. 
LTV also created a new live news broadcast, "Facts @ Five," which was launched in March. Mr. Clark and Morgan Vaughan, a writer and former director of LTV, serve as co-anchors of the program, which has featured interviews with officials including East Hampton Town Supervisor Peter Van Scoyoc, East Hampton Village Mayor Richard Lawler and Deputy Mayor Barbara Borsack, Suffolk County Legislator Bridget Fleming, Representative Lee Zeldin, and Chief Michael Sarlo of the Town Police Department, among many other members of the community. 
"We came up with that idea to give the general public as much local information as we could," Mr. Clark said, "because we could see on social media that there was a lot of bad information out there. We wanted to give only sourced information, stuff we knew was safe," including from the town's newspapers and the state, county, and town websites. 
It has not been without complications. Mr. Clark had a stroke on March 31 (he has made a full recovery). "Morgan really stepped up," he said of the period in which he was out of commission, as did Christine Sampson, The Star's deputy managing editor, who helped to fill the "Facts @ Five" void for three weeks. Matt Chapman, another member of the LTV staff, was also instrumental in ensuring the public's access to live and recorded government and school board meetings.
Those tuning in to government meetings on LTV's Channel 22 or its website, ltveh.org, are likely accustomed to the voice of Jason Nower, who coordinates public comment with elected officials during their remote meetings. Mr. Nower "has really been instrumental in taking LTV to the next level, technology-wise," Mr. Clark said.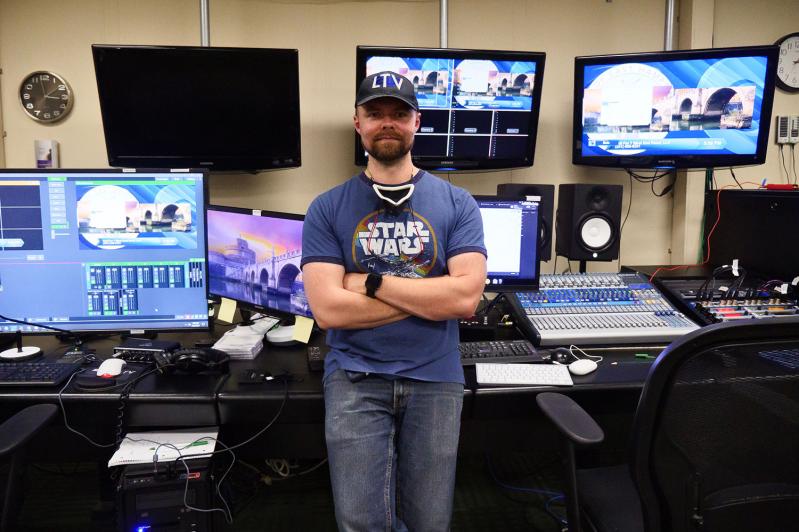 Mr. Nower was also prescient, he said. "When there was the first inkling and these rumblings of what was going on overseas, before it became the pandemic, he took it a lot more seriously than most people. He said, 'Mike I think we need to consider alternate plans in case it happens.' I didn't think that seriously about it, but he explained all the reasons why it was important." Mr. Nower "had the foresight to see that it would turn into what it was" and "felt very strongly about keeping the public informed on what was happening governmentally." 
LTV acquired additional hardware and software to enable the broadcast of remote government goings-on to the public. "Because of that, we were able to hit the ground running," Mr. Clark said. "As soon as the pandemic hit and everybody started sheltering in place, we had all the right things happening and already in place to make it a reality, to be able to provide what the [government bodies] needed." Mr. Nower "single-handedly took the responsibility of the government meetings onto himself. I couldn't be prouder of that." 
LTV has also added a new studio for podcasts and other audio production and media, such as audition reels and socially distant, one-on-one interviews. "The local community needs to know what we have here so they can use it," Mr. Clark said. 
People are taking notice. LTV recently handled a company's annual convention, held online for the first time. "It went seamlessly," Mr. Clark said. "Because of this new software, we had the right things in place when people needed them." Other towns and villages have approached LTV about handling their own broadcast needs. "We're almost like meeting facilitators, handling calls coming in. Our role is completely different. Instead of sitting there flipping cameras back and forth, we're intimately involved in making meetings successful." 
New programming in development for LTV's Channel 20 includes "The 'A' Game With Angela LaGreca," LTV's creative director, which will feature her take on the world through word, video, song, and recipes, and will include interviews; "Bridging the Gap," hosted by Anna Skrenta of Amagansett, which will explore issues affecting the community; "Right Now! — On the East End," a weekly news and information show, and "Successful Philanthropy," hosted by Jean Shafiroff. 
The pandemic, which has compelled a reimagining of innumerable companies, governments, and other organizations, "gave us the opportunity to really be creative, frankly," Mr. Clark said. "We always had a plan of creating something different. There are certain things we have to do, and those don't change, but now we're seeing the possibilities that we have in bringing a whole new level of communication to the local community." 
"Fortunately for me," the director said, "we've had the right team in place in order to make that happen."