Montaukers woke up Saturday morning to news that police were investigating another instance of antisemitic graffiti, this time on the side of Bounce Beach Montauk, a nightclub, and an adjacent stockade fence on South Emerson Street.
The nightclub, which is boarded up for the season, "appears to have been tagged during the overnight hours," East Hampton Town Police Chief Michael Sarlo said in an email Saturday morning. "Patrols are actively canvassing for any other acts of vandalism. At this time nothing else has been discovered."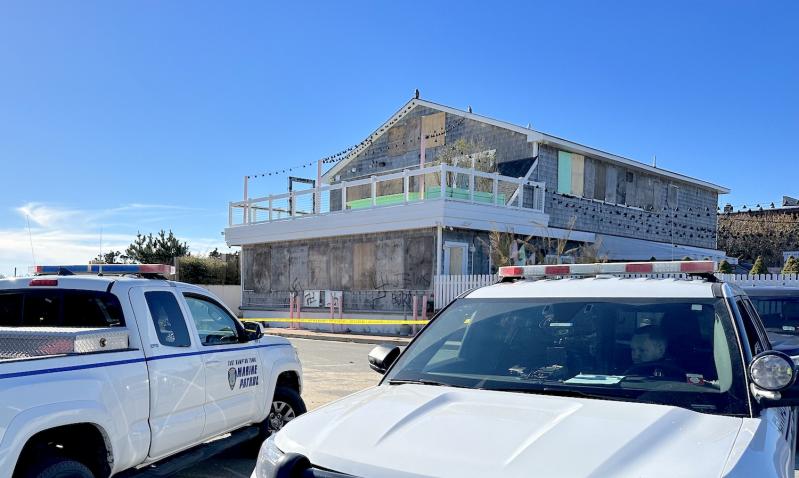 Coming on the heels of the first incident, in which vandals targeted businesses and town restroom facilities on Oct. 30, "This second act is obviously very disturbing. We fully grasp the impact on our community," Chief Sarlo wrote.
The Oct. 30 case remains under investigation, he said. Police have asked anyone with information about either incident to contact detectives at 631-537-7575. The County Police Department's hate crimes unit is investigating both incidents.
Detectives with the hate crimes unit have asked people with information to report it anonymously to Crime Stoppers at 1-800-220-TIPS.
According to the official town police report, an officer on patrol early Saturday discovered "multiple swastikas and other similar markings and the words 'Jews Burn' " in black spray paint at Bounce Beach.
The first time this happened, the community responded in force that same afternoon with a rally attended by hundreds at the downtown Montauk green. While there was no rally this time around, a group of Montauk School students and parents took matters into their own hands by painting over the hateful scrawlings by day's end with a colorful mural.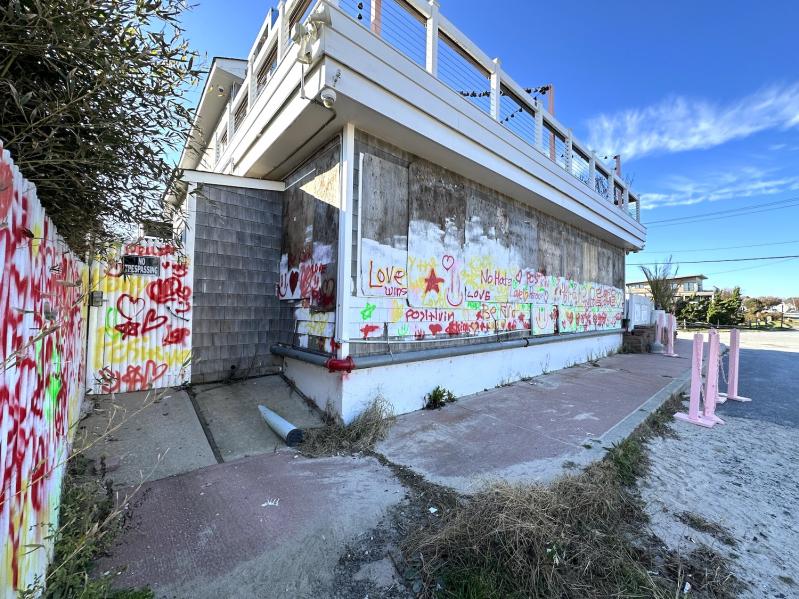 Replacing the swastikas and words of hate, they painted brightly colored hearts, stars, smiley faces, and the words "Be Kind," "Love Wins," "No Hate," and "Peace," and attached handmade posters to a picket fence in front of the establishment with messages like, "No Hate in Our Town," "Keep Our Town Peaceful," "Be a Good Human," "Montauk Is a Surf Town, Not a Hate Town," and "Montauk Is a Sk8 Town, Not a Hate Town."
Amy Duryea, one of the organizers of the Oct. 30 rally, said this week that "the message really is that until they figure out who is doing this, regardless of what happens, we're going to be fast to react and we're going to cover it with love. That's the most we can do right now."
The children's quick response that morning is "a testament to how the vast majority of our community feels — no tolerance for hate," Ms. Duryea said. "Only love."
Joshua Odom, superintendent and principal of the Montauk School, said he was proud of the students.
"We've had a tremendous community outpouring of rejection" of antisemitism, he said. "It's heartening to see our students pushing forth this message of love and standing against hate. . . . It speaks to the heart of the place. Everybody wants to do what's right here, and kids are really motivated by that. That is something we want to lean in on."
Police were able to make contact with the property owner, Jonathan Krasner of Sag Harbor, and the restaurant management, who were not available for comment this week.