Fighting Back Against Parkinson's in Sag Harbor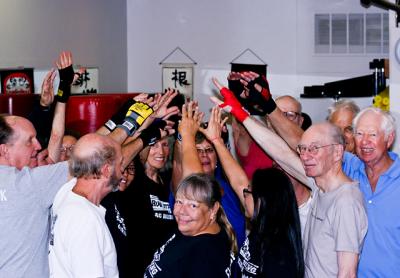 Jack Graves
Hard-charging 75-minute Parkinson's-specific workouts
Six days a week, at her Epic Martial Arts studio in Sag Harbor, Sensei Michelle Del Giorno challenges and urges on numerous Rock Steady Boxing students of hers who have been diagnosed with Parkinson's disease — hard-charging 75-minute Parkinson's-specific workouts that would test the stamina of most anyone.
Sarah Cohen, a physical therapist who a year and a half ago persuaded Stony Brook Southampton Hospital to oversee through a Center for Parkinson's Disease various programs, including boxing, tai chi, dance, singing, and Parrish Art Museum projects aimed at ameliorating the motor and nonmotor symptoms of the disease, said during a recent session at Epic Martial Arts that "there's been an explosion of research looking into the impact of exercise when it comes to Parkinson's, and it's been found that exercise can certainly slow the progression of the disability," the hallmark symptoms of which include tremors, balance impairment, and rigidity.
"And the other part of this community-based wellness program," Cohen added, "and just as important, is the sense of community, the mutual support that develops."
The program Cohen first proposed has grown greatly. There are boxing sessions, as well, under Seth Greiner at the Ed and Phyllis Davis Wellness Institute in Hampton Bays. "There are over 30 there," said Cohen, "and we now have over 50 in Sag Harbor alone. We also have tai chi, eight-week semesters that rotate between Hampton Bays and the Riverhead Library. Plus, we have a therapeutic course, Sing Out Loud, at the Southampton Arts Center, dance classes run by the Hampton Ballet Theatre in Bridgehampton, and monthly art projects at the Parrish Art Museum. They take private gallery tours, and, after a box lunch, reflect on what they've seen in multimedia projects. The center is also going to do a once-a-month seminar at the South Fork History Museum in Bridgehampton. The hospital is sponsoring all of these programs, it has shown incredible support, but we're always looking for donors."
Cohen said that "boxing's the largest, with over 80 participants. We have 28 in tai chi, which is done through a grant that Stony Brook University's department of health received. We have 23 in the singing group with Valerie DiLorenzo. . . ."
"Some are shy at first," said Sensei Del Giorno, who's been teaching martial arts for 30 years and has been certified as an instructor by Rock Steady Boxing, which she said has 600 affiliates worldwide. "They'll say, 'Boxing? I've never punched anybody in my life. . . .' But the camaraderie of the group — everyone is so welcoming and supportive — helps them to come out of their shell, to take that first step. . . . We have had many who say they've gotten fantastic reports from their doctors, that they haven't regressed any further. It does work."
• RELATED: At the Y Too 
Laura Stein, who lives in Montauk and has exercised at the Body Tech fitness studios there and in Amagansett for the past 25 years, said before Friday's Level 1-2 session that "it was like getting slugged" when she learned last February that she had Parkinson's. 
Soon, though, she was punching, fighting back with Del Giorno, pushing herself, she said, in new ways, coordinating her mind and body through the demands exerted by footwork drills, five-step punching combinations, and body blows to the heavy bags.
Bonnie Katz, who first suspected Parkinson's when her right hand began twitching as she was playing tennis at the East Hampton Indoor/Outdoor Club seven years ago, "continued playing for five years after I took a Parkinson's test at the hospital, but two years ago, afraid of falling, I stopped. But I love this," she said of the Rock Steady Boxing workouts.
"It's inspiring," said Stan Stokowski, who's had Parkinson's for six years. "Boxing is the primary thing I do, two days a week. It's made me more confident and helped me with what I'm going through. Definitely it's encouraged me. The camaraderie is great. Michelle, as you say, keeps us going."
Jean Mellano, a former dancer, whose late husband, Steve Tarpinian, was a popular triathlon race director on Long Island and an internationally known swimming coach, comes to Sensei Del Giorno's classes from Greenport two or three times a week. 
"Rock Steady Boxing has truly made a remarkable impact when it comes to improving the quality of my life," she wrote recently on her blog, which deals with the disease. "Everyone I have met in these classes is determined to fight, none of them will let Parkinson's disease get the best of them. In these 75-minute classes we work on our stamina, strength, speed, cognitive skills, and balance. . . . It is like a group physical therapy session with the bonus of mental therapy."
"We all have our moments of despair, when we're reminded of what we've lost to this disease," Mellano has written, "but we celebrate each other's triumphs, no matter how insignificant they may seem to the casual observer. . . . Seeing the beaming smiles of my fellow boxers' faces bolsters my spirit."
Kristin King Davey, one of a number of Del Giorno's volunteers, including Michael Green, Panadda Tumino, Rita Gates, and Antoine Waldo (one of Del Giorno's martial arts colleagues), said her father, Kelly King, who was diagnosed 11 years ago, had been "helped tremendously, physically and mentally, by these workouts, and the community support is wonderful."
"They're apprehensive when they first start," said Gates, "but as they get stronger and more confident, they find they're doing things they never thought they could do — they open up more. And the camaraderie is very good. They all cheer for one another and push each other."
There was always a need for more volunteers, Gates added, especially to help people with more advanced symptoms in the Level 3-4 sessions. 
When Sensei Del Giorno called upon her dozen attendees last Thursday morning to say, one after another, what Rock Steady Boxing signified to them, she heard: "A community working together." "Motivation — it gets me out of the house, and it works!" "It keeps me going." "Inspiration — it keeps me fighting, and the camaraderie, I didn't realize that it would be so powerful." It's changed my life — I feel stronger." "I am feeling better — I can do more." "Shoulders to lean on." "It actually works! It's amazing . . . I see that in all of you."
"Okay," said Del Giorno, "get the gloves on."
Stein said during a break that when a friend of hers professed interest in joining the group, she said she'd told her, "Sorry, you have to have Parkinson's first."